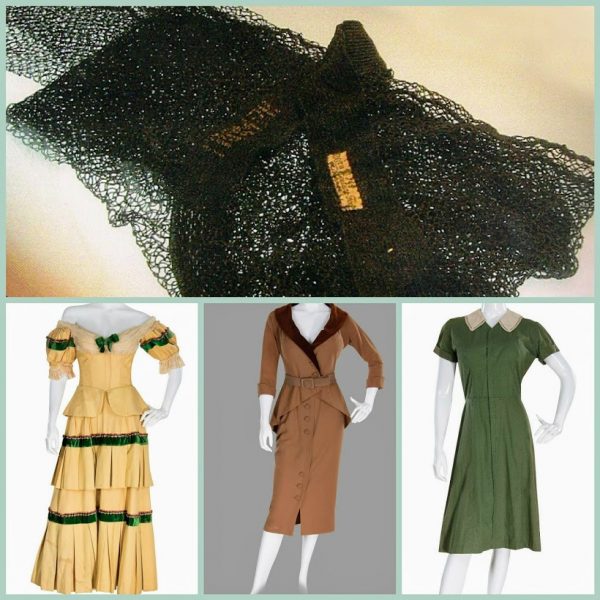 Over 50 Marilyn-related lots will go under the hammer at on December 17-19, as part of the Hollywood – A Collector's Ransom auction at Profiles in History. Marilyn's costumes from A Ticket to Tomahawk, Love Nest, and Don't Bother to Knock, and her fishnet tights from Bus Stop – which went unsold at last year's Essentially Marilyn event – are back for a second chance. (UPDATE: the brown skirt suit worn by Marilyn in Love Nest has been sold for $30,000 – but again, the other movie costumes went unsold.)
As Simon Lindley reports for Just Collecting, Marilyn's personal annotated screenplay for The Seven Year Itch is also on offer, with a reserve of $60-80K. (The photo shown above, taken on location in New York, is sold separately.)
"In the film Monroe's character is known simply as 'The Girl', an aspiring actress who serves as the object of the husband's desires.


But behind her on-screen persona as the blonde sex symbol, Monroe's extensive handwritten annotations reveal her dedication to her craft.


Throughout the script she has written notes to herself such as 'Look first indecisive – pause – hesitation – little smile' and 'My body into his – sliding into him as if I want to sleep with him right then & there. Swing hips again'.

This preparation and complete understanding of the role in evident in her notes for the famous 'Subway' scene, which helped cement her place as a genuine Hollywood icon.


The energy and sexuality which Monroe portrays may seem effortless, but her script notes show she though very carefully about how to play the moment: 'Child w/a woman. Direct & fem[inine]. Open… This is everything there is in the world. Light & easy. Everything flies out of her. Newborn – the baby looking at the moon for the first time.'"

Screenplay UNSOLD; photo sold for $200


And now, let's take a closer look at what else is on offer…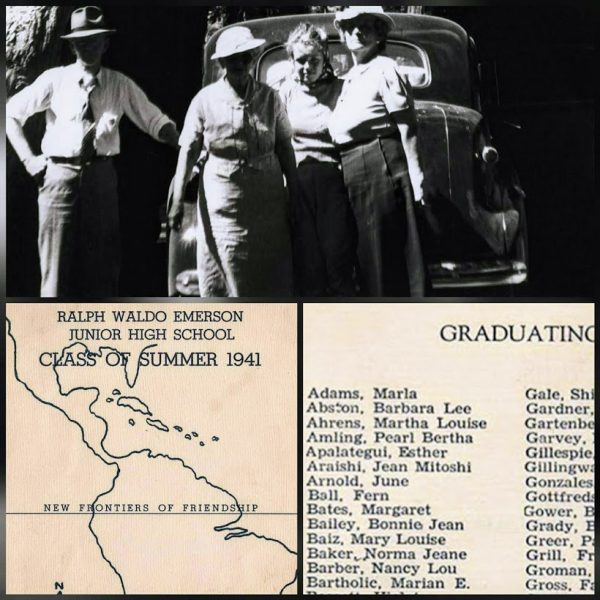 "Vintage original 8 x 10 in. photograph taken of 13 year-old Norma Jeane on a trip to Yosemite with 'Aunt' Ana Lower and other family members. And sold separately, a vintage original 2-page printed 6.25 x 9 in. Ralph Waldo Emerson Junior High School Class of Summer 1941 commencement program. The printed program contains itinerary including music, speeches, and songs. Listed alphabetically in the 'Graduating Class, June 1941 Girls' roster of graduates is 'Baker, Norma Jeane'."

UNSOLD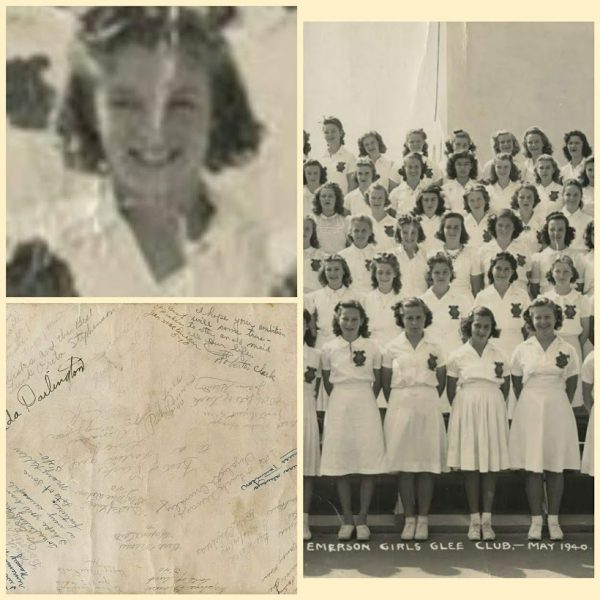 "Vintage original gelatin silver 8 x 10 in. photograph of Marilyn with her junior high school glee club, smiling in the center of the group. The verso is copiously inscribed with messages to Norma Jeane by her girlfriends, including, 'To a beautiful, sweet, charming, and darling, adorable Norma Jean' and 'I hope your ambition will come true – to stay an old maid all your life'."

SOLD for $3,000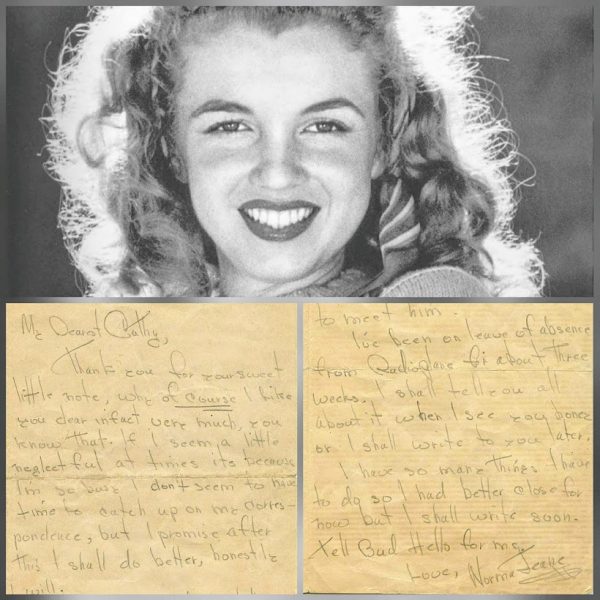 "A 2-page letter to 'Cathy' handwritten in pencil and signed, 'Norma Jeane'. Written during a period of major transition in her life, Norma Jeane mentions a leave of absence from her job as a parachute inspector at Radioplane. She had recently been 'discovered' by US Army Air Force First Motion Picture Unit photographer David Conover while working at the plant, and through his connections, had been able to get freelance work as a pin-up model. She writes in full: 'Thursday. My dearest Cathy, thank you for your sweet little note, why of course of course I like you dear very much, you know that. If I seem a little neglectful at times its because I'm so busy I don't seem to have any time to catch up on my correspondence, but I promise after this, I shall, do better, honestly I will. Jimmie arrived about three weeks ago and you can imagine how thrilled I was. I only wish he didn't have to go back. Jimmie and I went up to Big Bear Lake for a week and had a grand time I hope you and Bud will be down soon because I would love for you both to meet him. I've been on leave of absence from Radioplane. I shall tell you all about it when I see you honey or I shall write to you later. I have so many things I have to do so I had better close for now but I shall write soon. Tell Bud Hello for me. Love, Norma Jeane.'"

UNSOLD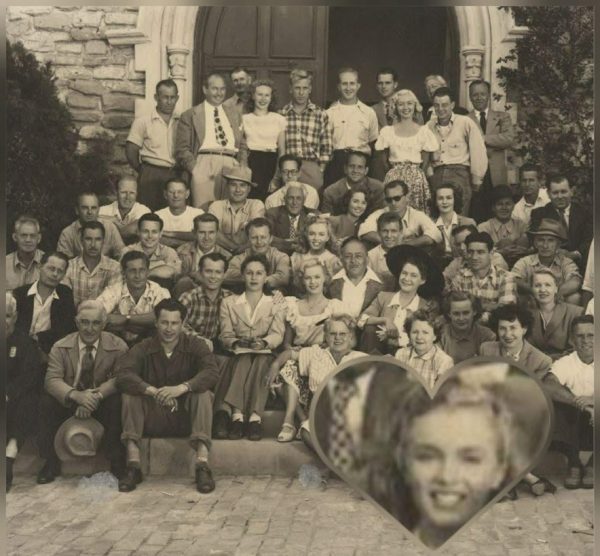 Vintage original 8 x 10 in. cast & crew photo from Marilyn's first movie, Scudda Hoo! Scudda Hay! She is in the third row, just above leading lady June Haver. SOLD for $1,500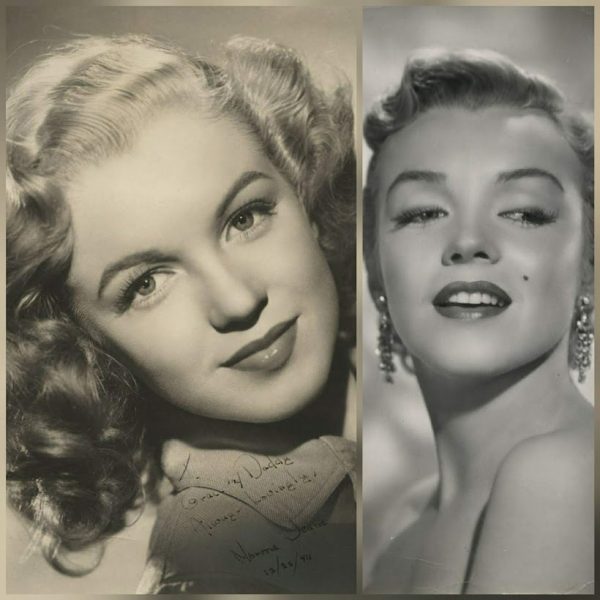 "Vintage original gelatin silver 7 x 8.75 in. double weight matte photograph, inscribed and signed in black ink at lower right, 'To Grace and Daddy Always Lovingly Norma Jeane 12/25/46′. The 'daddy' to whom Norma Jeanne inscribed this early headshot is Erwin 'Doc' Goddard, a research engineer and the husband of Norma Jeanne's legal guardian, Grace Goddard. And sold separately, two oversize glamour portrait photographs of Marilyn Monroe in character as 'Miss Caswell' in All About Eve. The first is credit stamped by Ray Nolan with studio snipe, and the other, seen at right, attributed to Ed Clark." [A poster for the film, signed by Bette Davis, Joseph Mankiewicz, and Celeste Holm, is being sold separately.]

Signed photo SOLD for $30,000; poster SOLD for $6,000.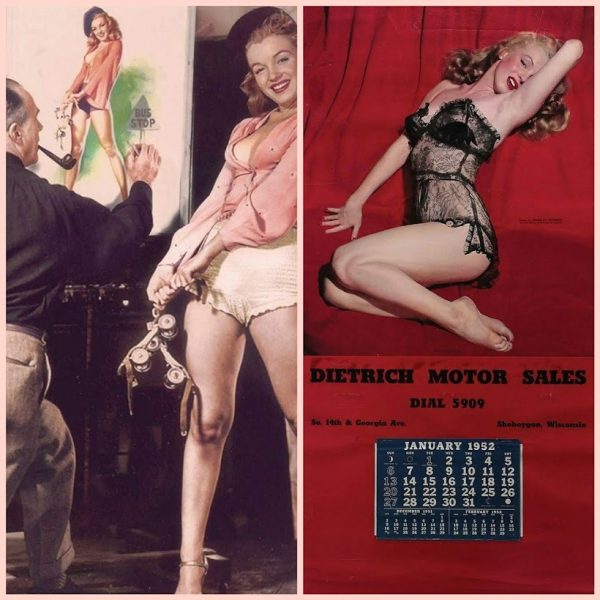 Two vintage calendars including a 1950 wall calendar measuring 8.5 x 14.5 in., and featuring paintings by Earl Moran, six featuring Marilyn, alongside cute, risque poems like, 'What are little girls made of? Sugar and spice, Perfume that smells nice, Jewels and furs, To attract attention, And other good things Too obvious to mention', and a wall calendar featuring unique topless 'cowgirl' images of Marilyn not seen elsewhere. Sold separately, a 16 x 32 in. pin-up 1952 wall calendar titled, 'The Lure of Lace'. Featuring Marilyn Monroe in her famous Tom Kelley nude kneeling pose, but with a black lace teddy 'overprint'."

UNSOLD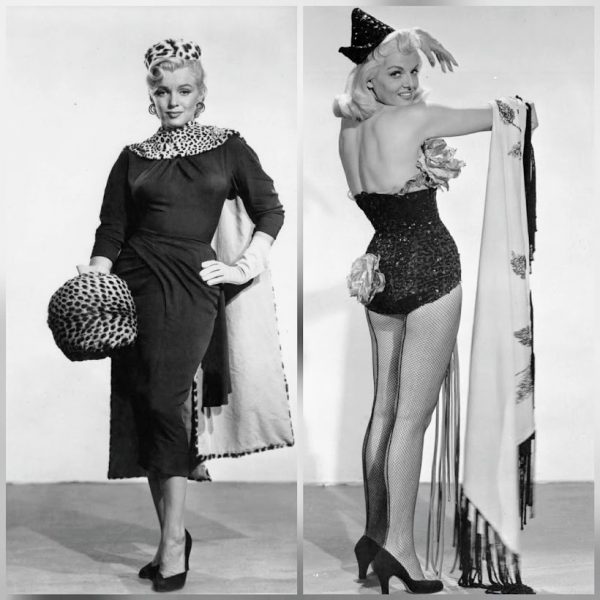 "Two original studio production 8 x 10 in. negatives of Marilyn Monroe and Jane Russell in Gentlemen Prefer Blondes, each modeling wardrobe by designer William Travilla. [Russell wore a blonde wig to impersonate Marilyn in a courtroom scene.] Each includes within image a 'shot-board' documentation of production, scene, and change numbers. Also included are two original wardrobe documentation green pages detailing costumes [Monroe page describes a different costume, for the opening 'Little Rock' number.] At some point in time a positive copy print of the Monroe negative was made for archive continuity, but is not original to the production."

UNSOLD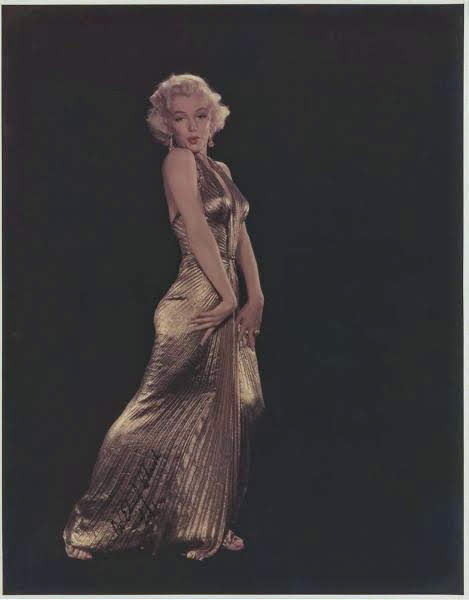 "11 x 14 in. portrait by Ed Clark of Marilyn in the gold lame gown from Gentlemen Prefer Blondes for LIFE magazine. Signed in black ink on Marilyn's skirt by the photographer, 'Edmund Clark Life'."

SOLD for $300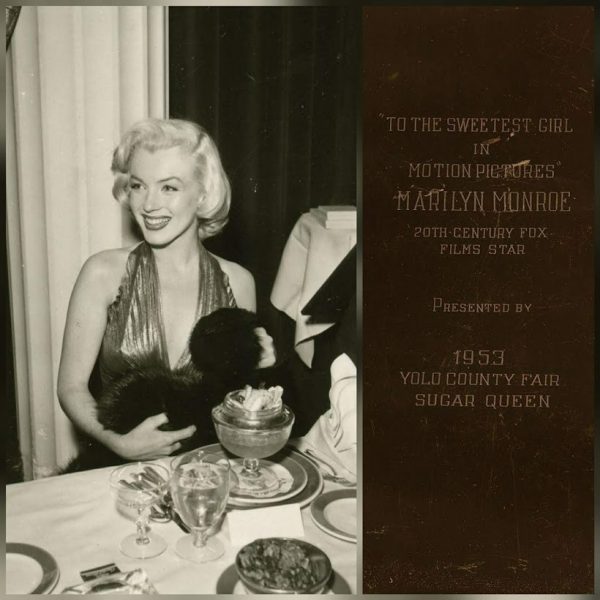 "Photo of Marilyn at the Photoplay Awards in 1953, part of a 1750-image archive for celebrity snapper J.B. Scott. And sold separately, an award plaque presented to Marilyn by a County Fair 'Sugar Queen', engraved, 'To the Sweetest Girl in Motion Pictures, Marilyn Monroe, 20th Century-Fox Films Star Presented by 1953 Yolo County Fair Sugar Queen'."

Photo archive SOLD for $95,000; award plaque UNSOLD.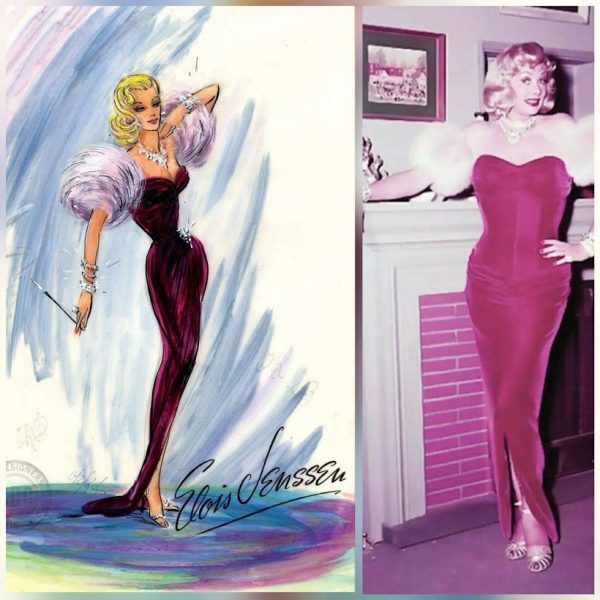 "Elois Jenssen costume sketch for Lucille Ball as 'Lucy Ricardo' as 'Marilyn Monroe' from I Love Lucy. Elois Jenssen was Lucille Ball's designer of choice, who is credited with creating the 'Lucy Look'. This dress design was created for the I Love Lucy Episode: 'Ricky's Movie Offer', which aired on Nov. 8th, 1954. In the episode, 'Lucy' transforms herself into Marilyn Monroe to try to win a role in Ricky's (Desi Arnaz) new Hollywood film. This costume was then repurposed into a showgirl costume for two subsequent episodes." [Elois Jenssen's costume sketches for Marilyn in We're Not Married are being sold separately.]

UNSOLD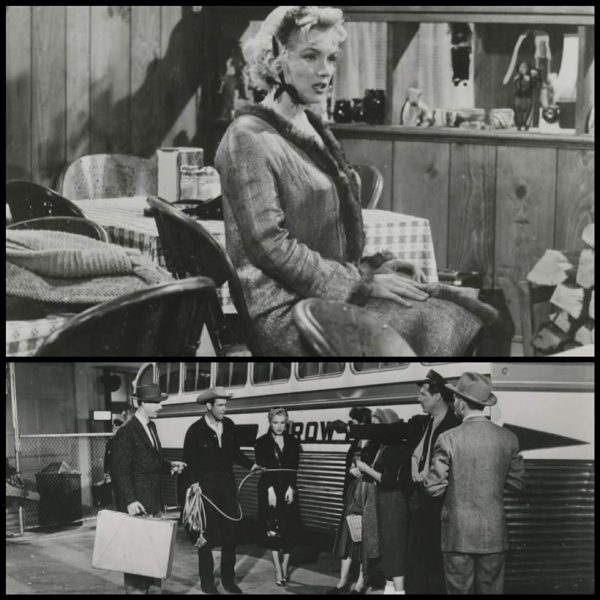 "Ten 8 x 10 in. photographs of Marilyn Monroe in scenes from films, including the earliest title which depicts her on any of its publicity, Dangerous Years. Other highlights include Ladies of the Chorus, The Asphalt Jungle, Right Cross [to our knowledge, this still is the only original release paper to depict Marilyn], Let's Make it Legal, and [shown above] Bus Stop.

SOLD for $225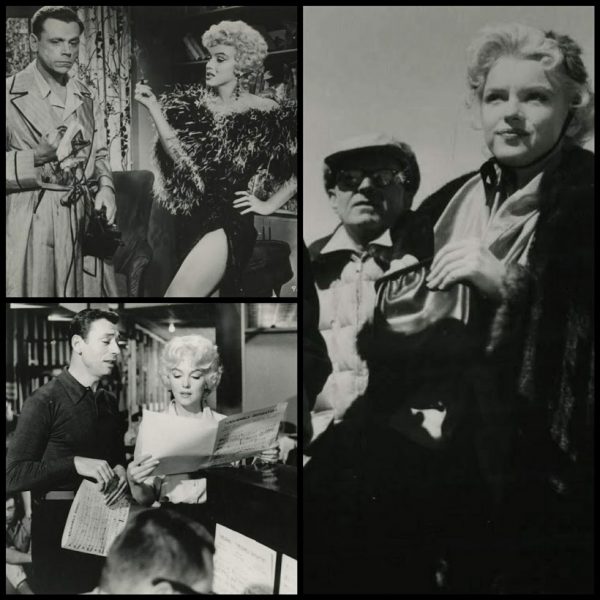 "A set of fourteen 7 x 8.5 in. to 8 x 10 in. photographs, a mix of portraits, candids, and scenes, including stills from The Seven Year Itch and Let's Make Love [at left] and a candid by Al Brack [at right], showing Marilyn on location for Bus Stop in Sun Valley, Idaho."

UNSOLD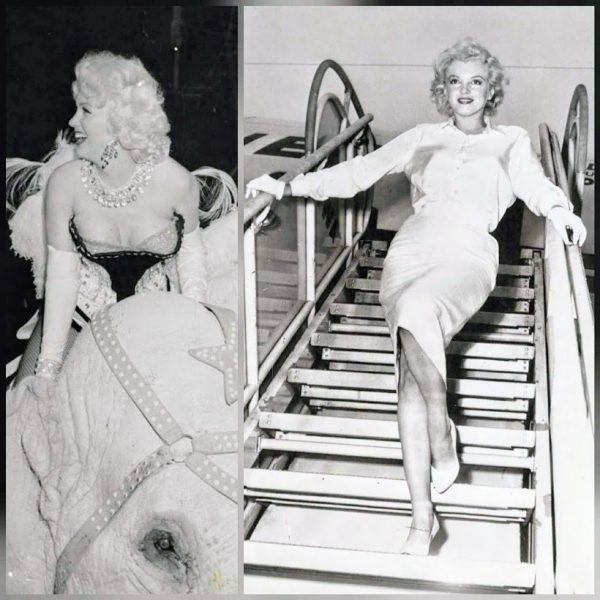 "Two exhibition photos signed by Marvin Scott, of Marilyn performing at a circus benefit in 1955; and sold separately, another set including this photo of Marilyn arriving at Los Angeles in 1958 for the filming of Some Like It Hot.

UNSOLD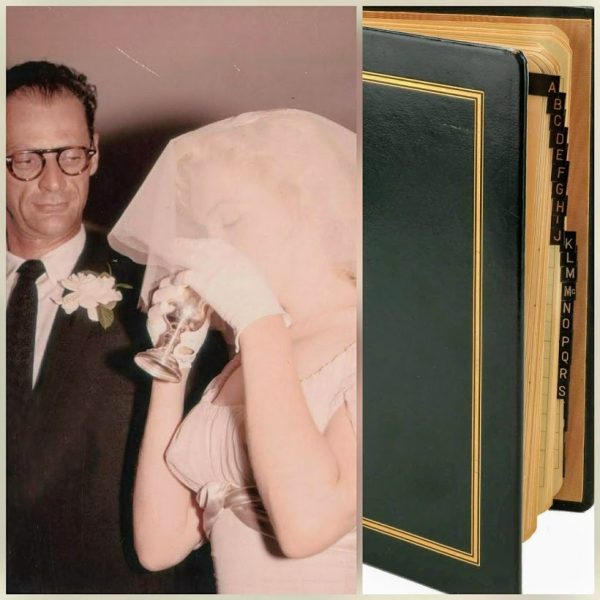 "A candid photo taken by Milton Greene at Marilyn's wedding to Arthur Miller; and sold separately, two address books from her estate, including typed and annotated entries for contacts including Actor's Studio, Jack Benny, Eve Arden, George Cukor, Montgomery Clift, Jack Cardiff, Joe DiMaggio, Henry Fonda, John Huston, Hedda Hopper, Designers, makeup artists, Ben Gazzara, Gene Kelly, Jack Lemmon, Yves Montand, Arthur Miller, Robert Montgomery, Jane Russell, Jean Negulesco, Lee and Paula Strasberg, David Selznick, Carl Sandburg, Frank Sinatra, Eli Wallach, Shelley Winters, Clifford Odets, Peter Lawford, JAX, Richard Avedon, Louella Parsons, and more. Annotations not attributed to Monroe."

UNSOLD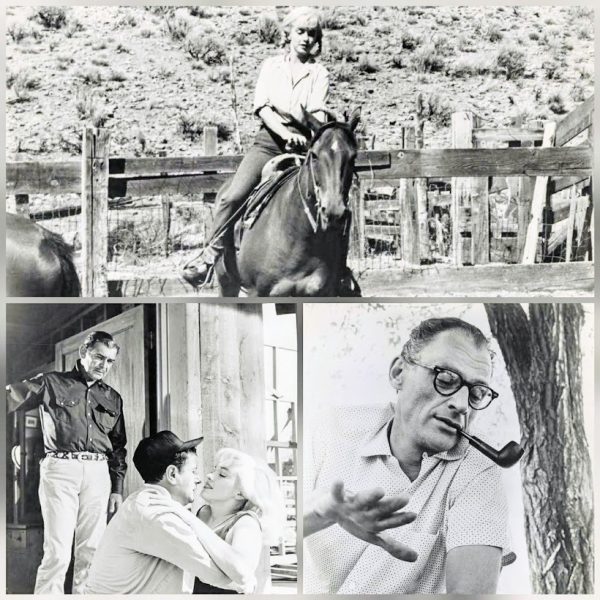 And finally, a set of nine photos from Marilyn's last completed film, The Misfits (1961.) SOLD for $4,500