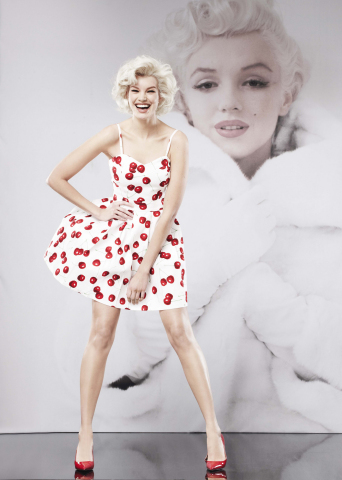 US department store Macy's has launched a teen range inspired by Marilyn, reports the New York Times.
"Macy's plans to carry Marilyn Monroe designs in 150 stores, targeting younger shoppers with updated styles for modern blond bombshells. Not to sound prudish, but this means shorter, racier, Kardashian-er.

Take a very little red dress for $59.50, a preview of what is to come, sold at Macy's this month to benefit the American Heart Association. It evokes several famous Monroe looks, only she typically wore her dresses below the knee, as opposed to below the nothing. Denim shorts, $39.50, are cut short enough to see pockets."
The range – which was designed in conjunction with ABG, the licensing arm of MM's estate – seems very loosely connected to Marilyn's own style. While I appreciate that their aim was to modernise, you could construct this 'look' in any chain store, and for far less money.
While I'm glad that ABG are keeping Marilyn's profile high, I had hoped for a better quality product than this seems to be.