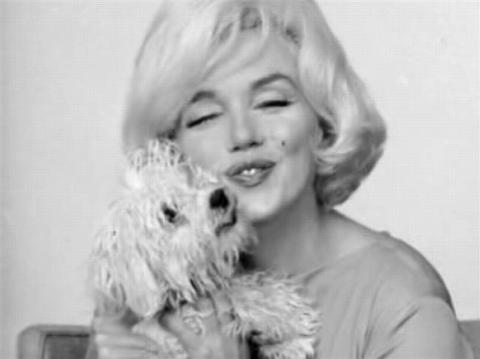 Plans are afoot to bring Andrew O'Hagan's comic novel, The Life and Thoughts of Maf the Dog and of His Friend Marilyn Monroe, to the big screen, it is confirmed in today's Daily Telegraph, ahead of a live reading from his book at the Southbank Centre this Sunday.
The movie plans were first reported in the Scottish Herald in May:
"At the time of writing, O'Hagan reports that director Stephen Soderbergh (Traffic, Ocean's Eleven) is in the frame. They are even negotiating sequel rights for reasons we shall come to later. Meanwhile, rumour has it that George Clooney wants to play Frank Sinatra – Ol' Blue Eyes gave Marilyn Maf, short for Mafia Honey, in November 1960 – opposite Scarlett Johansson as the angel of sex herself, although O'Hagan confides that his own heart is set on the 'delicious' Christina Hendricks (Joan in Mad Men). We agree, however, that Maf, who was Marilyn's constant companion for the last two years of her life, who 'breathed the secrets of her pillow', should be voiced by only one actor, O'Hagan's friend Ewan McGregor."
This sounds promising, though I do wonder if the book's subtle whimsy will translate on film. Judging by some of the reader reviews on Amazon, not everyone was as charmed by Maf the Dog as me.
But I suspect this all depends on your preconceptions about Marilyn (O'Hagan is positively rapturous about her), and your willingness to suspend disbelief and accept a canine narrator.
Two other MM-related movies are currently in the works: an adaptation of Joyce Carol Oates' Blonde, starring Naomi Watts; and My Week With Marilyn, based on Colin Clark's memoir, with Michelle Williams.
Who knows how these projects will turn out, but I've read all the books that they're based on, and Maf's story is easily my favourite of the three!
UPDATES:
Jolie Casts Doubt on Marilyn Role
Maf the Dog: Call Off the Search