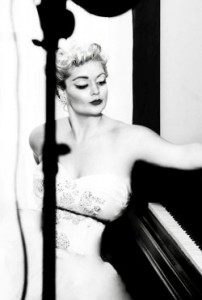 The girl upstairs almost kills me with a cast iron bucket. So I ask her down for a drink. What's wrong with that?

"A grand and goofy comedy" – The New York News

It's a long, hot New York City summer in 1952 and advertising man Richard Sherman has sent his wife and son to enjoy the cooler climate of the beach while he stays home to work. When the upstairs neighbor, a stunning model for "US Camera" almost kills Richard with a tomato plant dropped from above, Richard begins to invest in his fantasy life, until the line between fantasy and reality becomes blurred. A hilarious take on the shifting morals of 1950's America.
George Axelrod's comic play, The Seven Year Itch, which became a hugely successful film starring Marilyn Monroe in 1955, is being revived at the New Village Arts Theater in Carlsbad, California (near San Diego), from today, July 29th, through August 22nd.
"You can tell that George Axelrod had a great respect for women," says Kristianne Kurner, executive artistic director at the theater. "The Girl (played by Jacque Wilke) doesn't have a name, but she's really strong. And I think the humor, instead of coming out of a derogatory thing about women, comes from the husband's guilt. That guilt is really funny."