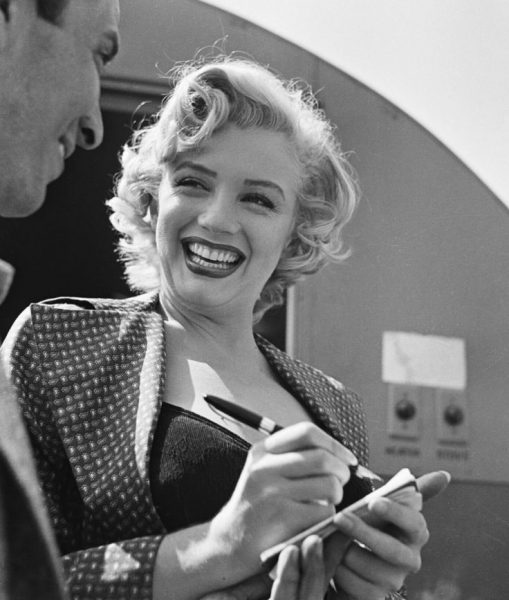 Thanks to the continuing Marilyn! season in Brooklyn, some of Marilyn's lesser-known movies are being reassessed. AltScreen devotes an entire post to critical analysis of Monkey Business, while over at Slant, Joseph Jan Lanthier compares Marilyn's portrait of a disturbed young woman in Don't Bother to Knock (1952) to the character played by Catherine Deneuve in Roman Polanski's classic 1965 chiller, Repulsion.
"I remain touched most indelibly by a single theatrical gesticulation of Marilyn's—at the end of Don't Bother to Knock, when she timidly hands over her concealed blade to an avuncular Richard Widmark. She appears truly frightened by what harm she could manage with such an innocuous, household object in a manner that predicts the predatory nature of her iconolatry. She seems, in that moment, to be reaching out of the screen, across that divide between her and her audience, in order to surrender a token of her desire to melodramatically entertain. It was the last time she would give up anything in the movies."
'Forgotten Hollywood' reviews What a Way to Go, the 1964 movie starring Shirley MacLaine that would probably have been Marilyn's next film if she had completed Something's Got to Give.
And finally, Jose Solis Mayen writes for PopMatters about Insignificance, an unusual, Marilyn-inspired movie from 1985, now available as a Criterion DVD:
"As the characters meet, the film subtly plays with their well known back stories. We see how the Actress longs to be a mother (an ominous Picasso painting seen throughout the film reflects both this yearning and also the film's own cubist structure) but has had enough of her brute husband: the Ballplayer.

The film's melancholy and fear is best summed up in an exchange between the Professor and the Actress. As she points out her image in a huge billboard outside the hotel, the wise man says 'I prefer to look up,' as he points to the stars. 'They make me feel sad and lonely,' replies the Actress. 'All who look up feel small and lonely,' he says. A movie star talking about feeling lonely with other stars? It's absolutely no coincidence."