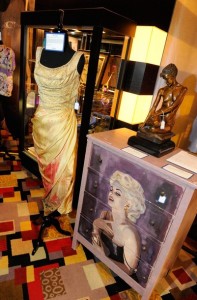 Marilyn Monroe's Ceil Chapman evening gown is displayed next to Anna Nicole Smith's custom painted Marilyn Monroe dresser at Julien's Auctions annual summer sale at the Planet Hollywood Resort & Casino June 24-27, 2010, in Las Vegas,Nevada.
Scott Fortner has noted on his blog that while beautiful, the gown is partially damaged due to neglect over the years since Marilyn died. Sadly, this is true of many of Monroe's former possessions – but still, they continue to sell at high prices. Another Chapman gown belonging to the star sold at Christie's for $100,000 in 1999.
Some info on Ceil Chapman from Vintage Bulletin:
Ceil Chapman began her career in New York, her first company was 'Her Ladyship Gowns' started in 1940 with partner Gloria Vanderbilt. The she went on to another company labeled 'A Chapman Original' which later became simply 'Ceil Chapman'. She was a popular, talented designer through the early 1960's. Known for her exquisite draping that enhanced the female form, she became a favorite among many stars of the era, such as Deborah Kerr and Elizabeth Taylor. Rumor has it she was the favorite designer of Marilyn Monroe.

Her specialty was evening, formal wear, done in silks, taffeta, chiffon and organdy, embellished with beading and lace. She designed a great deal for movies and television.