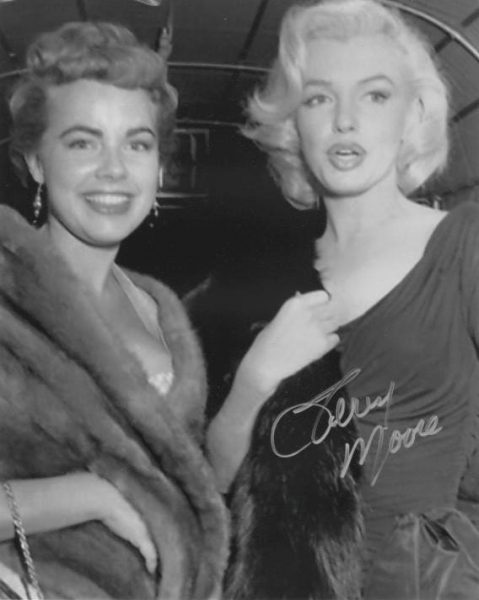 Actress Terry Moore began her movie career in 1940, and would later make a successful transition from child performer to adult star when she was nominated for an Oscar as Best Supporting Actress for her role in an adaptation of William Inge's Come Back, Little Sheba (1952.) After director Elia Kazan cast her in Man On a Tightrope (1953), she was signed by Twentieth Century Fox. She was photographed with Marilyn at public events including the 1953 wedding of columnist Sheilah Graham (see above), and at the premiere of How to Marry a Millionaire (below.)
Terry had previously been signed to Columbia Studios in 1948, the same year when Marilyn was briefly under contract there, starring in the low-budget musical, Ladies of the Chorus, before being dropped by boss Harry Cohn. It was during this period that Marilyn met Natasha Lytess, who became her acting coach until 1954.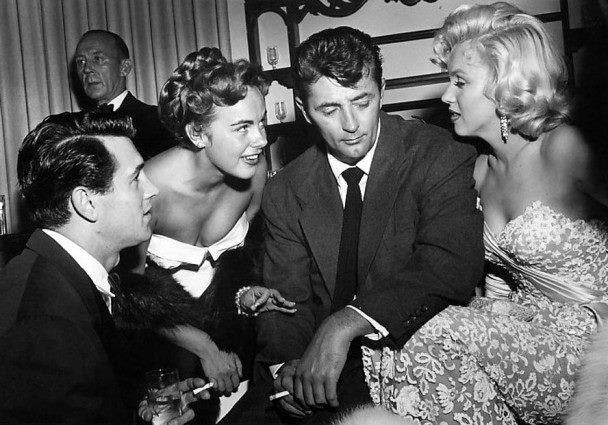 Now 91, Terry recalls her encounters with Marilyn and other stars of Hollywood's Golden Age in an interview with Stephanie Nolasco for Fox News.
"Fox News: What's the story behind your friendship with Marilyn Monroe?


Moore: I met Marilyn when she was put under contract. I was under contract to Columbia Studios at that time. We both then went to 20th Century Fox at the same time. And if you read anything about Marilyn, her acting coach was Natasha Lytess. The directors got so mad that she was always looking at Natasha while filming her scenes. Natasha was behind the cameras trying to guide her. It got so bad the directors later threw Natasha off the set.


I was with her when she met Natasha. They brought her into Natasha's acting lessons. I was the only one in the class. And so I really wanted someone to do scenes with. I was told, 'This is a new contract player named Marilyn Monroe. Now you and Natasha will have someone to act with.' I was so happy to meet her. And we became close, fast friends. I would take her home to dinner with me. My parents were just crazy about her. She was one of the sweetest, loneliest girls I ever met. But she learned so quickly as an actress.


Fox News: What do you think made Marilyn feel so lonely?


Moore: Well sometimes the biggest stars are usually very shy … They're very much like John Wayne. He was so backward, very backward. He also had to learn to get out there and have self-confidence. Most actors when they start out have little confidence. Marilyn didn't have confidence. She had to have everyone in the world believe in her and love her before she had any confidence."