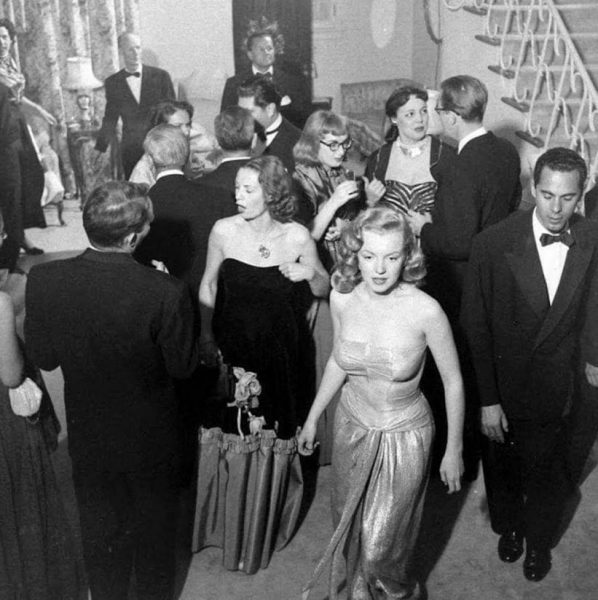 This stunning photo is part of a set taken by Peter Stackpole for LIFE magazine during a party at the Beverly Hills home of producer Sam Spiegel on New Year's Eve, 1948, posted on Twitter. Marilyn was still a long way from stardom, having only two bit parts and a lead in a B-movie (Ladies of the Chorus) to her name. It is thought that Spiegel invited her as a pretty starlet, probably at the instigation of Marilyn's well-connected friends, John Carroll and Lucille Ryman, who were managing her career.
Among the guests were some of Hollywood's biggest names: James Mason, Glenn Ford, Ava Gardner, Judy Garland, Alfred Hitchcock, Charlie Chaplin, Frank Sinatra, Edward G. Robinson, Shirley Temple, Danny Kaye were among them, as well as George Sanders (Marilyn's future co-star in All About Eve), his wife-to-be Zsa Zsa Gabor, and four of Marilyn's future directors; John Huston, Henry Hathaway, Jean Negulesco, and Otto Preminger.
Huston wanted to test Marilyn for We Were Strangers (1949), but Spiegel vetoed it, opting for the more bankable Jennifer Jones instead. The director would later give Marilyn her breakthrough role in The Asphalt Jungle (1950.)
In the photo shown above, Marilyn wears the strapless gown seen in her brief appearance in Love Happy (1949), and a separate set of photos taken by J.R. Eyerman for LIFE in 1949, showing her rehearsing with vocal coach Phil Moore. She had also worn the dress in March 1948, during her performance in Strictly for Kicks, a revue staged at Twentieth Century Fox. Notably, she was one of the only female guests at Spiegel's party not wearing any jewellery (suggesting that for Marilyn, 'Diamonds Are a Girl's Best Friend' was just a song.)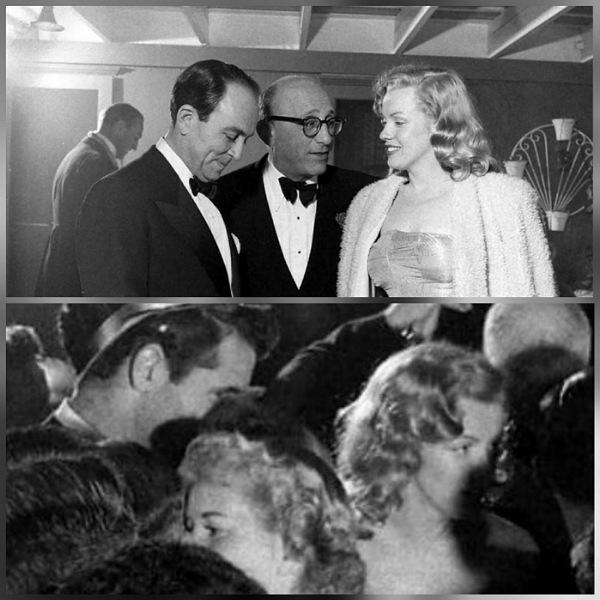 Two other photos from the party (found by another fan on the Getty Images website) show Marilyn dancing in a crowd, and chatting with two men.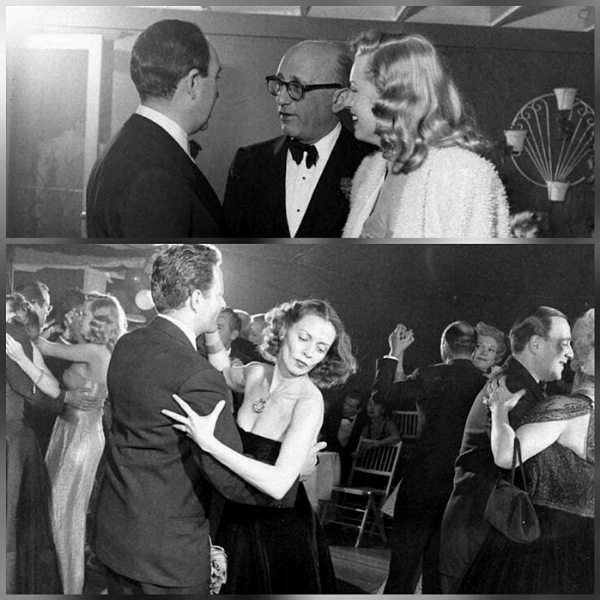 Here's Marilyn again; plus another dancefloor photo with Marilyn to the left, Danny Kaye in the middle and George Sanders on the right (possibly with Zsa Zsa!)
Another photo shows Marilyn dancing with her former beau, musician Fred Karger. Their stormy romance, which began on the Ladies of the Chorus, was coming to an end, but Marilyn remained close to the Karger family for the rest of her life. Interestingly, his watch may have been Marilyn's Christmas present to him, which took her two years to pay off. She left her name off the engraving so his next girlfriend wouldn't know it came from her.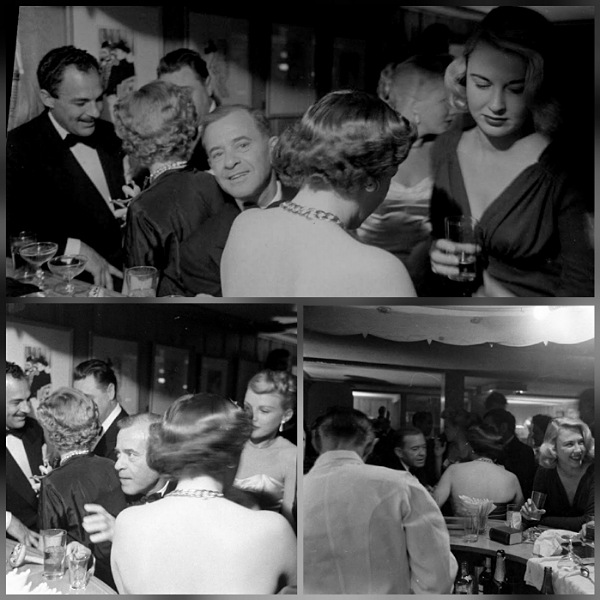 It has been said that Marilyn met agent and lover Johnny Hyde that night (although photographer Bruno Bernard has claimed they were introduced a few months later, in Palm Springs.) I haven't found any photos of him with Marilyn at the party; however, he can be seen in the photos shown above. (They would be snapped together at another New Year's Eve party a year later.)
And finally, here's the LIFE article about the party, although Marilyn isn't featured in it. In 1957, Peter Stackpole would photograph Monroe again at the peak of her fame, with husband Arthur Miller at the 'April in Paris Ball' in New York's Waldorf-Astoria Hotel.)
Thanks to Everlasting Star