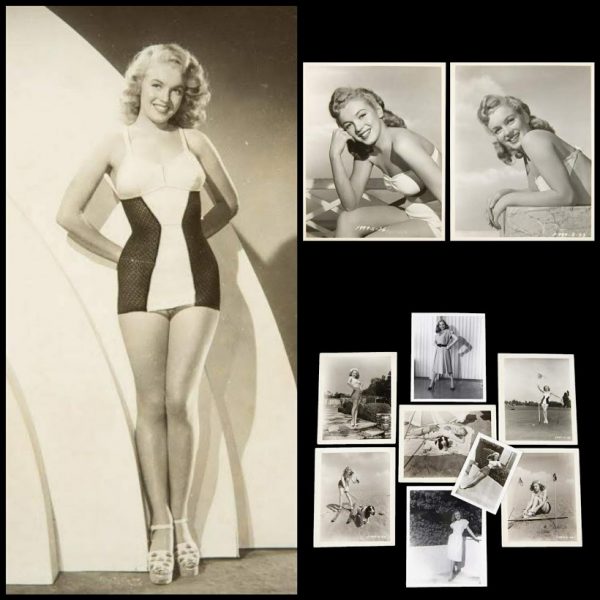 In this second post about the November 14 event at Julien's Auction, Collection of a Southern Gentleman, we look at Marilyn's early career and rise to fame. (You can read all posts about this sale here.) This montage includes a typical cheesecake pose; two small headshots used to promote her first movie, Scudda Hoo! Scudda Hay!, from which she was largely cut; and a selection of modelling photos taken circa 1947-49.
Photos SOLD for $875, $1,562,50, and $1,920, respectively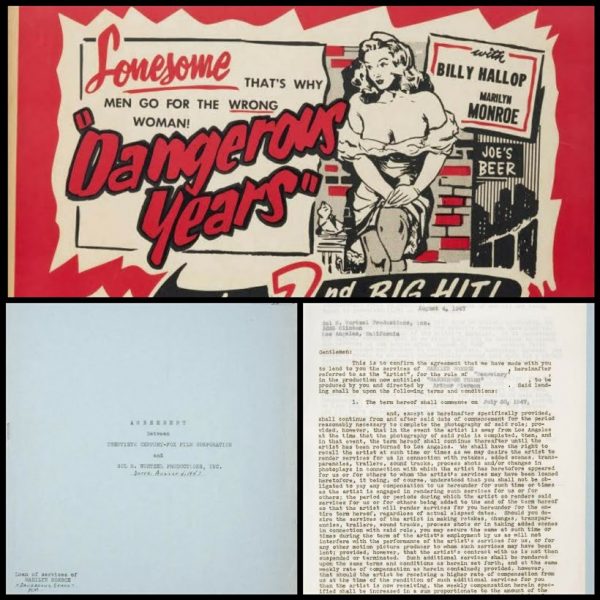 "Contract for Dangerous Years, housed in light blue covers, dated 'July 30, 1947,' outlining an agreement between the studio and 'Sol M. Wurtzel Productions, Inc.' for the loan-out of Monroe to act in the film as 'Secretary' even though her role ended up being that of 'Evie,' a waitress … signed by executives but not MM." [And, sold separately, a retro-style poster produced in the 1980s.]

Contract SOLD for $1,024; poster SOLD for $125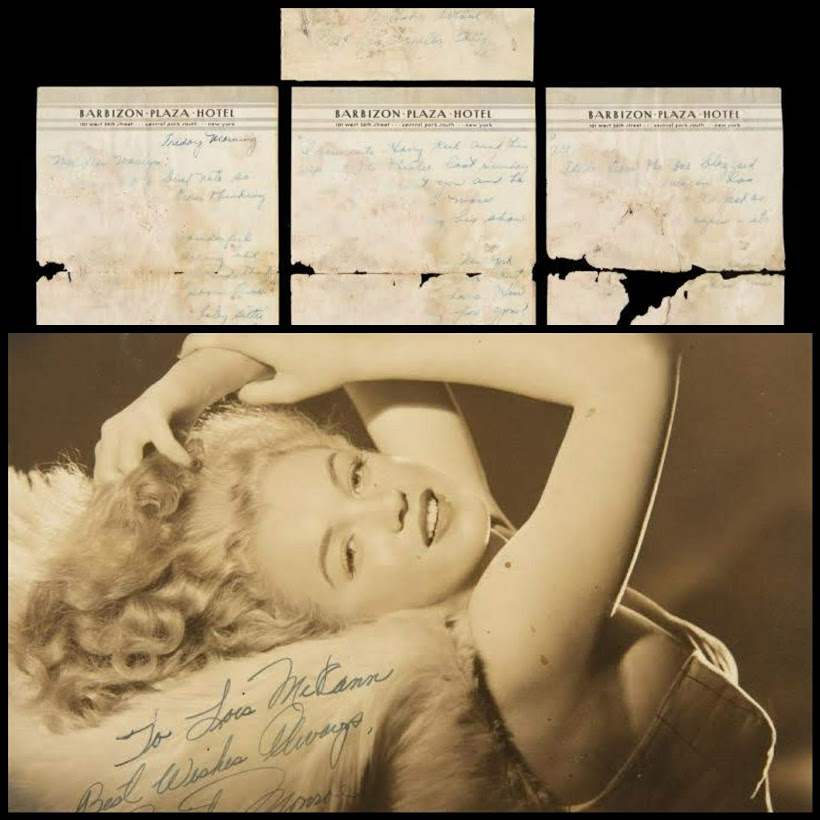 "A group of two letters though both are severely water damaged and have substantial paper loss; likely from Henry Rosenfeld, one of MM's early benefactors whom very little is known about; the first is three pages, handwritten in blue fountain pen ink on Barbizon Plaza Hotel (NYC) stationery, reading in part 'I ran into Harry [Howard] Keel and his wife at the theatre last Sunday,' ending with 'best to your Aunt / H;' with its original transmittal envelope addressed to MM at her Nebraska Avenue address in Los Angeles and postmarked '1947;' the second one is two pages, also penned on the same stationery with the same ink, reading in part 'Marilyn, / It was so wonderful / talking to you on the / telephone,' other pages are now missing; frustrating to not read the letters in their entirety or even know who wrote them!" [And sold separately, a glamour portrait signed by Marilyn to Lois McCann.]

Letters SOLD for $256; photo SOLD for $12,800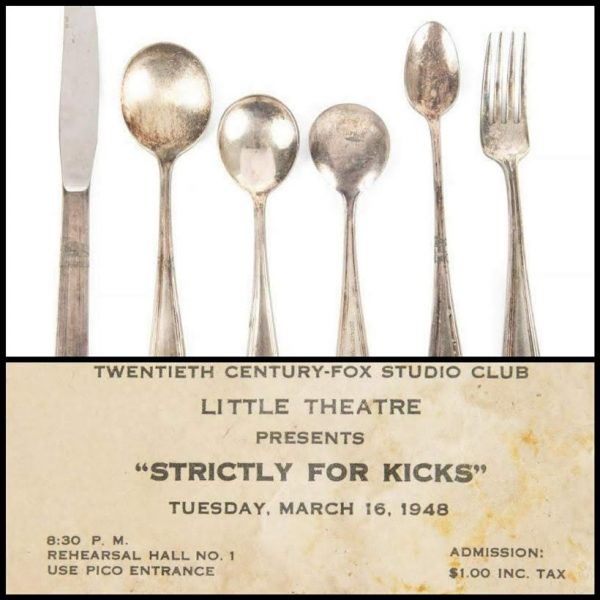 [Marilyn's first movie contract ended in 1947, but a year later, she was still spending time at Twentieth Century Fox.] "According to the original consignor, Robert Temple, Marilyn had a strange habit of taking home the commissary's silverware every night, just to bring it back the next day to use it again. Temple was a busboy in the commissary at the time and when his boss noticed that Monroe seemed to be stealing, he told Temple to retrieve the utensils from the starlet and warn her that she would be kicked out of the cafeteria if she continued her odd practice. Temple did as he was told and took the utensils away from Monroe, but then he ended up stealing them himself. He had a crush on her and wanted to keep the silverware because it had been hers. He saved this flatware for 62 years and though his story is somewhat preposterous, its probably too weird for him to have made up and remembered all these years later. Additionally, Temple really did work at Fox in 1948 and he even acted in a small employees only talent show with Monroe (and others) called Strictly for Kicks as evidenced by a newsletter that surfaced at auction about nine years ago."

SOLD for $1,152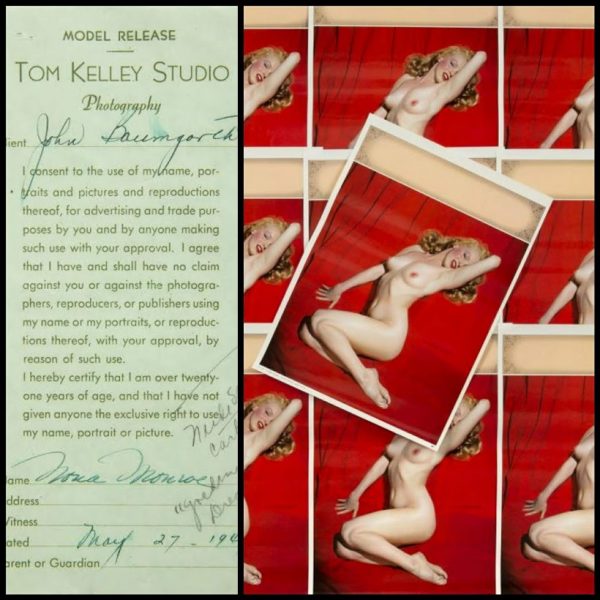 "A model release form for Marilyn's nude calendar session with photographer Tom Kelley, dated 'May 27, 1949', and signed by Marilyn under a pseudonym, 'Mona Monroe'. And sold separately, a group of ten sample pages produced by the calendar salesman, depicting Marilyn in the 'Golden Dreams' pose with a blank space on the top margin where a business name would be printed; created circa 1952 to cash-in on her fame as text reading 'Posed By Marilyn Monroe' appears to the right side."

Model release form SOLD for $37,500; photos SOLD for $1,280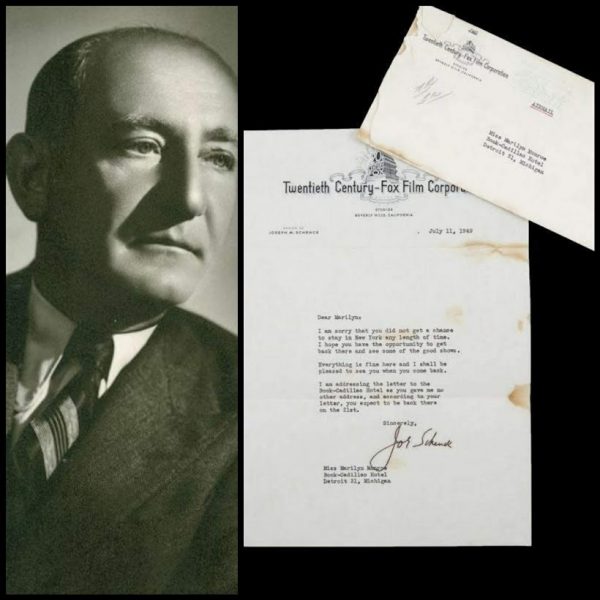 "A single page of 20th Century Fox letterhead, typed, dated 'July 11, 1949,' sent to the then starlet from her friend, studio boss Joe Schenck, reading in part '…I shall be / pleased to see you when you come back,' signed in black fountain pen ink in the lower right corner; included with its original transmittal envelope addressed to Monroe at the Book-Cadillac Hotel in Detroit, Michigan where she was sent to promote the 1949 United Artists film, Love Happy."

SOLD for $576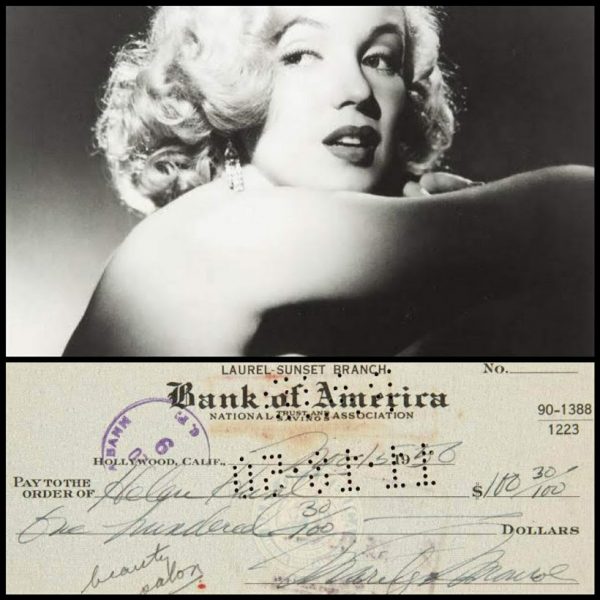 "Photo of Marilyn by Laszlo Willinger; and, sold separately, a standard check entirely penned in black fountain pen ink by Marilyn, dated 'Nov 15, 1950,' to 'Helen Hunt' in the amount of '$100.30,' signed 'Marilyn Monroe,' annotation in another hand in the lower left corner reads 'beauty salon;' interesting to speculate what MM had done at that salon that day for that amount which would be like spending $1,000 today." [Helen Hunt had previously styled Marilyn's hair during her Columbia contract in 1948.]

Photo SOLD for $1,920; check SOLD for $2,500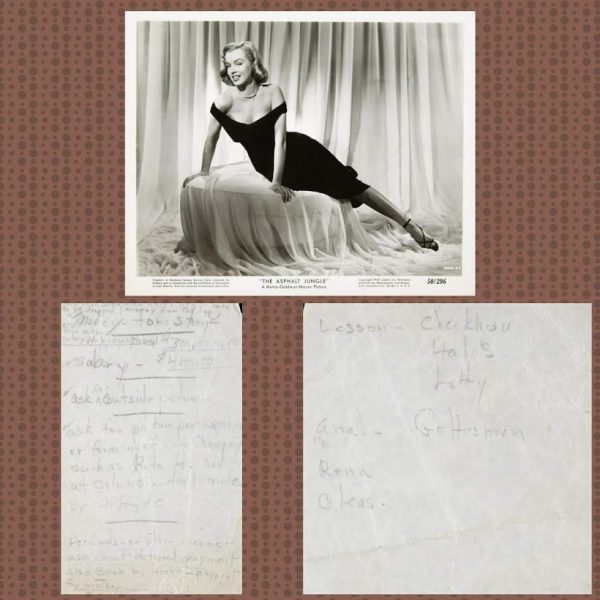 "Publicity still for Marilyn's breakthrough movie, The Asphalt Jungle; and, sold separately, a handwritten list with penciled 'notes to self' on either side, circa 1950, relating to matters Marilyn wanted to deal with such as 'ask agent not to take money from the top / ask for outside picture / forming of own company such as Rita H. [Hayworth] had at Columbia – deal made by J. Hyde / payment for mother / lesson – Checkhov [sic], Hal S., Lotty / anal – Gottesman' and 'Rena cleas' among a few others — an intriguing quick look into the star's head." [Marilyn's agent Johnny Hyde, acting coach Michael Chekhov, psychiatrist Dr. Gottesman, mime teacher Lotte Goslar, singing coach Hal Schaefer, and beautician Madame Renna appear to be mentioned here.]

Photo SOLD for $1,280; list SOLD for $5,760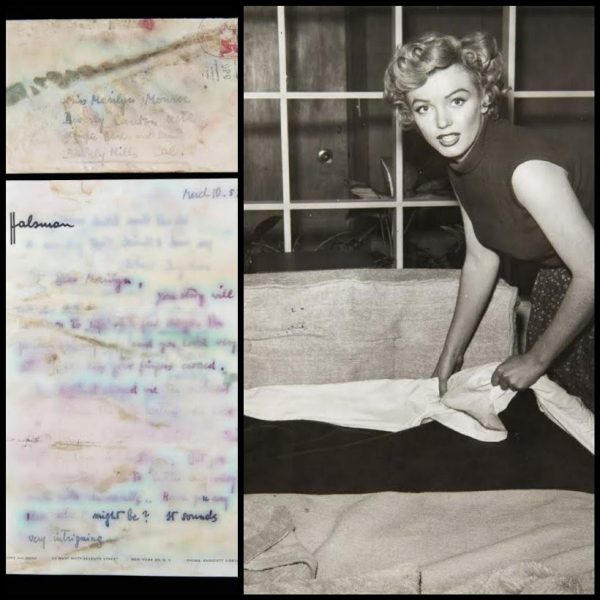 A 1951 photo of Marilyn, credited to the Phil Burchman Agency. And, sold separately, a letter from photographer Philippe Halsman, "dated 'March 10. 52,' severely water damaged but some content still legible such as 'We all three liked working with / you and I think that you are a / wonderful model,' ending with 'Sincerely, affectionally and / cordially / yours / Philippe H.;' included with its original transmittal envelope addressed to the star at the 'Beverly Carlton Hotel' in Beverly Hills, California."

Photo SOLD for $1,562.50; Halsman's letter SOLD for $187.50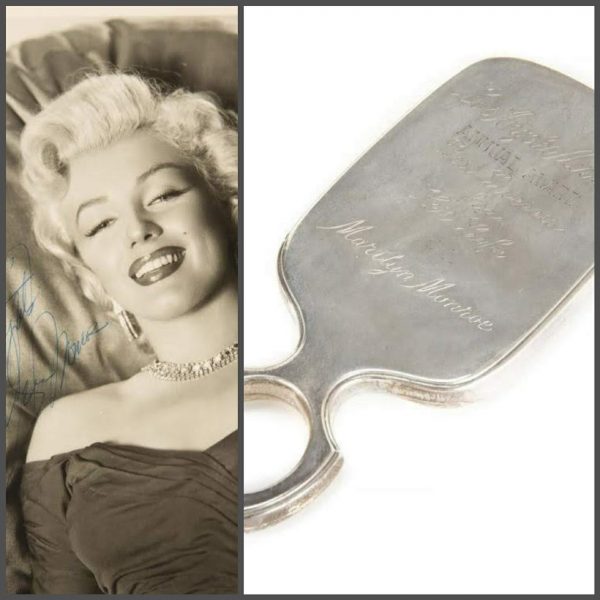 "A sterling silver hand mirror, back engraved 'Los Angeles Mirror / Annual Award / Best Dressed / for / Her Life / 1951 / Marilyn Monroe;' and sold separately, a 1952 headshot signed 'to Dan, Warmest Thoughts, Marilyn Monroe'.

Award SOLD for $10,000; photo SOLD for $11,520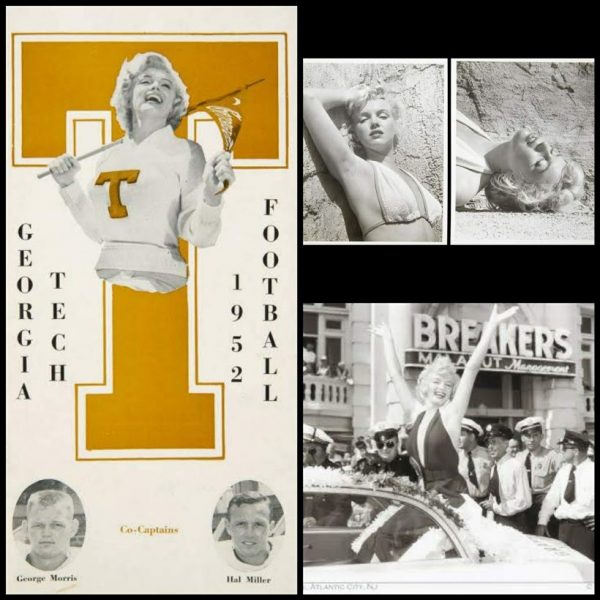 A selection of images from 1952: firstly, a Georgia Tech football program featuring Marilyn 'used through the courtesy of Look Magazine'; second, two photos of a sultry Marilyn, possibly taken by Anthony Beauchamp, and seen in a one-off magazine special, Marilyn Monroe Pin-Ups, the following year; and finally, a framed photo by Sam Myers, showing Marilyn at the Miss America pageant in Atlantic City.
SOLD for $576, $768, and $1,024 respectively