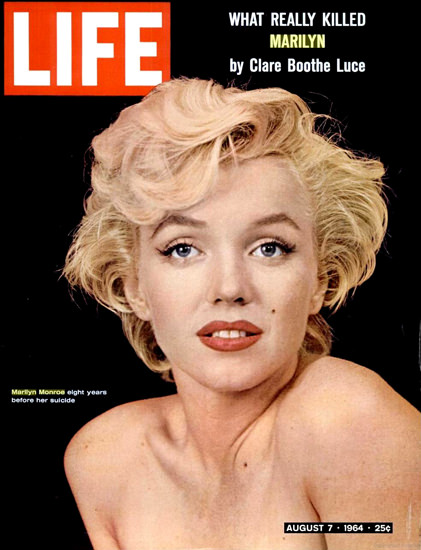 The Fox News documentary series, Scandalous: The Death of Marilyn Monroe, has now concluded. While some viewers voiced concerns about sensationalism in the early episodes, most fans watching in the US seem satisfied by the verdict.
"I'm one of the experts interviewed for this three-part special on Marilyn Monroe," historian Elisa Jordan says. "I'm pleased to be a part of something that gets closer to the truth about her death and debunks a lot of the ridiculous conspiracy theories surrounding her. If you happen to catch it, it's worth watching. (And I would say that even if I weren't in it.)"
Fellow contributor Donald McGovern, author of Murder Orthodoxies (reviewed here), has spoken about the dubious origins of conspiracy theories linking the Kennedy brothers to Marilyn's untimely demise.
"'The conspiracy theories about Marilyn's death as they exist now. Did not exist in the 60's. They grew exponentially from the 60's to where we are now,' said Donald McGovern, in the final episode of the Fox Nation series, Scandalous: The Death of Marilyn Monroe.

The documentary details how a right-wing writer [Frank Capell] the head of an anti-Communist group [Maurice Reis], and the first police officer to arrive on the scene of Monroe's death [Jack Clemmons], conspired to point the finger at [Robert] Kennedy.


The three conspirators met in the months after Monroe's death, and according to McGovern, 'that's when they first got the story from Reis about the Kennedy-Marilyn involvement.' The show delves into the plan to push the narrative that Monroe did not die of a drug overdose, as the coroner had concluded, but that she was killed on orders from Kennedy.


Central to this scheme was the involvement of one very powerful New York gossip columnist. 'Walter Winchell serialized what essentially was a theory. That Bobby Kennedy and Marilyn had had an affair and that Bobby Kennedy had Marilyn murdered. I don't know that Winchell ever comes out and says that. But it's insinuated,' recounted McGovern.

The theories surrounding Monroe did not end there. They re-surfaced in the 1970's, around the 10th anniversary of her death, when novelist Norman Mailer wrote an instant best-selling book, Marilyn: A Biography. In the final chapter of that book, Mailer turns the Capell-Reis-Clemmons conspiracy on its head and suggests that Monroe was killed by the conspirators.

Fox News