In a tribute to filmmaker Agnès Varda, who died last week aged 90, Genna Rivieccio notes on her Culled Culture blog the parallels between Marilyn's life and the tragic young heroine faced with a cancer diagnosis played by Corinne Marchand in Cléo From 5 to 7, the movie released just a few months before  Marilyn's death, and which helped to launch the French New Wave.
"Although Cléo is beautiful and has a relatively successful singing career, the dark shadow potentially case by the reaper above her won't go away, nor is it remedied by seeing a fortune teller at the outset of the movie, one who confirms all her worst fears about waiting for some potentially fatal test results from her doctor.

Distraught at first over the reading, Cléo insists to herself that 'as long as I'm beautiful, I'm alive,' because 'ugliness is a kind of death' so how can she be suffering from it if she's not aesthetically hideous? Even so, she is aware that if she is dying, it's only the inside that will matter now–not from a personality or 'good person' standpoint, but in terms of it affecting whether or not her demise is imminent. To that former notion, however, Cléo suddenly becomes hyperconscious of the vacuity of her life. Buying hats, lounging around, cursing men. What does it all mean? And what can she do to go on preserving that vacuous little life? Thus, she tells her maid, Angèle (Dominique Davray) that she'll kill herself if it turns out to be cancer. Angèle does little to comfort her, noting that 'men hate illness' and that Cléo ought not to wear a new hat on Tuesday as it's bad luck.

So, too, did Cléo, a singer who bemoans wanting to project more poignant lyrics but then grows filled with melancholy as she sings a new composition filled with too much death imagery to bear. She wants to remain as she always has been in order to survive, to feel somewhat happy: at the surface of things. Unfortunately, like Marilyn Monroe before her, the woman endlessly preoccupied with her image and looks ends up driving any potential for real and meaningful love away. And as we all know, especially Narcissus, a reflection can't reciprocate anything, nor love or hate you as much as you do it. Cléo's childlike [im]maturity, is, in fact, directly related to her self-obsession. In being faced with the reality that her death is imminent, however, she is forced to come to grips with certain truths both about herself and existence that she never would have otherwise."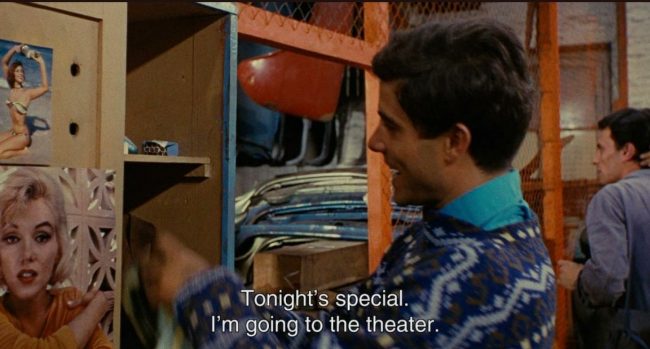 PS: And if you should doubt Marilyn's influence on the nouvelle vague, this photo taken by George Barris just weeks before her death is glimpsed briefly  in The Umbrellas of Cherbourg, a 1964 musical directed by Varda's husband, Jacques Demy, and starring lifelong MM fan Catherine Deneuve. (According to IMDB, the film is set in 1957 which makes it a goof.) And in Demy's 1963 film Bay of Angels, Jeanne Moreau donned a Monroesque blonde wig to play an unhappy divorcee (not unlike Roslyn in The Misfits) who becomes addicted to gambling.