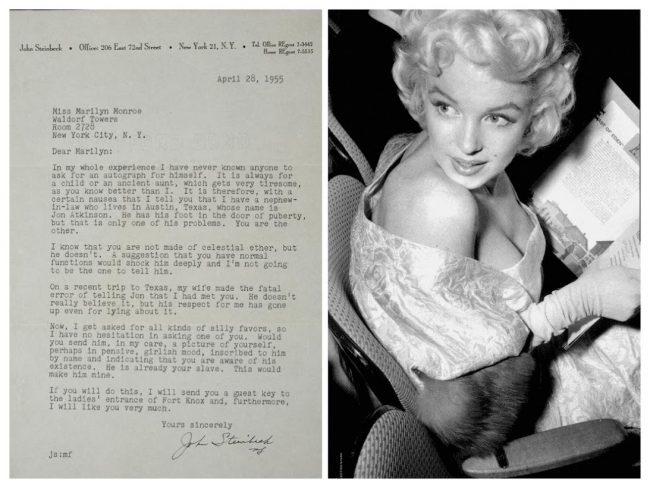 A letter sent by author John Steinbeck to Marilyn in April 1955 (kept in her personal archive, and sold for $3,250 at Julien's in 2016) has resurfaced on social media in recent days, and is the subject of an article by Karen Strike on the Flashbak photo blog today.
Steinbeck narrated O. Henry's Full House, the anthology film in which Marilyn appeared in 1952. In March 1955, a month before Steinbeck wrote to Marilyn, she was a 'celebrity usherette' at the premiere of East of Eden, the big-screen adaptation of his novel, directed by Elia Kazan and starring James Dean. It was at the after-party where Marilyn's romance with Arthur Miller began.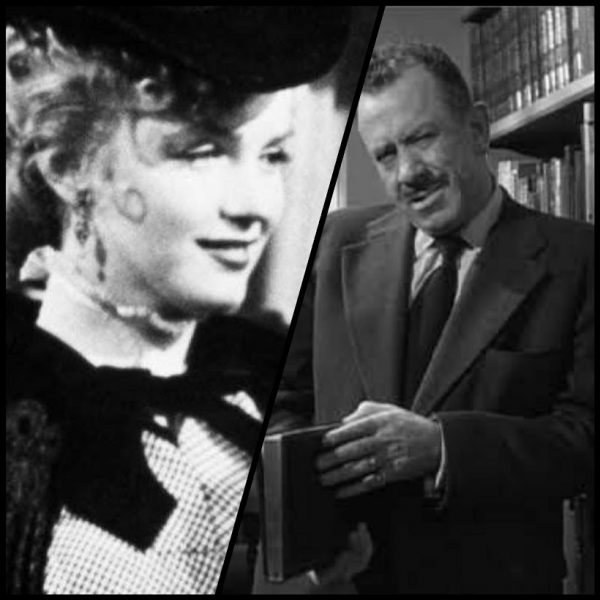 Steinbeck wrote to her on behalf of his nephew, Jon Atkinson, an ardent fan. Whether Marilyn granted his request for an autographed photo is unknown, but she clearly appreciated the letter enough to keep it until her dying day. Incidentally, three of Steinbeck's books were part of her extensive personal library: The Short Reign of Pippin IV, Once There Was a War, and Tortilla Flat, set in Monterey where she had filmed Clash By Night in 1952. (Steinbeck was only one of many eminent figures who corresponded with Marilyn; to learn more, I recommend Lois Banner's MM – Personal.)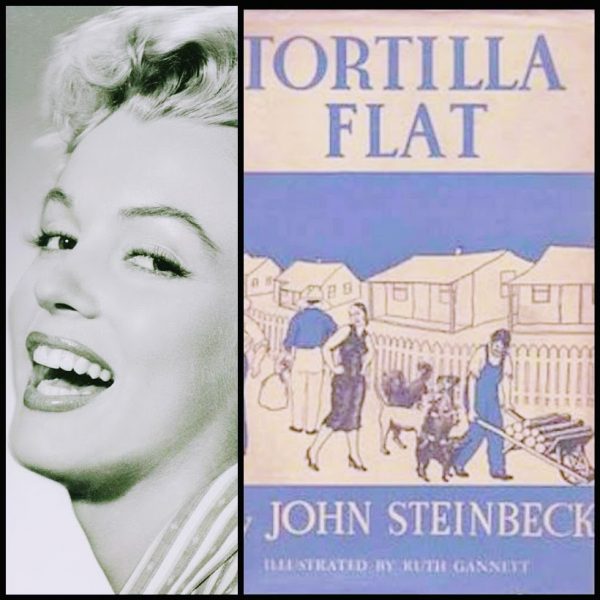 "In my whole experience I have never known anyone to ask for an autograph for himself. It is always for a child or an ancient aunt, which gets very tiresome as you know better than I. It is therefore, with a certain nausea that I tell you that I have a nephew-in-law … he has a foot in the door of puberty, but that is only one of his problems. You are the other …  I know that you are not made of ether, but he doesn't. … Would you send him, in my care, a picture of yourself, perhaps in pensive, girlish mood, inscribed to him by name and indicating that you are aware of his existence. He is already your slave. This would make him mine. If you will do this, I will send you a guest key to the ladies' entrance of Fort Knox."
UPDATE: A journalist has tracked down Steinbeck's nephew – who is alive and well, but never received his signed photo of Marilyn! Read more here.