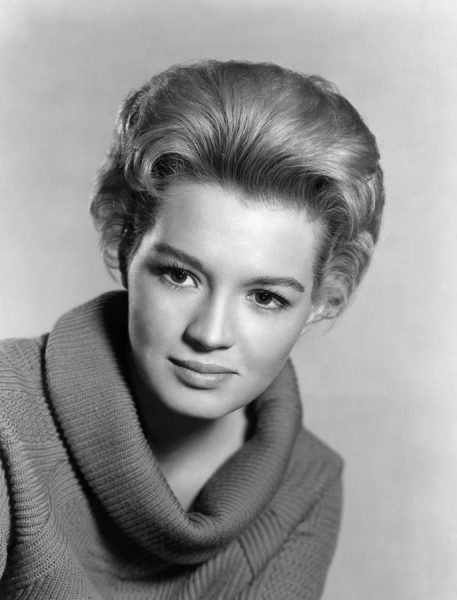 Angie Dickinson began her career in television before making her movie breakthrough opposite John Wayne and Dean Martin in Howard Hawks' Rio Bravo (1959.) Early in her career, she dyed her hair honey blonde instead of platinum to avoid the comparisons to Marilyn Monroe which dogged many of her peers.
In his memoir, baseball player Yogi Berra recalled taking Angie out to dinner one night, and she was the centre of attention – until Marilyn arrived. After roles in classic films like Ocean's Eleven (1960) and Point Blank (1967), she found further success in the 1970s TV series Police Woman, and made a big-screen comeback in Dressed to Kill (1980). She also appeared in Captain Newman, M.D., the 1963 movie based on the wartime experiences of Marilyn's psychiatrist, Dr. Ralph Greenson. Her most recent screen role was in a 2009 TV movie, Mending Fences.
Angie was a friend of the Rat Pack and later married songwriter Burt Bacharach; but while her name was linked with some of the same men as Marilyn, she has lived to tell her side of the story. Now 87, Angie has shared her memories of Hollywood's Golden Age in a new interview for CBS.
"She admitted to correspondent Mo Rocca that she enjoyed being a sex symbol very much but 'I wouldn't want to be known only as a sex symbol. I wanted to be known as an actress, equally or, even more so. Like Marilyn Monroe. She was known as the greatest – rightly rightly so – sex symbol of all time, Boy, try to do Shakespeare after that!'

Dickinson was always more down to Earth, rough-and-tumble than Marilyn, willing to go mano-a-mano with a tough guy like Lee Marvin in Point Blank.

Rocca asked, 'Do you consider yourself more of a broad, a dame, or a gal?'

'Oh, all of the above!'

In 1960, she co-starred with the Rat Pack in Ocean's 11. She ended up dating Frank Sinatra. 'We got very close to getting married in 1964,' she said.

But Sinatra's late-night lifestyle wasn't for her. 'And he said, "You know, I'm not going to marry an actress." And I said, "Well, I don't blame you. I wouldn't wish that on anybody."'

'And I actually didn't want to marry him. So, I didn't want him to ask me to marry him. 'Cause I didn't wanna say no to Frank Sinatra!'

There have long been rumors that Dickinson and President John F. Kennedy had an affair, rumors she's consistently denied. 'There was no reason or no grounds for thinking that I was seeing him, and I wasn't,' she said.

'Then can I just ask: did he ever put the moves on you?'

'No!'"