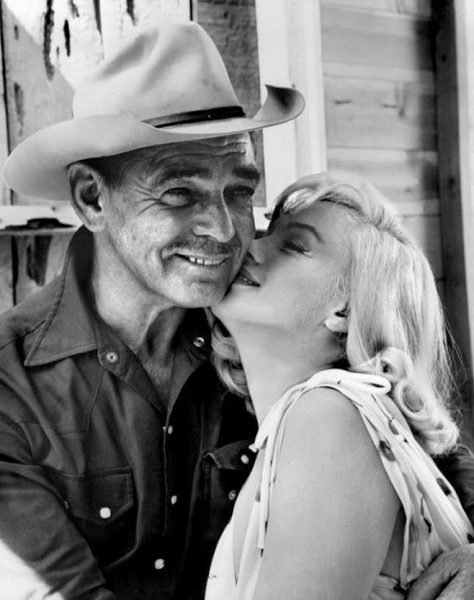 Although The Misfits gave us one of Marilyn's finest performances, it's hard not to recall it without sadness. This is even more true for fans of Clark Gable, who died on November 16, 1960 (58 years ago this week), having suffered a heart attack two days after filming wrapped.
Gable had been Marilyn's childhood idol (and an imaginary stand-in for her absent father.) He was probably her favourite leading man, and although her delays on the set often frustrated him, he remained a supportive friend to her throughout.
She was heartbroken by his death, and while some journalists blamed her for it, his widow would invite her to the christening of their only son in April 1961. Here's a review from fansite Dear Mr. Gable, who are marking the King of Hollywood's anniversary with Misfits-related posts on their Facebook page.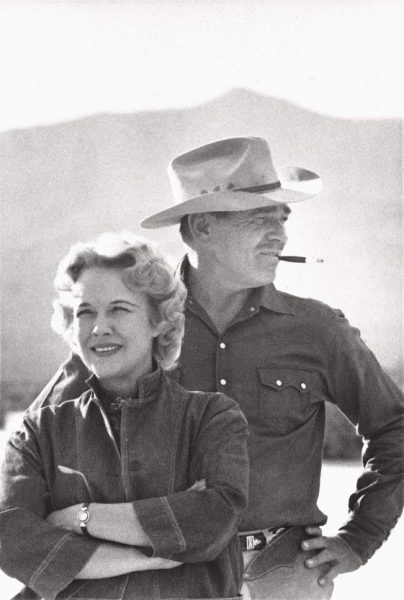 "The Misfits is an apt title for this film, not only fitting for its group of wandering cowboys and recent divorcee, but for the cast portraying them: The King of Hollywood, Clark Gable, who at age 59 was in no shape to be playing a 40-something-year-old cowboy in the hot Nevada desert. In fact, he failed his first physical for production insurance. After giving up alcohol temporarily and crash dieting to lose 35 lbs, he passed. And celebrated with whiskey and a steak.

Clark is paired as the unlikely romantic interest for the 34 year old Marilyn Monroe. Marilyn was in a dark place at the time … This film to me is just sad. I wonder if I would feel the same way if it wasn't Clark's swan song and if he didn't look so terrible in it. I'm not sure though; it's just a bleak film. The screenplay is very poetic, full of perfectly executed prose that at times seems overdone … It's unfortunate for us all that we never got to see Marilyn attempt to play such a dramatic role again.

His wife Kay recalled: 'Most of The Misfits was shot on a blistering hot dry lake bed 50 miles from Reno. The thermometer generally registered 135 degrees by mid-afternoon. Many members of the cast and crew became ill. But Clark outrode and outwalked men half his age.He did take after strenuous take roping a wild stallion singlehanded … Clark explained they had filmed a scene in which he was dragged on a rope behind a truck going 30 miles an hour. I was appalled. "Why are you doing those scenes?" I asked. "You've got a stunt man who's supposed to do them." Clark confessed that he'd found the waiting so demoralizing he'd volunteered to do the scenes just to keep occupied.'

On November 4, 1960, production wrapped on the film as the final scene was shot: Clark and Marilyn, alone in the car, surrounded by darkness.

'How do you find your way back in the dark?' she asks.

'Just head for that big star straight on. The highway's under it, it'll take us right home,' he says.

Those were the final words either of them would utter onscreen. There were no end credits, no 'The End' on the screen; it just faded to black. You can't get more poetic than that."