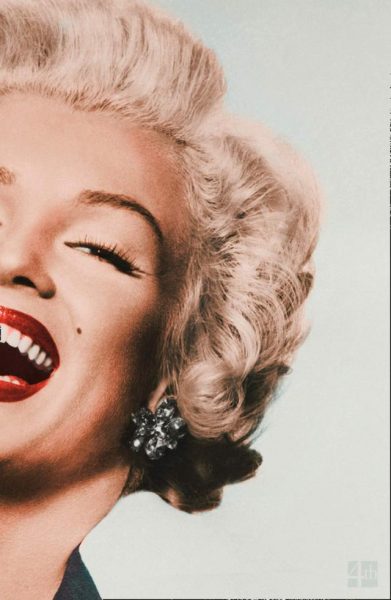 Joyce Carol Oates' novel about Marilyn, Blonde (2000), will be reissued later this month. In a review for The Times, Liza Klaussman claims it is now even more relevant given the recent revelations about sexual abuse in Hollywood, and the #MeToo movement.
"To capture a quicksilver persona such as Monroe's is no easy feat. Oates puts multiple perspectives to use, bringing Monroe's life to us in shards of Technicolor. It is told at once through Norma Jeane's voice and those close to her … What saves Blonde from descending into a darkness so deep that the reader is forced to look away is in part Oates's lavish language and its loose structure, which gives the story a high-octane energy. And it can't be denied that there is voyeuristic pleasure in it. However, the novel is also infused with Monroe's sly, subversive wit, breaking up the darker matter … What Oates achieves is to restore a crucial element of Monroe's story, one that has been lost, overlooked — the element of fury. Blonde stands as a cry of rage against the violence, symbolic and physical, that was perpetrated against the woman known as Marilyn Monroe. And, in the end, it leaves us in no doubt of the personal price to be paid for denying that rage."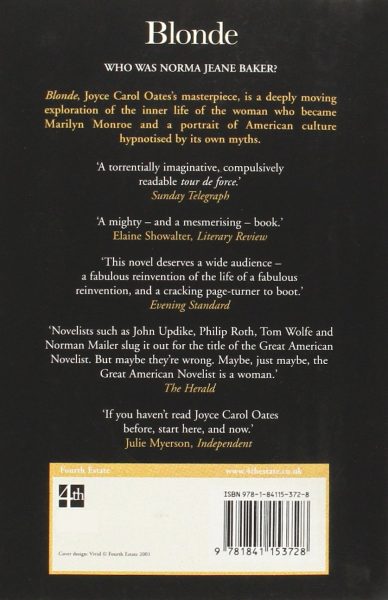 However, while Blonde is revered by some critics, others felt that Oates took too many liberties with the facts of Marilyn's life and presented her as a helpless victim. In her 2004 'meta-biography', The Many Lives of Marilyn Monroe, Sarah Churchwell challenged Oates' claim that fictional devices enabled her to give full expression to Marilyn's complex nature.
"Oates repeatedly protests in interviews against the 'literalism' of critics who disliked her extravagant fabrications, but it is not crudely literal to acknowledge that Marilyn Monroe is not totally a product of Joyce Carol Oates' imagination, and that the story Oates tells is not entirely a product of her imagination. Although Oates can (and does) hide behind the intellectual justification that the novel is postmodern in its 'experimentations' with blending fact and fiction, it is hard not to conclude that the experimentation is expedient, and arbitrary … Oates' postmodern 'experimentation' reconfirmed the Marilyn Monroe we've known since 1946: artificial, one-dimensional and dim. Oates' technique is not archetype but stereotype, not only of 'the Ex-Athlete' and 'the Playwright,' but particularly of breathless, confused, stammering, disintegrating 'Marilyn' … In Oates' approach, Marilyn's life is such an open secret that we need not bother with its details: we can simply stand back and take in the whole as a panorama adequately represented by selected symbolic 'truths'."