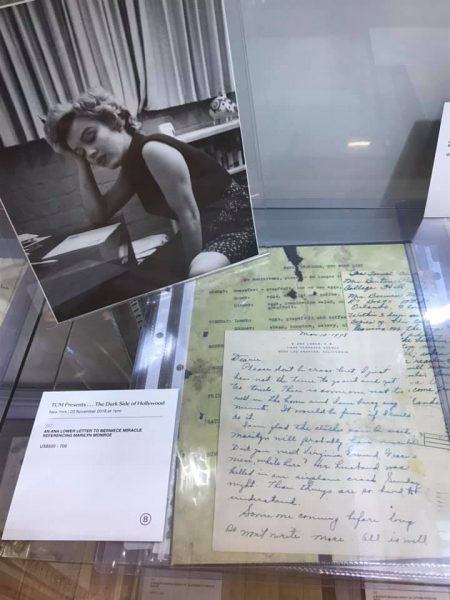 A treasure trove of correspondence to Marilyn will be auctioned today at Bonham's in New York, as part of TCM's Dark Side of Hollywood sale.  Among the lots are an autographed napkin; notes to herself, jotted on the back of envelopes; letters from her mother Gladys, and members of Norma Jeane's extended family, including Grace Goddard and Ana Lower; key figures in  Marilyn's later life, such as Joe Schenck and Elia Kazan; and other lesser-known acquaintances. Here are some of the highlights:
Thanks to Caren and Hannah at Marilyn Remembered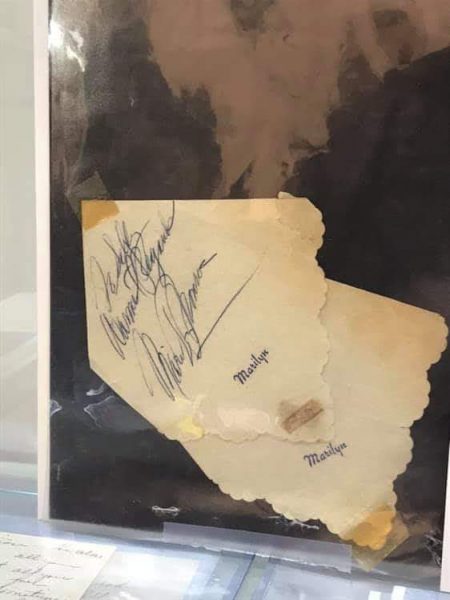 Letters from Uncle Art and Aunt Allis, 1938-39
"San Jose, on 'International Correspondence Schools' letterhead and plain stationery. Norma Jeane was 12 years old when she received these letters from relatives of her guardian, Grace Goddard, and Grace's aunt, Ana Lower. Though not related to her, they address themselves as Uncle Art and Aunt Allis, and in their separate letters to the child, they seem to know her well, calling her 'Little Sweetheart' and writing, 'We all send love to our little girl.' They often refer to their dog, Trinket, whom one may assume was adored by Norma Jeane, who had a soft spot for animals all her life. Despite the many difficulties Norma Jeane had to face as a foster child, it does seem that there were many caring people in her life, as Uncle Art writes, 'I am sure you are happy because everyone there loves you, and wants you to be happy.'"

Family photo, 1946: with Berniece Miracle and daughter Mona Rae; Grace Goddard; Marilyn and Ana Lower; and Marilyn's mother Gladys
Letters from Ana Lower, 1942-46
"In her first letter of 1942, Lower responds to 15-year-old Norma Jeane's questions about her shyness: 'Be your own sweet self and in time as you have more experience, you'll be able to talk when you want to, and people will really pay attention to what you say because it will be something worthwhile.' By 1946, Norma Jeane was obtaining a divorce from her first husband, James Dougherty (whom Lower adored) and was having financial difficulty. She had borrowed money from Lower, who was also allowing Norma Jeane's mother, Gladys Baker, to live with her at the time. Her letter expresses disappointment in Norma Jeane's decisions, quoting the Bible and giving advice. She also mentions that Gladys has been fired from her job at Griffith Park because she was 'too melancholy to be around the patients.' Lower gently but firmly warns Norma Jeane, 'Well, precious, you may feel I am being severe, but it is not so meant. I love you dearly and you must not feel hurt because of this letter.'"
Letters from Ana Lower to Jim Dougherty, 1943-45
"Lower was extremely close to Dougherty, and in her letter, she expresses her concern about his joining up and what it means for Norma Jeane's future. 'Her welfare of course is uppermost in your thoughts. She is young and really needs to finish her education.' Her love for the girl reveals itself often: 'Norma is such a sweet dear girl. Everyone loves her.' She also expresses gratitude for his caring ways: 'I am grateful for your kindness to Norma and know she loves you as dearly as you do her.'"
Letter from Gladys Baker, 1945
"In 1945, Gladys went to Portland to attempt to live on her own with the help of her aunt, Dora. She had been living in institutions for 9 years, and the hope was that she would be able to care for herself. She writes of her transition: 'I've only been here a few days [and] I am just getting acclimated to it. I'm taking it easy for a while.' Gladys' letter to Norma Jeane is surprisingly lucid and sweet. She is happy that Norma Jeane is married and hopes to meet her husband, James Dougherty (who was in the Merchant Marine at the time). She writes, 'Seems only yesterday that you were just a wee tott [sic] & now you are married. I know you are very happy & perhaps some time soon I'll see you.' Norma Jeane was elated and eventually went to visit her with photographer Andre de Dienes. After leaving Portland, Gladys returned to Los Angeles and lived with Norma Jeane briefly but was ultimately forced to return to institutional life."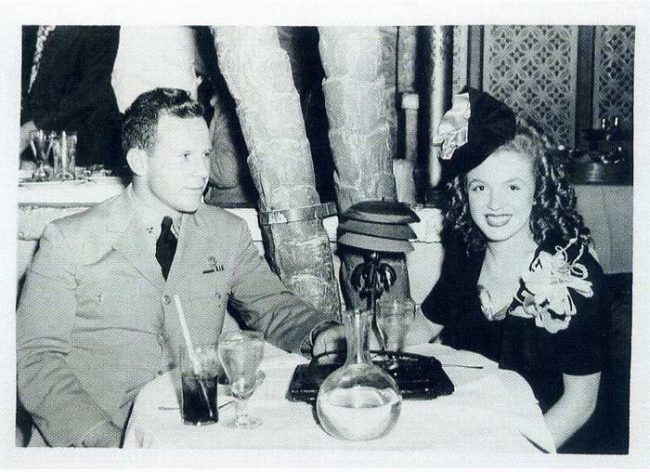 "In the summer of 1946, Norma Jeane Dougherty was establishing residency in Las Vegas in order to divorce her first husband, James Dougherty, who was in the Merchant Marine at the time. She had begun a love affair with photographer Andre de Dienes, one that was much more serious than previously thought. In her letters, Ana Lower, who was the most loving adult figure in Norma Jeane's life, remarks on the reactions she receives when she shows friends Norma Jeane's photographs: 'Everyone thinks your pictures are lovely, and I tell them not half so lovely as you really are.' As she is traveling during the writing of these letters, Lower describes her experiences, most notably her visit with Norma Jeane's amour, de Dienes. She found him both lovable and 'temperamental, as most artists are.' In her closing paragraph, she writes of Andre: 'I kissed your sweetheart good-bye and I will love him, too–we joked about my being his mother-in-law. I do hope Jimmie [Norma Jeane's soon-to-be ex-husband, whom Ana adored] is not too hurt by all this.'"
Letter from Grace Goddard, 1946
"Grace reveals that her aunt, Ana Lower, who was also a loving caregiver to Norma Jeane, is too easy on Dougherty: 'I know what a softie [Aunt Ana] is toward any male, old or young, who makes a fuss over her. As for me, Doc [Grace's husband], and all the rest of us, we look at situations through eyes of love for you, justice, and repayment for you being such an angel all your life. You deserve more than Jimmy is capable of giving you.' In closing, she makes a veiled reference to Norma Jeane's relationship with photographer Andre de Dienes and writes, 'Of course no one but Doc and me know of your future plans. I am so in hopes you will let your heart rule you this time and not let anything keep you from taking the happiness that is being offered you.'"
Letters from Grace Goddard, 1946
"In the summer of 1946, Norma Jeane was residing in Las Vegas to obtain her divorce from her first husband, James Dougherty. During this time, she was ill, experienced financial difficulties, and was having problems with her car. Goddard's letter is sympathetic: 'I am heartsick over you,' but firm when she scolds, 'I do wish you had listened to Doc [Goddard's husband] about your car.' Additional difficulty arose when Dougherty refused to sign the divorce papers once Norma Jeane was in Las Vegas. Goddard gets a final jab at Dougherty in her closing remarks (even though she arranged their marriage) when she writes, 'I never did think Jim would keep his promise to sign the papers.'"
"Len Cormier was a young Navy pilot who dated Monroe (then Norma Jeane Dougherty) shortly after she divorced her first husband in 1946. They had at least 2 dates: one at Tommy Dorsey's Casino Gardens in Santa Monica, and one where he took her flying (the only civilian he ever took up in a plane, he later recalled). In his letter from training camp, he writes, 'I'll have to admit that I don't leave your picture out all the time, since nobody would get any work done if it were.' He relays his experiences with flight operations and traveling, and ends his letter with a thoughtful message to his career-oriented friend: 'I've still got my fingers crossed, hoping that all the breaks in the world come to you.'"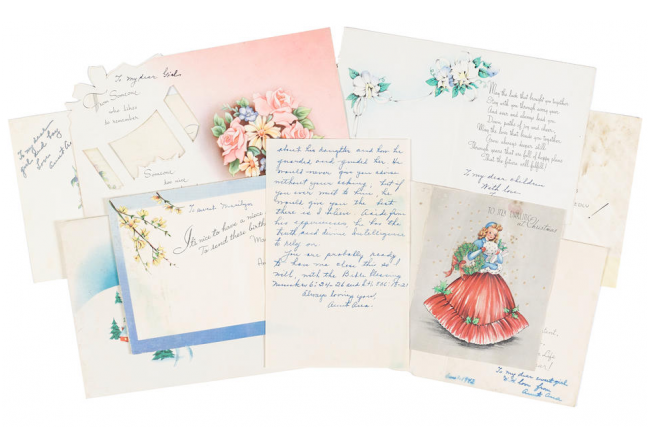 Holiday cards from Ana Lower, 1941-47
"Comprising a partial Autograph Letter Signed ('Aunt Ana'), c.1947, to Marilyn Monroe, on plain stationery, discussing Christian Science. Together with 9 holiday cards, including a congratulatory wedding card celebrating her marriage to James Dougherty in which she writes, 'To my dear / girl and boy / Love / Aunt Ana.'"
Letters from Howard Keel ('Harry'), 1947-48
"Until these letters, little was known about film star Howard Keel's relationship with Marilyn Monroe except that they had dated a few times. Keel had originally met Norma Jeane when she was 15 years old, as he relays in his letter: 'I had quite a liking for you deep down inside but being a ripe old 22 or so I felt I was a little old for you.' He is thrilled that they have reconnected and has a good laugh at seeing her crowned as 'The Artichoke Queen' in a publicity stunt. At some point between letters, the two got together, and Keel expresses his disappointment at not being able to see more of Monroe: 'When I come home in June we'll have to have some fun & find out what there is between us.' Obviously, nothing came of the relationship, but Keel has sweet words about their reunion when he writes, 'It was wonderful to find you the same sweet person I knew before.'"
Letter from Ana Lower to Berniece Miracle, 1948
"Lower refers to Marilyn (who is now no longer called Norma Jeane, even by her family), as she writes: 'I am glad the clothes can be used. Marilyn will probably have more later.' Marilyn often gave her clothes to Berniece when she was finished with them. Lower closes the letter with, 'All is well with me and with Marilyn's career.' Ana Lower would die 4 days after this letter was written."
Letters from Joe Schenck, 1948
"At the time of his letters to Marilyn, she had just signed a 6-month contract with Columbia Pictures, a major breakthrough in her career, which Schenck addresses: 'I hope you will get your chance at Col and make good.' Several months later, he writes, 'Am very pleased to know you have a good part in a picture. Stick to your work and you will make good. Make your career your first consideration.' Schenck either had a sense of humor or spelling problems, as he incorrectly spells Monroe's name twice, writing both 'Maryline' and 'Marrylene' in his salutations!"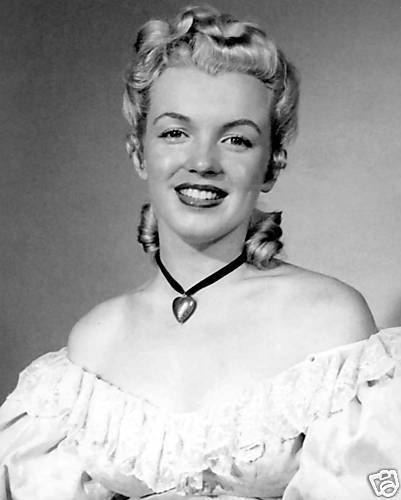 Letter from Gordon Provonsha, 1948
"Provonsha was a commercial artist who painted a portrait of Monroe for a Dolly Madison wine advertisement during her modeling days."
Telegrams from Elia Kazan, 1951
"Kazan and Arthur Miller called Monroe 'Miss Bauer' based on a prank they played on Columbia boss Harry Cohn in which Monroe posed as a secretary by that name. Two of the Kazan telegrams allude to this pseudonym, with one signed 'Bauer' and the other signed simply 'B.' Though Monroe had affection for Kazan, she fell hard for Miller and the Kazan relationship fizzled out. From his messages, however, it appears that they were close: 'Darling Just sit tight where you are and I'll call for you about nine thirty.'"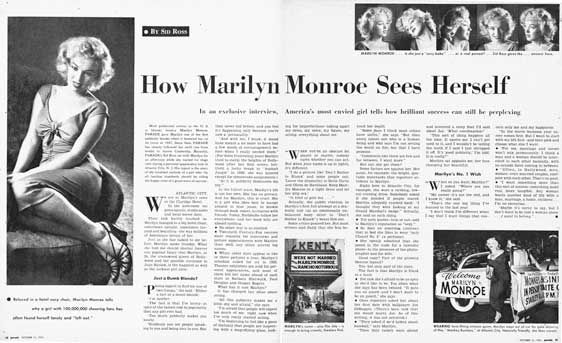 "Ross was a writer for Parade magazine whose brother, photographer Ben Ross, had photographed Monroe several times. Sid Ross fell head over heels in love with Monroe, who appears not to have returned his affection (or many of his letters, since his enclosed self-addressed stamped envelope for her convenience is still attached to his letter)! His letters are lyrical, poetic, and beautifully written, and he is clearly besotted: 'The sheer joy of watching you–as you talk & sometimes crinkle up your brow … the sometimes pain in your voice and glance and gestures … the intensity that stirs not only you, but others.' In April of 1952, Ross received a 'Dear John' letter from Monroe that he declared was 'a blow. A terrific blow. It made me feel that the end of the world had come for me.' He is clearly heartbroken and devastated. Interestingly, Ross closes one of his letters, 'You may never be a "great" actress possibly but you'll always be a so very beautiful girl…,' a statement which may have been the very reason Monroe broke things off with Sid Ross."
Correspondence Regarding Gladys Baker, 1935-52 
"Grace Goddard is clearly at the end of her rope, having spent the last 20 years trying to take care of Baker, and her exhaustion is palpable: 'I have always loved her and her child, but I have a very bad heart condition brought on by a stroke caused by Gladys in Feb 1950. I have tried too many years to help her and I can no longer have her in my home.'"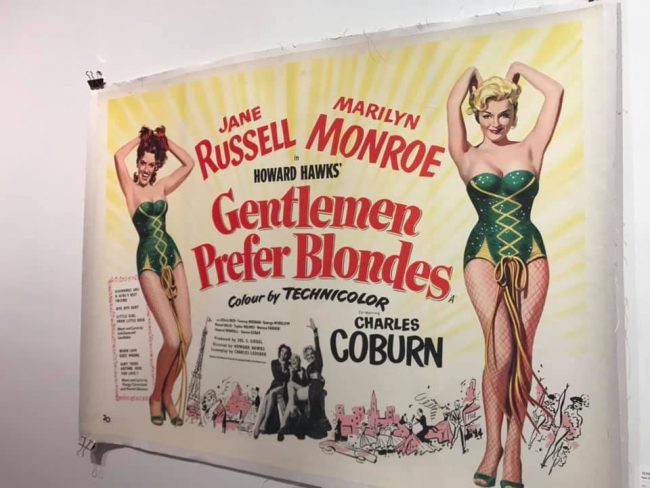 UPDATE: Marilyn's letter from Gladys sold for $2,750; and two letters from Ana (1942-46) sold for $2,500.