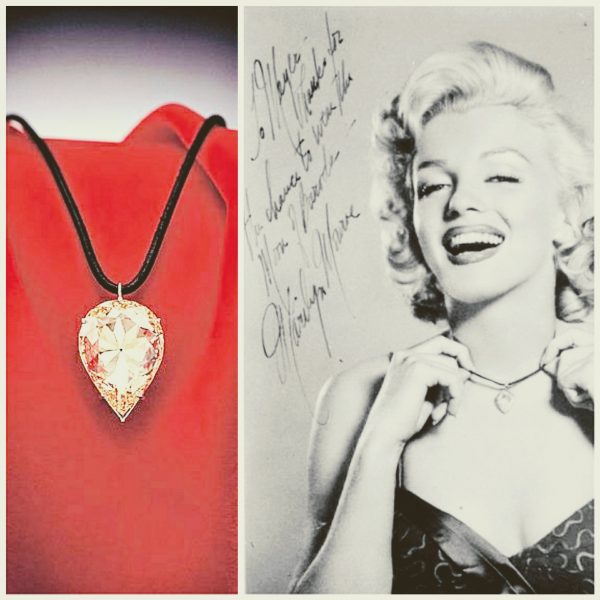 The legendary Moon of Baroda diamond – valued by its current owner at between $500,000 and $750,000 – is now on display at Christie's in Los Angeles until October 20, and will be auctioned in Hong Kong on November 27 alongside a signed photo of Marilyn wearing it, as Jordan Riefe writes for the Hollywood Reporter.
"'It's gorgeous,' said Marilyn Monroe when first gazing upon the Moon of Baroda; not a heavenly body to match her own, but a diamond, a rare 24.04-carat canary yellow gem pulled from the legendary Golconda mine, outside Hyderabad, in 16th-century India.

Monroe was on a publicity tour for her breakout 1953 comedy Gentleman Prefer Blondes with its unforgettable song, 'Diamonds are a Girl's Best Friend' when the Moon of Baroda became her best friend, on loan from Meyer Jewelry Company in Detroit.

Meyer Rosenbaum loaned it to the legendary actor for publicity purposes surrounding Howard Hawks' classic comedy, Gentlemen Prefer Blondes, co-starring Jane Russell, and photos of Monroe wearing it went viral.

What won't add to its price is a rumored curse alleging that if the gem travels overseas, bad luck will come to its owner. Its 19th century stint in Austria ended with the death of Maria Theresa, and others claim that Monroe's fortunes took a southward turn after wearing it in 1953, when Gentlemen Prefer Blondes launched her to stardom."
UPDATE: The Moon of Baroda diamond has been sold at auction in China for $1.3 million – more than double its low estimate, as Christie's reports.