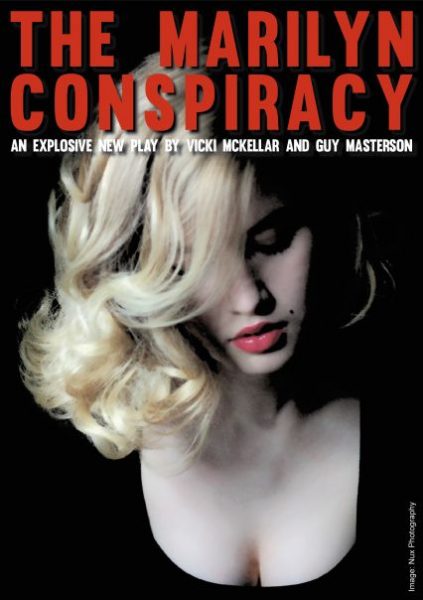 Marilyn is a hot topic in fringe theatre, though the results aren't always stellar. At this year's Edinburgh Festival, she's the subject of two new shows, reviewed by Joyce McMillan for The Scotsman.
The Marilyn Conspiracy has grabbed a few headlines although Marilyn herself isn't depicted – it's set in the hours after her death, as some of the main players in her final months respond to the tragedy.
"The play is desperately confusing at first, and urgently needs to use its tableau-like opening moments to let the characters tell us exactly who they are … It's a measure of the sheer power of the story, though, that the play rivets the attention nonetheless, as the two doctors in the room, and even Marilyn's furious friend Pat Newcomb, are gradually worn down … "
However, another audience member – MM superfan Lorraine – told me, "The Marilyn Conspiracy had all the bogus theories – the ambulance, Bobby Kennedy, injections, enemas etc … I could hear people laughing a lot at some of the theories talked about … maybe the audience all knew better!" In his review for The Stage Paul Vale agrees, describing the play as a "stifling, under-developed drama that blurs fact and fiction."
Theatregoers whom (like myself) aren't enthralled by conspiracy theories may prefer the lighter option…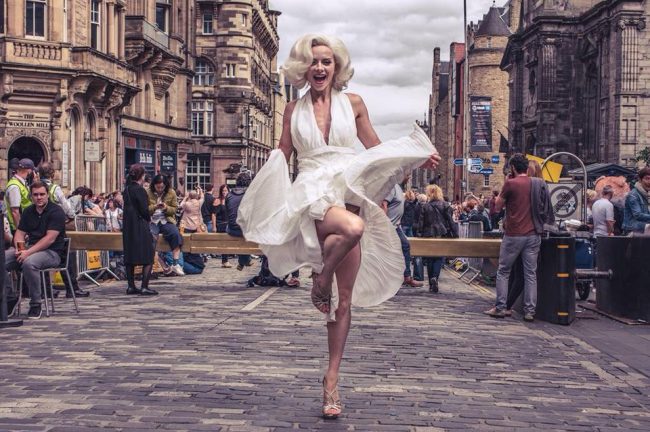 "JoJo Desmond's cabaret show The Marilyn Monroe Story is a fragile little piece by comparison, a brief and simply staged hour of songs and biographical narrative tracing Marilyn's remarkable life, not least through versions of some of her most famous and fabulous costumes. Desmond sings Marilyn's songs beautifully, in a near-perfect imitation of her breathily gorgeous voice; and she, too, observes the link with the #metoo moment. Her script, though, never soars into anything like the brilliant writing a life like Marilyn's invites and for all her charm, she is a long way from even beginning to capture the glowing charisma of the woman herself."
Once again, Lorraine's view was quite different to McMillan's. "On the whole," she says, "the show was well-researched and the costumes and mannerisms and performances of songs were spot on … the voice was accurate and she had some beautiful costumes (including a 'Heat Wave' replica outfit!), and you could tell that she had studied every single movement that Marilyn does in each of the musical performances."
Where Marilyn is concerned, a diehard fan can be more perceptive than most theatre critics. Lorraine will be posting her full review of both shows soon on the Marilyn Remembered blog.