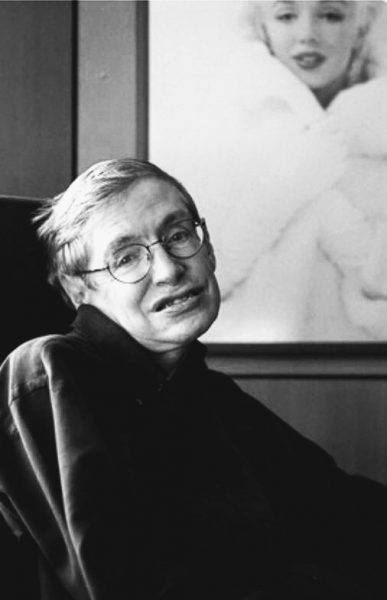 Professor Stephen Hawking has died aged 76, the BBC reports.
"The British scientist was famed for his work with black holes and relativity, and wrote several popular science books including A Brief History of Time.

At the age of 22 Prof Hawking was given only a few years to live after being diagnosed with a rare form of motor neurone disease. The illness left him in a wheelchair and largely unable to speak except through a voice synthesiser.

Prof Hawking was the first to set out a theory of cosmology as a union of relativity and quantum mechanics. He also discovered that black holes leak energy and fade to nothing – a phenomenon that would later become known as Hawking radiation.

Through his work with mathematician Sir Roger Penrose he demonstrated that Einstein's general theory of relativity implies space and time would have a beginning in the Big Bang and an end in black holes."
Hawking was also outspoken on social issues, and took his unlikely place in popular culture with good humour. He made guest appearances on TV shows such as The Simpsons and The Big Bang Theory, and was the subject of The Theory of Everything, a 2014 biopic starring Eddie Redmayne (who previously played Colin Clark in My Week With Marilyn.)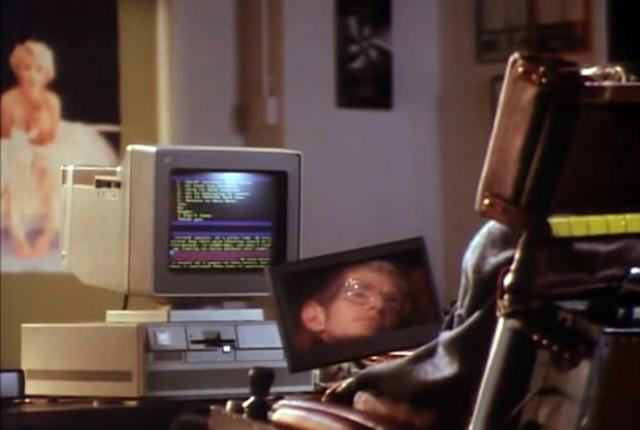 Finally, Dr Hawking may have been the world's most distinguished Monroe fan, as Gregory Benford noted in a 2002 profile for Reason magazine.
"Although I had been here before, I was again struck that a man who had suffered such an agonizing physical decline had on his walls several large posters of a person very nearly his opposite: Marilyn Monroe. I mentioned her, and Stephen responded instantly, tapping one-handed on his keyboard, so that soon his transduced voice replied, 'Yes, she's wonderful. Cosmological. I wanted to put a picture of her in my latest book [The Universe in a Nutshell], as a celestial object.'"
Errol Morris, who directed the 1991 documentary, A Brief History of Time, recalled discussing Marilyn with Hawking in a Slate magazine interview.
"I wanted to shoot him on a stage, so we assembled a facsimile of his office in a studio. He has all of these pictures of Marilyn Monroe on the walls. At one point, one of the pictures became unglued and fell off the wall. Stephen, of course, is clicking away and finally, he says, [synthesizer voice] 'A FALLEN WOMAN.'

Finally, I said, 'I figured it out, why you have all these pictures of Marilyn Monroe on the wall. Like you, she was a person appreciated for her body and not necessarily her mind.'

And he gave me this really crazy look, like, 'What the fuck are you saying, Mr. Morris?' He gave me this crazy look, and then finally, there's a click, and he says, 'YES.'"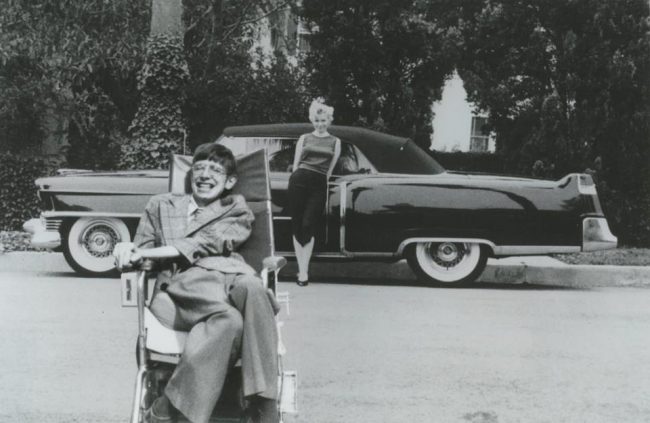 Fans paid tribute today on the Facebook page, A Passion for Marilyn:
"The theoretical physicist once described his heroes as 'Galileo, Einstein, Darwin and Marilyn Monroe.' The last was of particular appeal to the scientist who hung posters of her and collected Monroe-related bric a brac.

'My daughter and secretary gave me posters of her, my son gave me a Marilyn bag and my wife a Marilyn towel,' he once said. 'I suppose you could say she was a model of the universe.'"