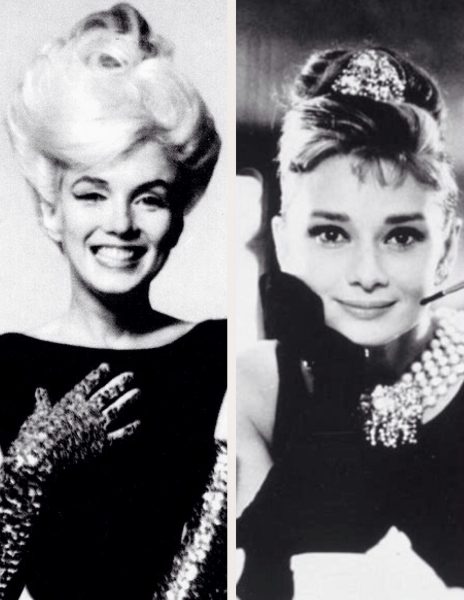 The role of free-spirited Holly Golightly in the 1961 movie, Breakfast at Tiffany's, was first offered to Marilyn before it became an unlikely star vehicle for Audrey Hepburn. But as Emily Temple writes in '20 Literary Adaptations  Disavowed By Their Original Authors,' an article for Literary Hub, novelist Truman Capote was unhappy with the casting.
Although Marilyn's rejection of the part is usually attributed to (or blamed upon) Paula Strasberg, others also advised her against it – but on artistic grounds, and not, as reported, because Holly was a call girl (a detail sidelined in the movie.)
'I can see Marilyn playing a part like Holly and even giving this present one all the elan it badly needs,' Edward Parone wrote in a 1959 report, 'but I don't feel she should play it: it lacks insight and warmth and reality and importance.' Parone was then working for Marilyn's production company, and would be a script advisor on The Misfits – and despite Audrey's success, it was a view with which many critics, including Capote himself, would have agreed.
"Famously, Truman Capote wanted Marilyn Monroe for the part of Holly Golightly in the film adaptation of his now-classic novella. As Capote explained: 'I had seen her in a film and thought she would be perfect for the part. Holly had to have something touching about her . . . unfinished. Marilyn had that.' But although in a lot of ways she was perfect for the role, and though Capote claimed 'she wanted it so badly that she worked up two whole scenes all by herself to play for me,' she was discouraged from accepting the part by her dramatic advisor and acting coach Paula Strasberg, who said 'that she would not have her play a lady of the evening.' The role ended up going to Audrey Hepburn. 'Paramount double-crossed me in every way and cast Audrey,' Capote said. But it wasn't just the casting that bothered him. 'The book was really rather bitter,' he told Playboy in 1968, 'and Holly Golightly was real—a tough character, not an Audrey Hepburn type at all. The film became a mawkish valentine to New York City and Holly and, as a result, was thin and pretty, whereas it should have been rich and ugly. It bore as much resemblance to my work as the Rockettes do to Ulanova.'"