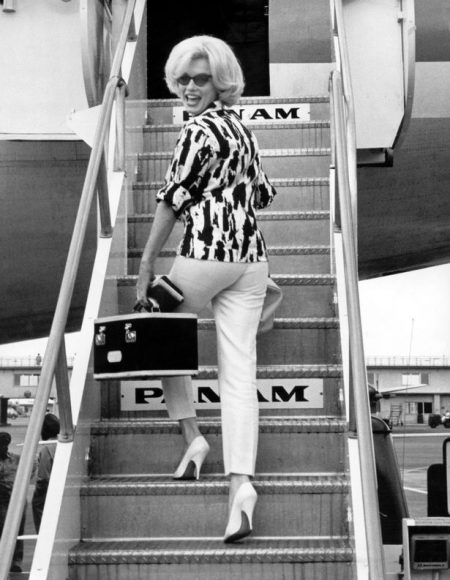 This photo of Marilyn boarding a Pan-Am flight to Mexico City at Miami International Airport on February 21, 1962 is published in a new book, Switched On: Women Who Revolutionised Style in the 60s, by David Wills, author of MM: Metamorphosis and Marilyn in the Flash.
"MM's personal style loosened up in the last months of her life, as she played a wife and mother for the first time in the aborted Something's Got to Give. Now paler, blonder and more refined – her features and body transformed by an extreme weight loss – she resembled a beautiful ghost. Marilyn indulged her fondness for Pucci prints, Jax slacks, and Ferragamo high-heel mules, perhaps sensing in her new home life – in the first home she ever owned – a saner existence within reach. This was not to be: a Hollywood legendary was made tragically eternal instead."
Here are some more photos from the same day, including one of Marilyn kissing goodbye to Joe DiMaggio.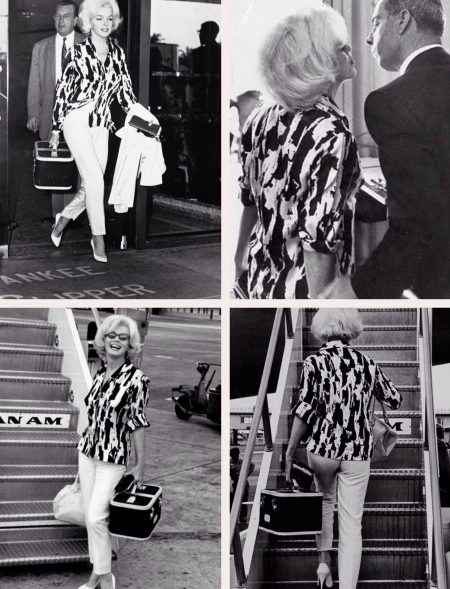 Marilyn will also feature in Wills' next book, Hollywood Beach Beauties: Sea Sirens, Sun Goddesses, and Summer Style 1930-1970, due for release in June 2018.
"Hollywood Beach Beauties highlights the sexy, carefree attitude of the summer, the elegant seaside couture, and the enchanting and alluring beauty of the female form. Included here are candid and stylish photographs featuring stars of yesterday such as Elizabeth Taylor, Rita Hayworth, Audrey Hepburn, Marilyn Monroe, Brigitte Bardot, Sharon Tate, Raquel Welch, Sophia Loren, Dorothy Dandridge, and Nancy Sinatra."