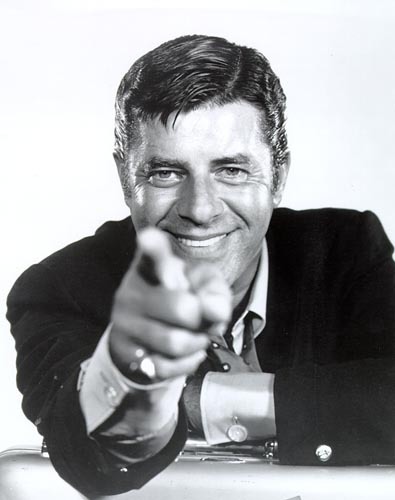 One of the most popular American comedians of the last century, Jerry Lewis has died of heart disease aged 91.
He was born Joseph (or Jerome) Levitch to Russian Jewish parents in Newark, New Jersey, in 1926. His father was a vaudeville performer, and his mother played piano. He joined them onstage at an early age, and dropped out of high school in the tenth grade. A heart murmur rendered him ineligible for military service in World War II. Already a prankster at 15, he developed a 'Record Act', exaggeratedly miming the lyrics to popular songs. He married singer Patti Palmer in 1944, and they would raise six sons together.
In 1946, he formed a comedy partnership with crooner Dean Martin. Over the next ten years, they graduated from nightclub act to the internationally celebrated stars of radio, television and movies.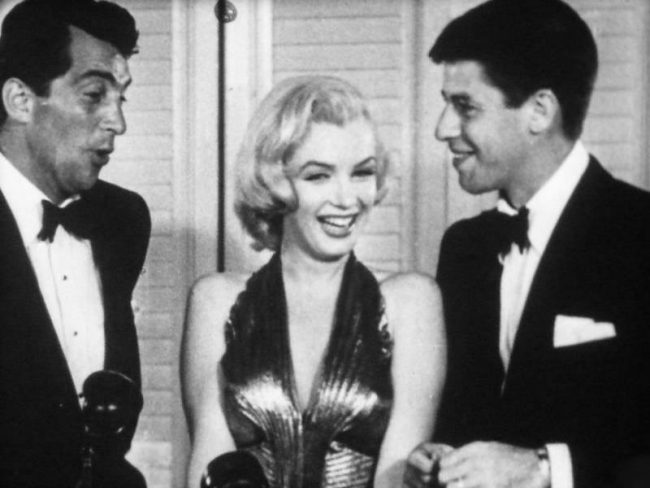 On February 9, 1953, Marilyn Monroe met Lewis and Martin for the first time, at the annual Photoplay Awards at the Beverly Hills Hotel. She was wearing the revealing gold lame dress fleetingly glimpsed in Gentlemen Prefer Blondes. Actress Joan Crawford would later speak witheringly of Marilyn's 'vulgar display' as she collected the award for Fastest Rising Star. "The audience yelled and shouted, and Jerry Lewis shouted," Crawford told reporter Bob Thomas. "But those of us in the industry just shuddered. It reminded me of a burlesque show." At twenty-six, Marilyn was the same age as Jerry Lewis, and part of Hollywood's new vanguard. Crawford, a star from a prior generation, later apologised for her remarks amid widespread criticism.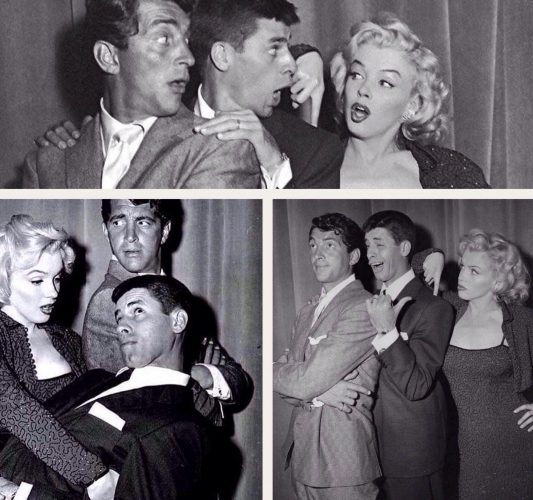 On February 24, Marilyn appeared on the Martin and Lewis Radio Show, accepting an award from Redbook magazine, and sparring with the comedy duo in an eight-minute sketch, 'So Who Needs Friends.' Columnist Sidney Skolsky, who accompanied her that day, wrote about it in his 1954 book, Marilyn.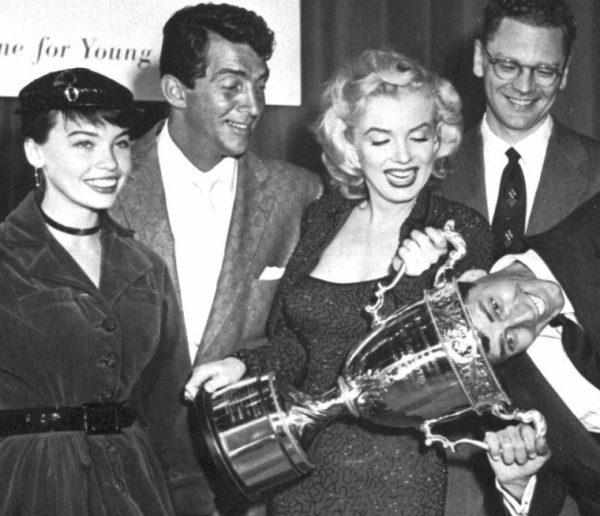 "Jerry Lewis visited her dressing room and said, 'I know you're scared. Don't be. I was awfully nervous when I went on the radio for the first time, with Bob Hope.' He pressed her hand. 'You'll be great,' he said, and left the room. This brief talk and vote of confidence from Lewis helped Marilyn considerably. Marilyn was great on the program. After it, Jerry said to me, 'She's got nothing to worry about. She knows more about sex than I do about comedy.' Which is the highest compliment a comedian could bestow on an actress who is selling glamour."
Marilyn became good friends with both Jerry and Dean Martin. Sensing her loneliness, they often invited her to dinner alongside fellow pal Sammy Davis Jr. A lifelong insomniac, Marilyn would sometimes call them in the small hours and ask to meet up at all-night diners.
On October 18th, columnist Sheilah Graham published an interview with Marilyn in which she named the ten most fascinating men in the world, including future husbands Joe DiMaggio and Arthur Miller, her River of No Return co-star Robert Mitchum, Asphalt Jungle director John Huston, close friends Marlon Brando and Sidney Skolsky, acting coach Michael Chekhov, photographer Milton Greene, and India's Prime Minister, Jawaharlal Nehru (the only one she hadn't met.) And the last man on her list was Jerry Lewis…
"I think that Jerry has a lot of sex appeal. It might have something to do with his vitality. I can't figure out what it is. He makes funny faces because he thinks people want him to make funny faces. But behind it all there's something serious and very sexy. I just think he's sexy."
On December 6, Hedda Hopper reported that Jerry and Dean had called upon friends to donate items for a charity auction for muscular dystrophy. "They asked Marilyn Monroe for something personal – anything close to her. What they got was a copy of Tolstoy's War and Peace autographed by Marilyn."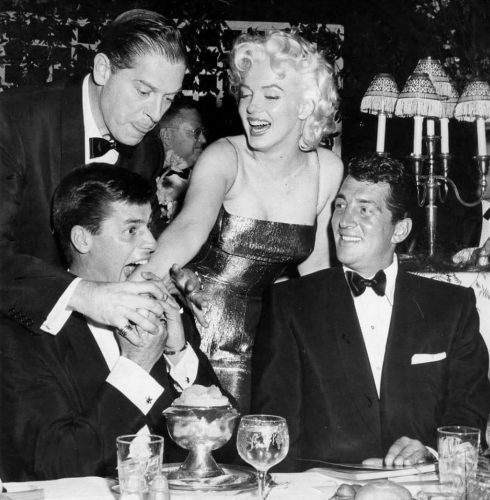 After Marilyn moved to New York in early 1955, the men-only Friars' Club broke code and invited her to their annual roast, compered by Milton Berle in Martin and Lewis's honour. When Berle called her to the podium, Marilyn blew a kiss and whispered, "I love you, Jerry."
Lewis remembered Marilyn with great affection in his 2005 memoir, Dean & Me: A Love Story…
"To my vast regret, the one actress we never performed with was Marilyn Monroe – and how great she would have been in a Martin and Lewis picture. She had a delicious sense of humour, an ability not only to appreciate what was funny but to see the absurdity of things in general. God, she was magnificent – perfect physically and in every other way. She was someone anyone would just love to be with, not only for the obvious reasons but for her energy and perseverance and yes, focus. She had the capacity to make you feel that she was totally engaged with whatever you were talking about. She was kind, she was good, she was beautiful, and the press took shots at her that she didn't deserve. They got on her case from day one – a textbook example of celebrity-bashing."
In 1956, the Martin and Lewis collaboration ended as Dean, tired of being the 'straight man', decided to pursue a solo career. Jerry was heartbroken but his partner was adamant, and despite occasional public appearances together, the pair were estranged for thirty years.
In 1958, Jerry was offered the chance to star opposite Marilyn as jazz musician and 'bosom pal' Jerry/Daphne in Billy Wilder's classic drag farce, Some Like It Hot. Unsure of his ability to convincingly impersonate a woman, he declined and the part went to Jack Lemmon. In 1959, Lewis signed a groundbreaking deal with Paramount Pictures, earning $10 million plus 60% of the profits for 14 films over the next 7 years. In partnership with director Frank Tashlin, Jerry also produced and co-wrote his movies, including his greatest success, The Nutty Professor (1962.)
Shortly before her death in 1962, Marilyn had been filming Something's Got to Give with Dean Martin, who refused to work with another actress after Monroe was fired. Many of the rumours surrounding her demise have focused on her alleged affair with John F. Kennedy, but in a 2002 interview with GQ magazine, Lewis – himself a friend of the president – quipped that it wasn't true, because Marilyn was having an affair with him. This bizarre remark – possibly a joke – nonetheless made headlines, but a sexual liaison at this time seems unlikely.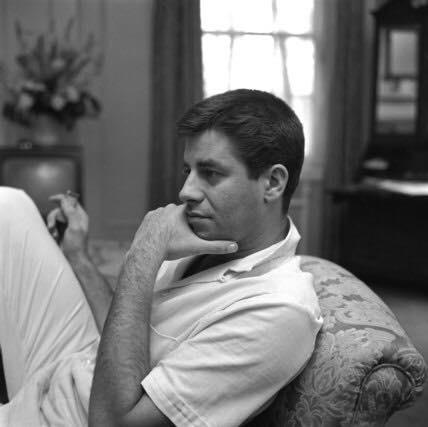 By the mid-1960s, Jerry's popularity was fading, though he became a cult figure in France, where he was hailed as a comedic auteur. In 1966, he hosted the first of 44 annual US telethons for muscular dystrophy on Labour Day weekend. His long marriage to Patti Palmer ended in 1982, and a year later he married 30 year-Old stewardess San-Dee Pitnick. They later adopted a daughter.
His performance in Martin Scorsese's King of Comedy (1983), as a television host stalked by obsessive fans, hinted at a darker side to the Lewis persona and established him as a serious actor. He played further acclaimed roles in Arizona Dream (1994), Funny Bones (1995.)
In recent years he suffered from increasingly poor health. Tragedy struck in 2009 when his 45 year-old son Joseph died of a drug overdose, and in 2010, Lewis began raising funds to build a facility for vulnerable and traumatised children in Melbourne, Australia. In a recent television interview, he spoke candidly about his fear of dying. He continued working until the end, playing the titular role in Max Rose (2016.) Jerry Lewis died at home in Las Vegas on August 20, 2017.
Further Reading
Holding a Good Thought for Marilyn: 1926-1954 – The Hollywood Years by Stacy Eubank (2015)
'Jerry Lewis: the knockabout clown with a dark and melancholy inner life' by Peter Bradshaw, The Guardian, August 20, 2017
'Marilyn, Jerry Lewis and Some Like It Hot' by Tara Hanks, ES Updates, October 8, 2015
'Jerry Lewis and Marilyn Monroe: Inside the Comedy King's Story of His Secret Affair With the Sexy Screen Siren' by Victoria Miller, The Inquisitr, August 21, 2017
'My Two Days With Jerry Lewis' by Amy Wallace, GQ, August 21, 2017