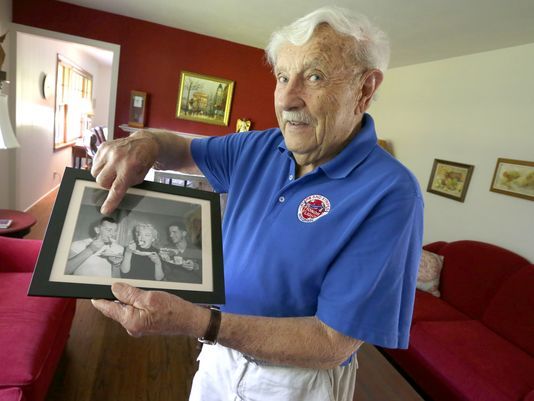 A veteran army cook has spotted himself in a photo with Marilyn in Korea during her 1954 tour, reports the Milwaukee Journal-Sentinel.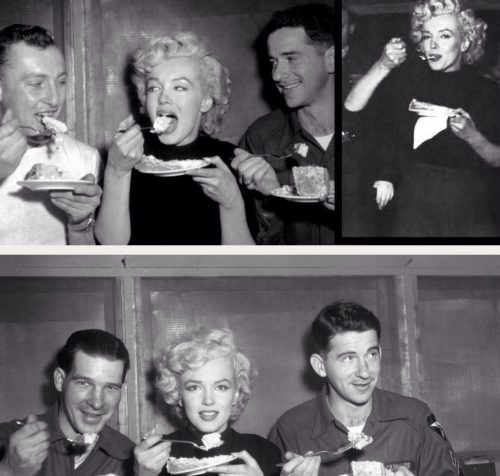 "If an Army cook meets Marilyn Monroe and doesn't have a photo to prove it, did it really happen?

For 63 years now, Jerry Karthauser has been insisting it's true. He fed lunch to the stunning starlet when she showed up in Korea to entertain the troops.

His wife, Mary, has heard the tale plenty of times. 'He had a kiss from her, he cooked for her, and for all these 60-plus years, people were just sort of yeah, yeah, yeah,' she said.

Well, now the 85-year-old Thiensville man finally has photographic evidence of their meeting, and it came in dramatic style during a Stars and Stripes Honor Flight from Milwaukee to the war memorials in Washington, D.C., last Friday.

Jerry's son, Brad of Kansas City, tracked down the photo on the internet where it was hiding in plain sight. He had it framed and placed in the mailbag that each veteran on the Honor Flight receives on the ride home.

Turns out Jerry was embellishing a bit. 'I always claim I got a kiss on my right cheek, but I think that's a fable,' the retired wholesale florist now admits.

Knowing the Honor Flight was coming up, Brad widened his search and found the photo of Jerry, Marilyn and another soldier. They're all eating cake in the black-and-white pic.

'She's looking at me directly, and I'm looking at her,' Jerry told me.

'She's actually flirting with him. It's really quite a picture,' Mary said.

Jerry was single at the time, February of 1954, and assigned to headquarters company 2nd Infantry Division near Seoul, South Korea. The mess hall denizens had sent Marilyn a hand-drawn invitation to lunch.

Many photos of that tour exist. Jerry, who grew up in Thiensville, was told the one taken of him would be sent to his hometown newspaper, but he doesn't think it ever ran around here. Jerry captured a few snapshots of Marilyn during the visit, but he's not in them because selfies were not a thing yet.

Jerry remembers Marilyn as friendly, accommodating and 'really beautiful.'

'She stood outside on a Jeep and signed autographs for a long, long time. It was a cold day. I remember that. She had a flight jacket on,' he said.

Stunned by receiving the elusive photo on the Honor Flight, Jerry passed it around for others to see. Now, it will have a place of honor at home, and Mary denies she's the slightest bit jealous when she looks at her husband and Marilyn Monroe making eyes.

'It's a nice story because it's 60-plus years in the making,' she said."
UPDATE: In 2016, MM expert Scott Fortner purchased the hand-drawn invitation to Marilyn from the 2nd Infantry Division mentioned in the article. More info here.