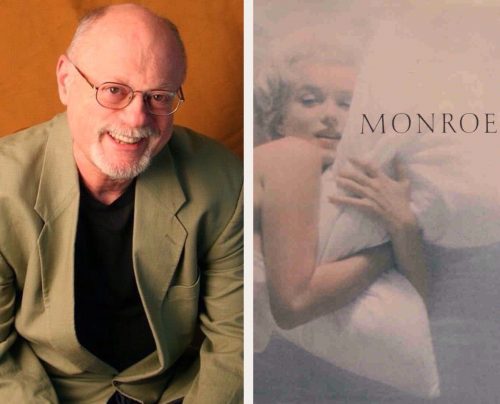 James Spada, author of the much-loved 1982 book, Monroe: A Life in Pictures, has passed away aged 67.
He was born in Staten Island, New York, in 1950 – the year in which a young Marilyn Monroe made her breakthrough in Hollywood. "When I first saw a photo of her in the newspaper," James said, "I was totally enamored." He would later write that his father, Joseph Spada, "always encouraged me in my love for Marilyn."
Like many others, James vividly remembered hearing of her tragic death in 1962. "I was twelve – a kid with a scrapbook," he told Immortal Marilyn in 2013, recalling that when a friend of his brother called to tell him the news, he turned on the radio and burst into tears. "After she died there wasn't much interest in her in the press," James recalled, "not like there is today." In 1963 he founded the Marilyn Monroe Memorial Fan Club with fellow fan George Zeno. Over the next four years, the friends produced regular bulletins and yearbooks, mailing them to other admirers.
While in college, James edited EMK, a quarterly dedicated to Senator Edward Kennedy. In 1970, he worked as an intern in Kennedy's Boston office. His debut book, Barbra: The First Decade, was published in 1974. The multi-talented Streisand was the quintessential star of her era, and James would become a leading authority on her remarkable career. This was followed by The Films of Robert Redford in 1978. And in 1979 came The Spada Report, based on hundreds of interviews with gay men, and documenting a social revolution in progress.
Twenty years after Marilyn died, James reunited with George Zeno for a lavish tribute. Monroe: A Life in Pictures combines more than 200 black-and-white photographs, including film stills, studio portraits and newspaper shots, with a mid-section of full-page, glossy colour images by Andre De Dienes, Cecil Beaton and others. At the time, many were unknown to the public. Douglas Kirkland's gorgeous cover photo epitomises Marilyn's unique blend of sex and innocence, and a life poised between beauty and sadness. Inside, Spada retold her fabled story through extended captions, enhancing each photograph with his impeccable research and sensitive commentary. Monroe: A Life in Pictures was a bestseller, spawning many imitations but seldom equalled. Its success enabled James to produce similar volumes on Judy Garland and Liza Minnelli, Katharine Hepburn, and Jane Fonda.
In 1987, James published his first non-pictorial biography, Grace: The Secret Lives of a Princess. This was followed by Peter Lawford: The Man Who Kept All the Secrets (1991), and Bette Davis: More Than a Woman (1993.) He also wrote several coffee-table books about America's political families, including Jackie: Her Life in Pictures (2000.)
In more recent years James completed a biographical novel about Edgar Allen Poe and three collections of his own erotic photography, as well as an anthology, The Romantic Male Nude. His final book, Barbra Streisand: In the Camera Eye, was published in 2014. Monroe: A Life in Pictures is now available on Kindle, and in 2016, a rather gossipy extract from his biography of Peter Lawford was reprinted in a one-off magazine special, Vanity Fair Icons: Marilyn Monroe. He also mentioned Marilyn frequently on his entertaining blog, James Spada's Hollywood.
James was a popular speaker at the annual memorial services hosted by our sister club Marilyn Remembered in Los Angeles, including the fiftieth anniversary of her death in 2012. Many fans have spoken fondly of their personal encounters with this gentle, approachable man. Set apart by visual elegance and a genuine enthusiasm, Monroe: A Life in Pictures remains a classic of its kind. If you don't have a copy it can still be found online or in used bookstores, earning a rightful place in every fan's library, and all our hearts.