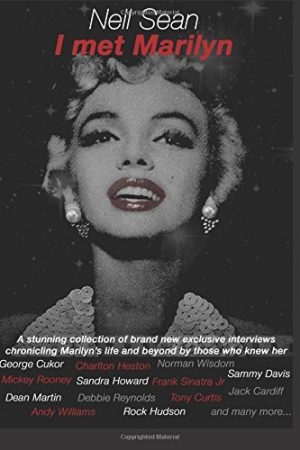 Neil Sean is a British entertainment and royalty pundit for broadcast media in the UK And USA. He is also the author of three books: How to Live Like a Celebrity For Free (2012); Live at the London Palladium (2014); and The Downing Street Cats (2016.)
Co-authored with Michael Dias, he has now published I Met Marilyn, a collection of interviews with stars who knew and worked with MM. These include Mickey Rooney, Bette Davis, Celeste Holm, Jane Russell, Lauren Bacall, Johnnie Ray, Ethel Merman, Jack Cardiff, Sir Laurence Olivier, Jack Lemmon, Tony Curtis, George Cukor and Cyd Charisse; and other celebrity acquaintances, such as Jerry Lewis, Eartha Kitt, Andy Williams, Sandra Howard, Debbie Reynolds, Eddie Fisher, James Garner, Rock Hudson, Charlton Heston, Ricci Martin (Dean's son), Buddy Greco, and Frank Sinatra Jr.
Mr Sean clearly has lengthy experience in the show-business world, with some interviews dating back to the late 1970s (and of course, most of his interviewees are now deceased.) His media profile has garnered coverage for I Met Marilyn in Scotland's Weekly News and Sunday Post. He explains that the transcripts were made from his own notes and tape recordings. Unfortunately, the book is filled with run-on sentences, and punctuation so erratic that it's often hard to distinguish between his own observations, and quotations from others. There are no pictures of Marilyn inside, but the interviews are accompanied by photos of Sean with various stars.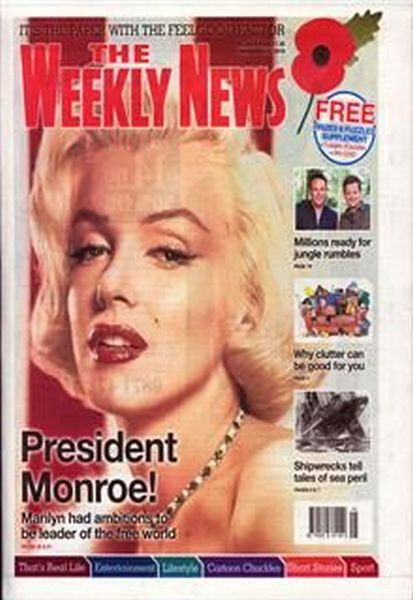 As with Boze Hadleigh's recent book, Marilyn Forever, the tone is often speculative and gossipy. Many of the interviewees seem to believe that Marilyn's alleged affairs with President Kennedy and his brother Robert were common knowledge in Hollywood, and yet there is little direct evidence.
Jack Lemmon, who was a neighbour of Peter Lawford, claims to have seen Marilyn "frolicking" with Bobby in Lawford's pool. This story has been told by his son Chris, who was a small child at the time. I have never before seen it attributed to his father, and this apparent indiscretion seems uncharacteristic of the gentlemanly Lemmon. There is also a question of plausibility: could he really have identified them from over the fence?
To his credit, Mr Sean shows some scepticism towards the more outlandish claims of Mickey Rooney, for example. Singer Eddie Fisher recalls that while married to Elizabeth Taylor, he performed a double-bill at The Sands in Las Vegas with Frank Sinatra. Fisher told Mr Sean that Marilyn flirted with him all evening, but photos from the event show her gazing at Sinatra.
Whereas Boze Hadleigh depicted Marilyn as ahead of her time in embracing the gay community, Neil Sean portrays her as being unable to understand why closeted actors like Rock Hudson weren't attracted to her. Both authors seem to be imposing their own views upon the past, but the fact remains that whatever her personal inclinations, Marilyn was never discriminatory. She had several gay friends, and defended her Misfits co-star Montgomery Clift against homophobic bigotry during a private interview with W.J. Weatherby (published posthumously in his 1976 book, Conversations With Marilyn.)
Perhaps the most insightful comments come from other women. "I was so upset [by Marilyn's death] because she could have reached out, but the thing is she always wanted you happy first – she was selfless in that way," singer Eartha Kitt told Sean. "I remember receiving one of her old fur coats to wear at a premiere because she heard me saying I did not have one. What a kind gesture, and to someone just starting out in the business."
Cyd Charisse, who co-starred with Marilyn in the unfinished Something's Got to Give, also gives a sympathetic account. However,    the interview includes several quotes attributed to Marilyn by Lawrence Schiller in his 2012 book, Marilyn & Me. (Cyd Charisse died in 2008.)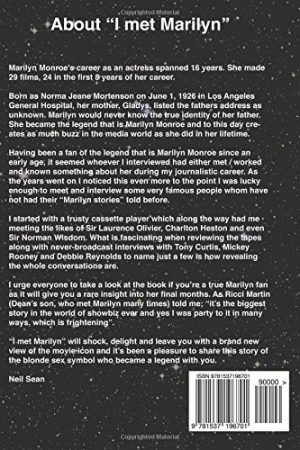 I Met Marilyn is certainly an interesting read, but should probably be digested with a large dose of salt. Marilyn was essentially a loner, and didn't have many close friends in Hollywood – and besides, stars are as susceptible to wild rumours as everyone else, especially when asked to provide a fresh perspective on an actress who died over fifty years ago.
"I think it all goes so quickly so it's better to live in the moment," Lauren Bacall told Mr Sean. "And when people ask me about what, say, Marilyn Monroe was like, it's not like we were the best of friends or anything. I mean, we made a movie together which was very successful, but it was a long time ago…"
I Met Marilyn is available now in paperback and via Kindle.