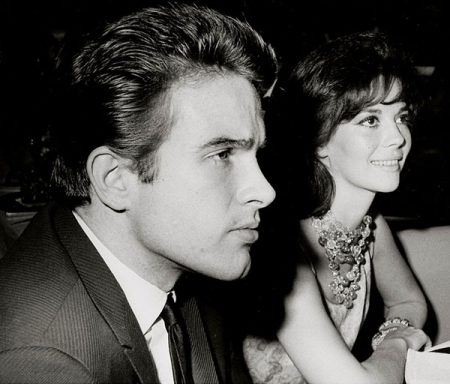 Hollywood legend Warren Beatty has given a rare interview to Vanity Fair's Sam Kashner, in which he revealed a brief encounter with Marilyn shortly before her death in 1962.
"Peter Lawford had invited him out to his house in Malibu for a night of tacos and poker, and Monroe was there. 'I hadn't seen anything that beautiful,' Beatty recalls. She invited him to take a walk along the beach, which he did. 'It was more soulful than romantic.' Back in the house, he played the piano. (He's a good pianist, by the way, enamored of jazz greats such as Erroll Garner.) Marilyn sat on the edge of the piano in something so clingy that Beatty could tell she wasn't wearing underwear.

'How old are you?' she asked.

'Twenty-five,' he answered. 'And how old are you?' he asked cheekily.

'Three. Six,' she said, as if not wanting to bring the two numbers together. By then, the tacos had arrived, and no one really played poker that night. Warren noticed that Marilyn was already a bit tipsy from champagne, even before the sun had set.

The next day, the producer Walter Mirisch's brother Harold called. 'Did you hear?' he asked. 'Marilyn Monroe is dead.' Warren was one of the last people to see Marilyn alive—a story that Beatty tells only reluctantly. He really is one of Hollywood's most discreet people, in a town and an industry marinated in its own gossip."
In his 1985 book, Goddess: The Secret Lives of Marilyn Monroe, Anthony Summers that he had contacted Beatty about the rumour of him meeting Marilyn at Lawford's home just a few hours before she died. Beatty responded that this was true, but did not wish to speak further at that time.
By his own account, Lawford had invited Marilyn to his home that evening but she declined. It may be true that Beatty met Marilyn not long before she died, as she was a regular guest of Peter Lawford and his wife, Pat. However, it seems unlikely to have occurred on the night of her death.
In 1962, Beatty was dating actress Natalie Wood, whose biographer Suzanne Finstad gives a similar account of their meeting (including the conversation about age), but stated only that it occurred at some point over the summer, and most significantly, she added that Wood was also present.
UPDATE: An extract from the newly-published book, Natalie Wood: Reflections on a Legendary Life, is featured in People magazine this week. Taken from a previously unseen essay by Wood herself, it includes her thoughts on Marilyn's death, and may shed new light on Beatty's story as well. (A former child actress, Natalie had a featured role in Scudda Hoo! Scudda Hay!, the 1947 film in which Marilyn made her screen debut.)
"'I had known her and seen her days before her death,' Wood writes. 'Her beauty, charming wit, and joy of life seemed paradoxical to the tense loneliness which she faced in her life, and was to me, clearly apparent. I realized that her tragedy reminds us all how vulnerable we are, and I chose to try to be stronger.'"
And finally … 'doyenne of dish' Liz Smith has also questioned the timing of Beatty's anecdote, in her latest column for New York Social Diary.
"Beatty places the meeting on the night before her death — or the night of, really. He says he received a call 'in the morning' from an agent, telling him Marilyn had died. But the facts say otherwise. MM actually refused an invite from Lawford the Saturday night she died.

It's most likely that Warren, fiftysomething years on, just forgot the exact evening. It is a very tender and considerate memory, in any case. This gallantry is typical of Warren, whose exes almost always adored him, even as they became his exes."