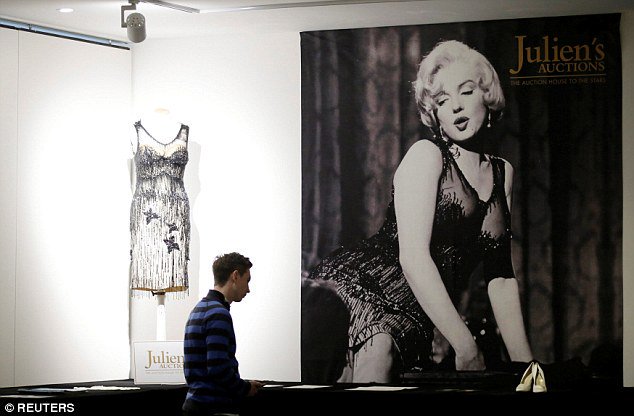 Ahead of the November sale at Julien's, some of Marilyn's personal property was showcased for Chinese collectors in Beijing on Tuesday, Louise Watts reports for ABC News.
"Around 800 items to be auctioned come from the estate of Lee Strasberg, the famed American acting coach who became a father figure to Monroe. The money will go to his widow, Anna. Other items come from the collection of David Gainsborough-Roberts, a major collector of Monroe's costumes.

The hundreds of items include dresses and outfits, the negligee she wore in the movie Niagara and the green and black-sequined leotard she picked out herself from a studio wardrobe to wear in Bus Stop. There is a tube of her 'non-smear' Revlon lipstick in Bachelor's Carnation shade, the shoes she wore to marry playwright Arthur Miller, and the pair of costume earrings that she wore to the premiere of The Seven Year Itch.

Then there are the personal notes, crayon drawings and watercolors.

Lee Strasberg's son, David, said that he, his mother and brother found many of the items in suitcases and closets about six years ago during a clean-out, including one trunk he'd been throwing his football cleats on for years that turned out to contain some of Monroe's personal writings.

Some items up for auction have never been seen by the public before. They include a first-edition hand-bound 1957 volume of her third husband Miller's plays dedicated to Monroe, and a letter from a member of the Kennedy family.

Among the quirkier items are a receipt for a bottle of champagne, her 1947 contract with Twentieth Century Fox and a recipe for stuffing jotted down on a slip of paper with an insurance company's letterhead. Her final checkbook shows her payments to the window cleaner, her maid and the New York Telephone Co. She paid $200 to herself marked as 'cash for trips.'

'Marilyn kept everything. She was a hoarder,' said [Martin] Nolan. 'She bought a pound of butter, she bought a bottle of tonic water she kept the receipt. It's incredible. We have a pair of strap sandals that she wore when she was Norma Jean, probably 1943, 1945. And all the money she made and how famous she became and she kept those.'

Although Western movies were banned in China during Monroe's heyday, her pop culture image and aspects of her life are well-known among many Chinese.

Darren Julien, founder and CEO of Julien Auction's, said about 40 percent of their client base are Chinese collectors interested in Western pop culture, and particularly Monroe.

'A lot of people relate to her because she had actually a very difficult life in a lot of ways. She never had a lot of money, but she captured the hearts of so many people around the world,' said Julien."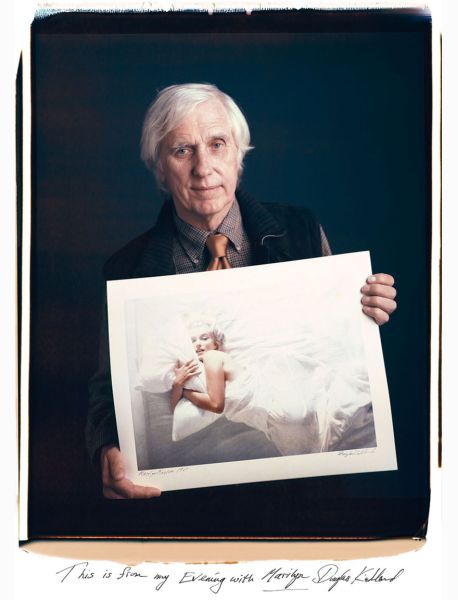 Meanwhile, photographer Douglas Kirkland has spoken to Shanghai Daily about Meeting Monroe, a series of classic images by himself and Milton Greene, currently on display at Shanghai Tower.
"There was a very unique quality about Marilyn. She was a sex symbol but there was a sweetness about her that was very compelling. There is no one like her. It was not only her beauty, but her vulnerability that made her special. It was often said Marilyn was great with still photographers — and she was. She didn't see stills as being a waste of time. She enjoyed the still camera, perhaps more than motion."