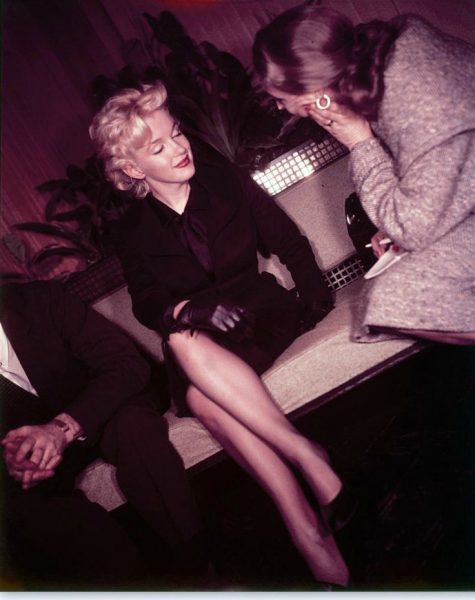 In her lifetime, Marilyn was considered a 'man's woman'. However, even then she had several champions among the fairer sex, and since her death, female appreciation of her has only grown.
Kate Cameron, film critic for New York's Daily News, often praised Marilyn's acting and wrote this sensitive tribute after her passing.
"The Marilyn Monroe I knew was a blithe spirit of the screen. I never met her in the flesh and had no desire for a rapprochement other than her communication to me as an actress.

I was an enthusiastic viewer of the various characters she presented on the screen. I had a definite picture of her as a real person in my mind and didn't want that image of her changed in any way, although I'm inclined to believe that I would have found her as enchanting off screen as she was on."
Columnist Liz Smith has held the title of 'grand dame of dish' ever since she first glimpsed Marilyn at the 1961 premiere of The Misfits. At 93, Liz is still on top, and found time to remember Marilyn's birthday this week.
"Had she lived, the white hot of that fame would have inevitably passed by. But in a cooler climate, she might well have found all she desired. We would not talk of her as we do now, as an almost mythological figure, a repository of endless fantasy and speculation. She would speak for herself. And her work, which mattered to her more than people realized, would speak as well."
Film scholar Lucy Bolton, who took part in a panel discussion at the BFI last year as part of their MM retrospective, took a closer look at Marilyn's writings in a recent article for BBC Culture.
"The fragments which she wrote on bits of paper reveal a woman constantly striving to ground herself, help herself, and keep on top of her demons. They also show Monroe's determination and strong will: whether it is in the planning of dinner parties or the preparation of a performance, Monroe was meticulous and dedicated to doing her best."
Ashley Davies offers a personal take on 'Why I Love MM' in a heartfelt – and often funny – piece for Standard Issue.
"In public, she dealt with some of the undermining shit thrown at her with class. During one press conference, a female reporter asked her: 'You're wearing a high-necked dress. Is this a new Marilyn? A new style?'

Her response, delivered with total sweetness, a pinch of faux surprise and not a hint of sarcasm: 'No, I'm the same person, but it's a different suit.'"
And finally, Sophie Atkinson argues that Marilyn is more relevant than ever 'because she predicted the struggles of modern fame', over at Bustle.com.
"When it comes to being a star, too much publicity will always be difficult for celebrities to shoulder., and the emergence of social media gives a new urgency to these issues of press intrusion that have existed for decades. Now celebrities don't just field encounters with the journalists, and with fans, on the street, but in the privacy of their own homes as soon as they log onto Twitter. Monroe was right when she quoted Goethe: the highest form of acting or music requires that a person doesn't just exist as a public figure, but has private reserves they can draw from."