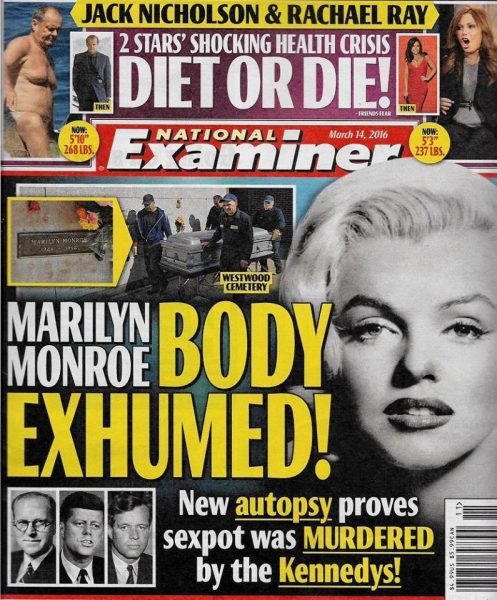 A misleading and tasteless cover story about Marilyn's death is published in the current issue of US supermarket tabloid, the National Examiner. So just in case you were wondering – no, her body has NOT been exhumed, and no new autopsy has been conducted.
In the 53 years since her untimely death, countless exploiters have jumped on the Marilyn bandwagon. The latest is Paul Huehl, described as 'a former Chicago cop turned Hollywood private eye,' who is 'demanding' that Marilyn's case be re-opened and her body exhumed from Westwood Memorial Park.
To give you an idea of how utterly disrespectful this article really is, it also includes an item with the sub-heading, 'Expert Declares Marilyn Was Crazy!' The spread features a highly sensitive police photo of the deceased MM in bed, and her autopsy photo.
Most damning of all, a colour photo shows a casket being carried into a mortuary. This was not even taken in 1962, or at Westwood. So to all Marilyn fans, don't be duped into buying this vile rag – read a good book or watch a movie, and celebrate her life instead.