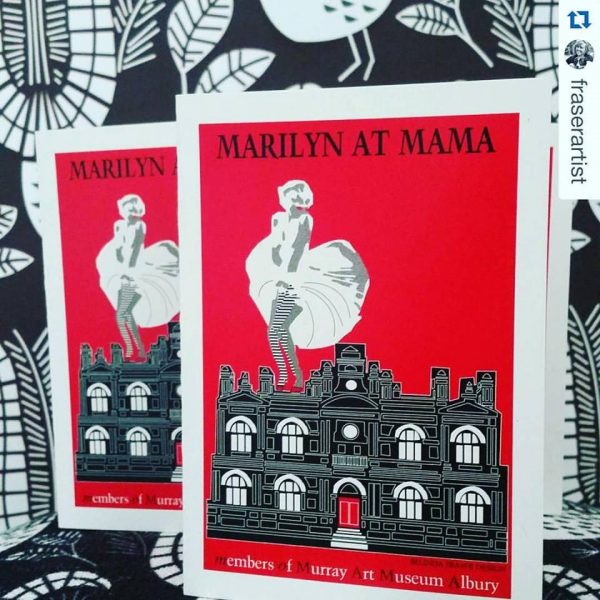 John McDonald, art critic for the Sydney Morning Herald, has reviewed Marilyn: Celebrating an American Icon, the touring exhibit now at MAMA Albury, Australia.
"The paintings in this show, put together by an American exhibitions agency, are a strange mixture of minor works by well-known artists, and major pieces by lesser-known practitioners from Europe and America. There is, for instance, a suite of sketches by Richard Lindner, along with prints by Eduardo Paolozzi, Arnulf Rainer, Robert Indiana and Mimmo Rotella. These are the artists I'd call 'well-known', but none of them has one iota of Warhol's public profile. MAMA has also added a couple of paintings by Australia's most prolific Pop artist, Richard Larter.

The best part of the show – in terms of both quality and quantity – are the photographs, taken by figures such as Cecil Beaton, Henri Cartier-Bresson, Ernst Haas, Eve Arnold, Alfred Eisenstadt and Bert Stern (although not, alas, Richard Avedon, who produced one of the greatest portraits). It's a study in contrasts, with Beaton's work being as ornate as a Baroque sculpture, while Cartier-Bresson captures Monroe in an introspective mood on the set of The Misfits."
The show also includes a program of supplementary events, including a series of public lectures, a screening of Some Like it Hot, and day trips to Bendigo Art Gallery, where another Marilyn exhibit opens in March.
Most intriguing of all, a fully accredited elective subject — Exhibiting Culture: Marilyn — will be available to La Trobe University undergraduate students and to members of the general public, ABC Central Victoria reports.
"Taught by Dr Sue Gillett, the subject will explore the wider context of the era in which Marilyn Monroe was created.

Dr Gillett said she was interested in women's roles in cinema and especially exploring the historical context Monroe fits in.

Despite the strong role models in cinema during the forties, with the likes of Katherine Hepburn and Lauren Bacall, Dr Gillett said Monroe came into her stardom in the post-war fifties when there was a push to get women back into the homes after their active role in the war years.

Musical comedy became the genre Monroe was typecast in, and excelled at, even though her aspirations were to become a serious actress.

It was this 'bind' that Monroe was in that Dr Gillett said she was interested in exploring.

'It's almost like she performed her way into a trap,' she said.

Her life story was then refashioned by the studio publicists into the American Dream, according to Dr Gillett, which became effective in establishing her as an icon.

Contracted to Fox Studios at a time when actors were controlled by their studios, Monroe struggled to gain some independence and have control over her choice of movies.

Although she had some input into crafting her own image she was working within a system that was very much a men's club, according to Dr Gillett.

'She was both a victim but she wasn't without power.'"