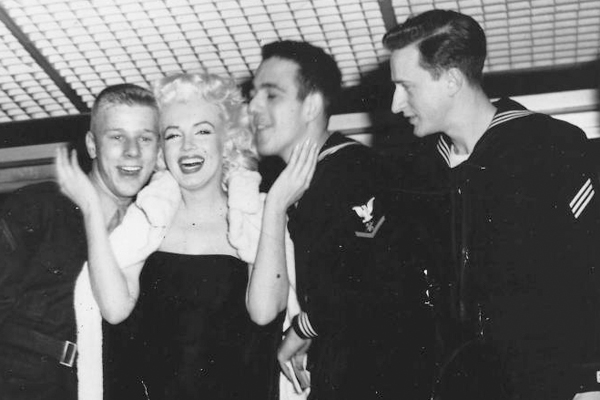 In May 1954, the USS Bennington exploded while cruising near Rhode Island, killing 103 crewmen and injuring 201 others. It was rebuilt in New York, and on May 31, 1955, Marilyn attended a party celebrating its return in the Grand Ballroom of the Astor Hotel. In a 2013 article for Reminisce magazine, Paul Lazzaro recalled his stint as the ship's PR man.
"Because of the recent tragedy and the publicity surrounding the Bennington's party, Marilyn accepted our 8 p.m. invitation. But due to her busy schedule, she didn't show up at the event until around 11 p.m., when the party was in full swing and thousands of sailors were celebrating.

The ballroom nearly turned into a riot zone when Marilyn walked out onstage wearing a clingy black satin dress with a white ermine cape draped over her shoulders. As sailors rushed the stage, Marilyn's press agent said, 'We're getting out of here!'

Backstage, I realized that I had my first real public relations crisis on my hands. Here was the world's hottest new movie star, and she was going to pop in and right out again. I knew I had to save the night.

'Can we get a picture of you kissing a sailor good night?' I asked Marilyn.

She looked at me and with that breathy voice and those luscious lips said, 'Why, certainly!'

'OK, I need a sailor for a picture!' I shouted. Nobody moved. They were all too in awe of this beautiful blonde to say a word.

A Marine stepped up right next to Marilyn and asked, 'How about a Marine?'

'Well, OK,' I said, 'but I want a sailor, too.' Again, nobody in the room moved.

'How about you?' Marilyn whispered to me.

'Oh, OK!' I responded in my most professional manner, my voice cracking a bit. The three of us huddled together as the newspaper and military photographers' flashbulbs popped. When Marilyn departed, she planted a full-fledged movie star kiss on the Marine's cheek and on mine.

The next day, our picture appeared on page 3 of the New York Mirror with the headline 'It's a Sailor's Life and It Ain't Bad.' Full credits were given to both the USS Bennington and the U.S Navy. I was quickly promoted to journalist second class and have been doing public relations ever since."
You can read more about Marilyn's Bennington encounters here.
Thanks to Johann