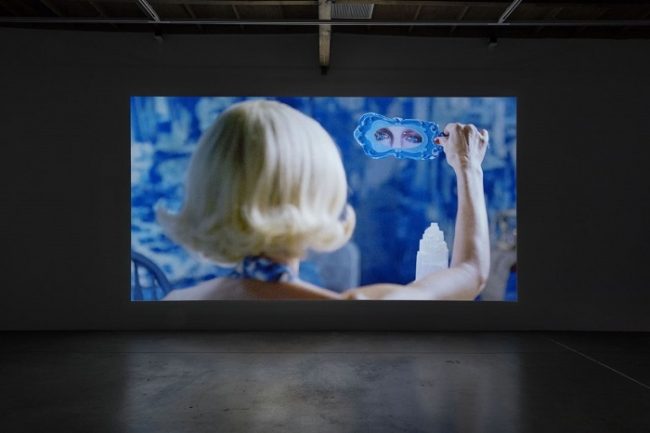 In Los Angeles, artists are exploring the death of John F. Kennedy and the women in his life, reports VICE. Perhaps inevitably, Marilyn is a featured subject, although in truth her connection to JFK may be more mythical than real – and after all, she died more than a year before him.
"Painter Rosson Crow's first foray into filmmaking, for example, is Madame Psychosis Holds a Séance, now on view at LA's Honor Fraser Gallery through December 19 … Starring Kelly Lynch as a slightly worse-for-the-wear 60s-era singer whose fragile, careworn platinum blonde, red-lipsticked beauty deliberately evokes latter-day Marilyn Monroe, the film shows the existential meltdown of Madame Psychosis upon hearing the news of the death through TV and newspaper. She moves with an awkward, dream-logic elegance through the stages of grief, chain-smoking at Ouija boards, the phonecalls to prove he loved her in real life not only her imagination, the gorgeous, taunting mountain of roses delivered to his widow rather than her own lonely bungalow, that bury her in a nightmare, the creeping in of self-doubt, the descent into madness."
Meanwhile, cult performance artist Karen Finley has referenced Marilyn in her new show, Love Field (named after the Dallas airport where Kennedy touched down on the day of his murder.) Finley was inspired by Bert Stern's 1962 photos of Marilyn in a black wig. The images have since been interpreted as a cheeky impersonation of the first lady, Jackie Kennedy – however, there is no evidence that Marilyn intended it as such.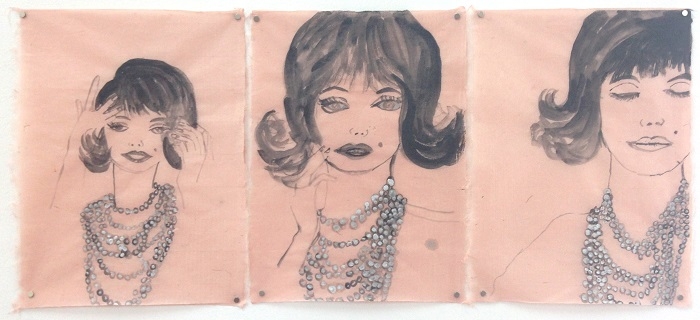 "Visual, performance, and literary icon of punk-wave feminism Karen Finley was also in LA around the anniversary of the assassination, for both the opening of her painting and drawing show Love Field at Coagula Curatorial, as well as the coinciding inauguration of the Broad Museum's performance art programs with her seminal work, The Jackie Look … In the Love Field show, Finley brings together paintings and drawings from diverse but interrelated series examining the public rituals Jackie was forced to endure during what ought to have been a time of private grieving … and always, somewhere, the equally haunting phantom of Marilyn Monroe."