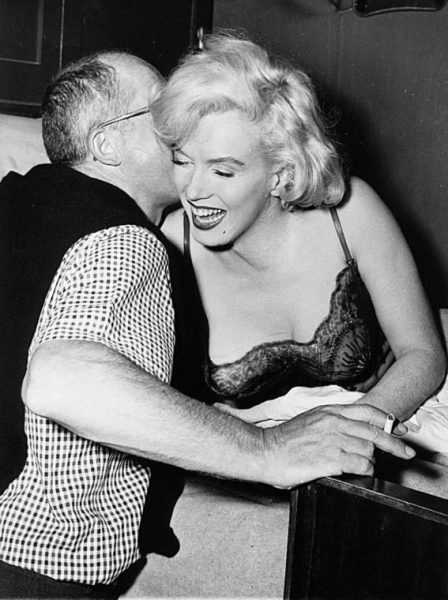 In an article for Fredericksburg.com, Gary Olsen repeats an oft-told tale about Billy Wilder's on-set travails with Marilyn:
"Film director Billy Wilder was tearing out what little hair he had on his head while filming a scene in Some Like It Hot. His ire was directed toward Marilyn Monroe, who was botching her lines as she was looking for a bottle of bourbon in a bureau.

He decided to tape her written line inside the drawer. On the next take, she opened the wrong drawer. Finally, he papered every drawer with the line, so it wouldn't matter which one she opened. Eighty-three takes later, she nailed the line: 'Where's that bourbon?'

Wilder's adventures with Monroe's work habits during the film's production are legendary…But Monroe's performance in the 1958 film is cited as the best in her career. Wilder was astonished at what he saw live, versus what he witnessed viewing the rushes on the screen. '[Monroe's performance] looks like nothing on the set,' said Wilder, 'and then when it goes on the screen, it all comes out in neon light. It's fantastic how celluloid loves Monroe. Just incredible.'"
Like so many of Wilder's anecdotes, this story – and in particular, the exact number of takes Marilyn allegedly required – has grown over time. However, there is no question that Billy found her difficult to work with, although the results were always stellar.
With Marilyn out of the picture for so long, she was never really able to tell her side of the story. In Volume II of Icon: The Life, Times and Films of MM, author Gary Vitacco-Robles reviewed the episode in detail – drawing a more complex picture of their fraught collaboration than has hitherto been noted.
"Biographer Sarah Churchwell observes that the scene was filmed with Marilyn's back to the camera, enabling her to easily dub the line in post-production. Wilder's demand for repeated takes suggests an overt power struggle between director and star. Donald H. Wolfe theorises that Marilyn staged the repeated takes in order to control the interpretation of her character and as a way to defy Wilder's direction. She would deliver an incorrect line in the manner Wilder instructed for a series of takes ('Where's the whiskey?' 'Where's the bottle?') and purposefully wear down her director. In later takes, she would deliver the line verbatim to the script in the manner in which she believed fit her characterisation. Donald H. Wolfe observed: 'She knew she was right and believed that a star of her stature had the prerogative of playing the scene the way she felt it.' It was a battle of the wills but in the end, Marilyn won."