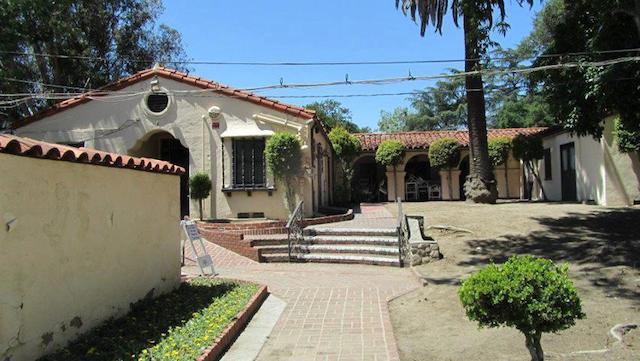 Following the controversial demolition of the 'Dougherty House' in June, Danny Jensen reports for LAist that another Marilyn-related location – the former Rockhaven Sanitarium, where her mother Gladys was a resident from 1953-67 – is also the focus of controversy.
"The future looks uncertain for L.A.'s oldest sanitarium, which was originally built as a humane mental health facility for women in Los Angeles county.

The Rockhaven Sanitarium in Montrose opened in 1923 as an alternative to the grim treatment offered to women in many mental institutions at the time. And now the group Friends of Rockhaven is hoping to save the historic site, after preservation plans by the city of Glendale fell apart and developers proposed other uses, according to the L.A. Weekly. Home for a time to some of Hollywood's early notables—including Billie Burke who played Glinda the Good Witch in The Wizard Of Oz and Marilyn Monroe's mother—the 3.5 acre property was nicknamed the Screen Actor's Sanitarium. The mental health facility was first developed by early feminist Agnes Richards and features small cottages where residents lived.

Richards helped women escape from the cells of mental wards throughout California and across the country, offering Rockhaven as a refuge from places where they were commonly abused and mistreated. The aging property includes 15 buildings that are a mix of Craftsman and Spanish Colonial Revival styles, which feature names like the Rose Cottage and the Willows. The sanitarium was designed to be a serene, landscaped complex for healing, rather than an intimidating, American Horror Story-style institution. The interiors of the buildings have remained largely untouched for years.

In 2008, Glendale bought the property for $8.25 million from Ararat Home of Los Angeles, which had used the site for nursing care for the elderly since 2001. The city had hopes to develop Rockhaven into an historic park with a community center and library, but after the recession hit, the plans fell apart. When Glendale's plans fell though, developers then set their sights on Rockhaven with a variety of plans that included home for female veterans, an all-girls' school, and condos. But the city put the brakes on those plans when the Friends of Rockhaven argued that they would compromise the site's historic architecture and legacy.

The Friends of Rockhaven has now organized as a nonprofit corporation is looking to raise money to turn the property into a publicly accessible park. They also hope to obtain California Historical Landmark status for the Sanitarium. But considering Glendale spends $50,000 a year to maintain the property, there are more than a few hurdles for the group to get past. The city also just agreed to let the Crescenta Valley Water District tap a well beneath the Sanitarium to provide water to about 1,200 homes in the area."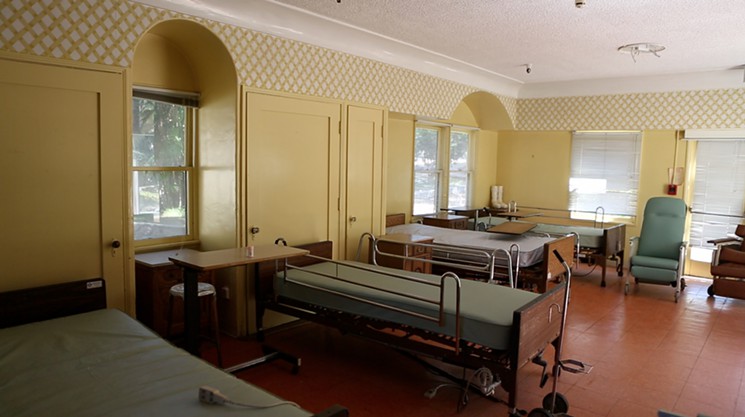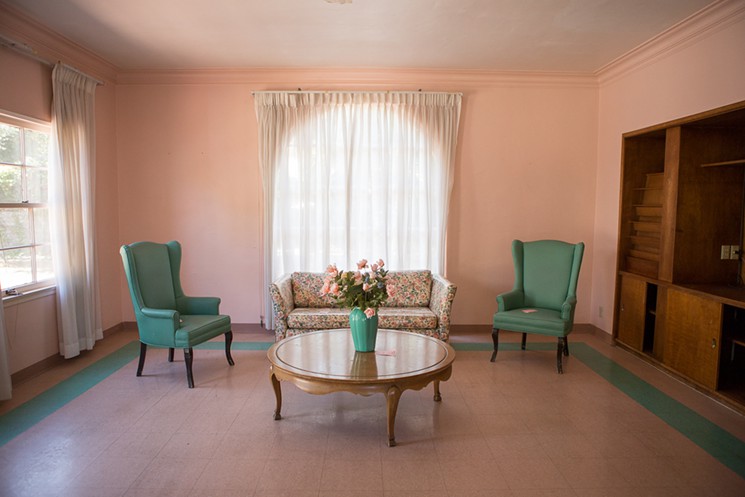 In a related article for LA Weekly, Liana Aghajanian explores Rockhaven's unique history.
"Beyond its ornate entry gate and picturesque transom windows sit the sanitarium's largely untouched rooms — the walls of the dining room, sitting rooms and bedrooms still lined in peeling floral wallpaper, sofa sets neatly arranged, Murphy beds at the ready. Family photos lie on a table; a dressy coat hangs abandoned.

[Mike] Lawler, who was raised by a single mother and has four daughters, sees Rockhaven as a monument to women's dignity, a mental health industry game-changer that must be saved.

He belongs to Friends of Rockhaven, whose president, Joanna Linkchorst, wants to ensure the site is preserved as a public space. Her love affair with the sanitarium began on her first visit.

The duo has led tours through the sanitarium, a sprawling and serene complex that housed around 125 residents at its peak and is, they say, one of the most endangered historic spaces in the Los Angeles area.

In a bid to save the facility, in 2008 Glendale bought the property for $8.25 million from Ararat Home of Los Angeles. But now, city officials sound almost tongue-twisted about its status.

'We do not have the ability to go and either try to realize what was kind of nebulously described and envisioned for that site, but at the same time we can't simply divest in the property because of the expectations of a number of the stakeholders have,' says Glendale city manager Scott Ochoa. 'So we're in this position where we're floating somewhere between the ceiling and the floor.'

Former Glendale city councilman John Drayman led the city effort to preserve Rockhaven as a historic park or library, saving it from demolition. But no funds were appropriated beyond the acquisition price, Ochoa says. After the recession, the idea of reviving the site fizzled, and so did Drayman's influence — he was convicted last year of embezzlement, perjury and filing false tax returns.

'Rockhaven lost all momentum,' Ochoa says.

Linckhorst has joined forces with Lawler, former head of the Historical Society of Crescenta Valley and author of Murder and Mayhem in the Crescenta Valley, and an expert on the stories of the region. Lawler says the sanitarium's own story began in the 1920s when Richards came to the Crescenta Valley — then famed for having the healthiest air quality in the United States — with six patients and some chickens. Richards was bent on helping her charges escape cells in mental wards throughout California and the nation where women were commonly abused.

Rockhaven quickly earned the nickname the 'Screen Actors Sanitarium' thanks to its famous clientele such as Burke; Broadway actress Peggy Fears; Babe Egan (front woman of Babe Egan's Hollywood Redheads); and Monroe's mother, Gladys Pearl Baker, who slipped away from Rockhaven several times while Marilyn paid $250 a month for her care.

At the end of the 1920s, when Richards wanted to expand her sanitarium, she was met with opposition from the community. One resident accused Richards of being unfit to run it. The flinty nurse sued the resident in a $100,000 slander case and won, although she was granted just $500 in personal damages.

'This land was purchased with the promise that it would be a park,' Lawler says. 'If [the city] won't create a park there, like they said they would, then we'll do it ourselves.'

But with Rockhaven owned by Glendale, which spends about $50,000 a year to maintain the site, a number of bureaucratic issues stand in the way, and it's not clear what the group's next move should be. For now, the city has agreed to give them time to look for independent funding.

'We're certainly aware that it's there, and we're trying to find solutions for it — it's not something that anybody is going to forget about,' says Glendale city council member Laura Friedman.

Rockhaven stands as a hopeful feminist symbol of humanity during inhumane times — one that may or may not survive the wrecking ball."