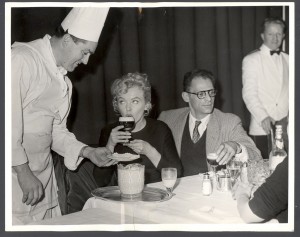 It's a little-known fact that, while returning from England in November 1956 (after filming The Prince and the Showgirl), Marilyn and her husband Arthur Miller enjoyed a brief stopover in the West of Ireland – or at Shannon Airport, to be exact – where they were photographed sampling an Irish coffee.
Though it can hardly be termed a holiday, this fleeting appearance can be added to the small handful of countries Marilyn visited in her short lifetime (along with Japan, Korea and the Caribbean.) Incidentally, Miller would return to Ireland alone in 1960 (while Marilyn was filming Let's Make Love), to discuss their upcoming project, The Misfits, with director John Huston at his Galway home.
Along with Bob Hope, Gene Kelly and other famous names, Marilyn's visit will be commemorated in a display of memorabilia in Shannon Airport's transit lounge, reports the Limerick Post. Anyone with items they wish to have included in the collection such as photographs, autographs, posters and souvenirs purchased at the airport, should contact Dorothy Quinn, Terminal Operations, Shannon Airport. Tel. 061 712218 or email dorothy.quinn@shannonairport.ie.