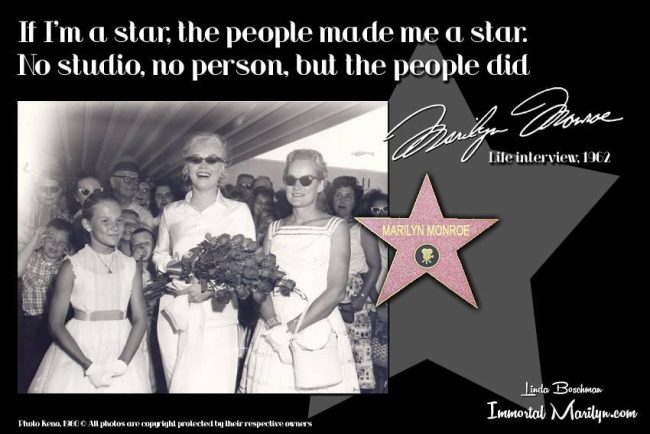 A Scottish hair salon, named after MM, has been forced to change its name after pressure from the licensing arm of Marilyn's estate, reports the Clydebank Post.
As a fan, I'm always delighted to see tributes to Marilyn in shops, bars and cafes. I dislike this latest attempt to commodify her. In my opinion, Marilyn's estate should leave fans alone.
"The salon named after the iconic American actress in Clyde Shopping Centre is being forced to change its name and kill off all connections with Marilyn.

This comes after owner Norah Yilmaz received a letter from the deceased film star's estate, thousands of miles away in New York, threatening legal action.

The letter, from Authentic Brands Group warned Norah she faces a lawsuit if she failed to remove all traces of Marilyn from her salon.

Stunned Norah, 39, said: 'They told me to take all social media, photos and the wallpaper of her down.'

'I love the vintage era and Marilyn Monroe was a big part. So I've now decided to call the salon Vintage.'

The salon owner has been forced to shut down the Facebook business page she worked hard building up by giving away free spray-tans.

She said: 'I had over 1400 people on my Marilyn Monroe page and I couldn't get Facebook to let me change the name of it. I had to just start a whole new one.'

'The really big issue was what were we going to call it. I wanted to call it 'Glitz and Glam' but the girls who work here all hated it. I knew I had to get the sign down as soon as possible but I couldn't until I had a new name.'

Norah and the 11 beauticians are planning to give Marilyn her final send off on Hallowe'en.

She said: 'The only thing I need to change is my card receipt machine because it still comes up Marilyn Monroe. On Hallowe'en we're doing a theme that Marilyn Monroe has died in the salon. So all of our make-up will be half the face of Marilyn and the other half skeleton.'

'She died in 1962 — and now she's dying again in 2014 in Clydebank.'

Despite the legal threats, stress and the costly rebranding of the salon, Norah still has a soft spot for the 1950s icon.

'I feel touched that the actual estate of Marilyn got in touch with me,' said Norah. 'Even though she's died again here I still love her, I think she's brilliant.'

Vintage salon in Clydebank Shopping Centre is now taking bookings for their Hallowe'en party this Friday, October 31.

For £20 you can have your scary special FX makeup done and enjoy a glass of wine. Contact Vintage on 0141 952 3777 to book."
As Marilyn herself said, the people made her a star and it's fans who keep her memory alive. Instead of persecuting them, her estate should pursue rogue journalists who propogate lies about her.
But as the estate's official Facebook page routinely features fake quotes, I don't see that happening anytime soon.