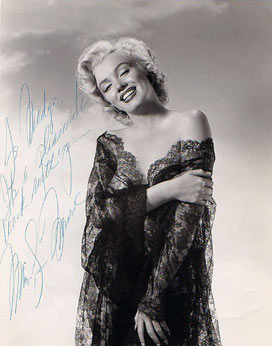 Even in this age of the 'selfie', some celebrity autographs still hold their value, reports the Financial Times.
"With little demand from digital-native teenagers, many autograph dealers have moved away from the mass market of contemporary music, film and sports stars to focus instead on cult and historic rarities that command higher prices. This is partly down to online auction site eBay, which by opening up a wider market has pushed down prices for more common signed celebrity photos – although among collectors it has a reputation for forgeries and reproductions. For dealers there is a lucrative sideline in authentication.

But the trend is also connected to the changing demographic of buyers. Far from screaming girls besieging pop stars with pen and paper pads, today's typical customer collects as a hobby and is 'aged 35 to 55, male and with a disposable income,' says Mr Epperson. It is perhaps telling that he does not stock any pieces from musicians who have reached fame within the past 15 years.

This breed of more discerning collectors often treats autographs as investments, says Huw Rees at Fraser's Autographs, part of Aim-listed collectables dealer Stanley Gibbons. Over the past five years the London-based business has run down its low-end, low-margin inventory in favour of historical items including correspondence of Sir Isaac Newton and Sir Winston Churchill, as well as coveted pop culture memorabilia, such as photos signed by all The Beatles or Marilyn Monroe."
Paul Fraser Collectibles has compiled an index of the 2000-2013 price performance of 40 of the most sought-after autographs, both celebrity and historical. A signed album page from Marilyn, valued at £2,950 in the year 2000, increased by 135.6% in 2013, to a value of £6,950.
On the Immortal Marilyn Nuggets page, you'll find an article, 'Knowing Her Signature', which pinpoints the difference between Marilyn's personal and secretarial autographs. If you're considering buying a signed photo and want to be sure of its provenance, don't rely on Certificates of Authenticity – ask an expert. The Marilyn Buying and Selling Forum on Facebook is a good place to start.