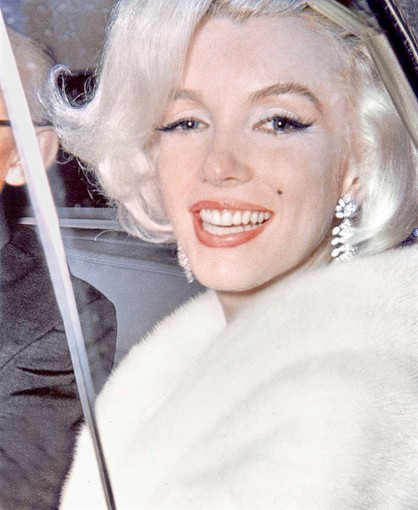 Liz Smith has commented on Marie Irvine's reminiscences of Marilyn – published recently by the Daily Mail – in her latest column for the New York Social Diary.
"THE EARRINGS of Miss Monroe.   Another country heard from in the endless re-inventions of the long-dead Marilyn. Now we learn from 'her closest friend' Marie Irvine (a name unknown until now) that Marilyn 'forgot' her earrings the night of the infamous 1962 'Happy Birthday' serenade to JFK. This 'close friend' had to rush back to MM's NYC apartment to retrieve them.

How odd then, to have dozens of photos of MM leaving her apartment and arriving at Madison Square Garden with earrings intact. (Might I say that the only item of clothing or accessory that Marilyn ever 'forgot' was her panties.)

Also, according to this latest best bud, Marilyn bought five tickets to the event to be sure to be invited to the after-party, so 'desperate' was she to see JFK.

Uhhhh … aside from JFK himself, MM was the evening's star attraction, the closing act of the president's celebration, invited by Kennedy himself. She didn't need tickets.  She WAS the ticket. If desperation came, it sure wasn't that night.

Still and all, people will believe anything. And why not? The woman has been dead 51 years. Those who adore her now weren't even born when she died.  Hell, their parents weren't even alive!"
My thoughts on this: firstly, Liz is absolutely right to be sceptical about anyone claiming to be a 'close friend' of Marilyn, especially if they haven't been heard of before. However, it was the Daily Mail, not Marie Irvine, who made this claim.
Secondly, Marilyn did in fact purchase her own ticket for the gala, although I don't know if she paid for others as well. Of course, this does not mean she was 'desperate' to go – this, again, is the reporter's interpretation (and not Marie Irvine's.) And the event was a Democratic fundraiser, so it's not surprising that she paid her own way.
Personally, I don't find Marie Irvine's story that hard to believe, although no account should be taken at face value. As I've said before, I think the problem lies with the sensationalist way her memories have been presented.
Thanks to Charles Casillo