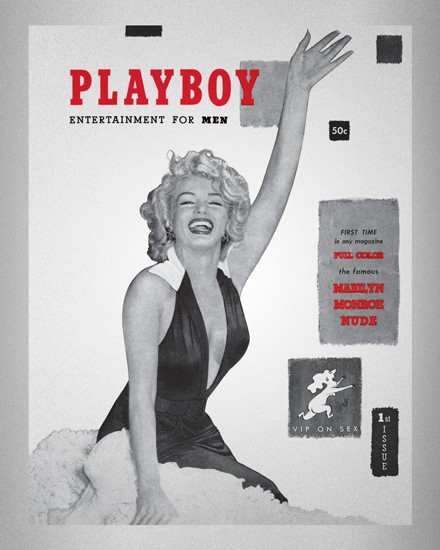 As part of its 60th anniversary celebrations, Playboy is re-releasing its first issue, from December 1953 – with Marilyn on the cover and inside. And this is not a one-off special – the same edition was previously reissued in 2007. It is available now for $9.99 from Barnes & Noble and other stores across the US until July 7, and can also be ordered here. There's no word of a European release as yet, but copies are already being sold on Ebay. Here's a report from USA Today:
"This collector's edition is an exact replica of Playboy's first issue, right down to the staples that bind it and Marilyn Monroe gracing its cover. The star is also featured inside as the Sweetheart of the Month, along with a Sherlock Holmes story by Sir Arthur Conan Doyle, a feature on 'desk designs for the modern office' and the usual cartoons and party jokes.

It was assembled by a then-27-year-old Hugh Hefner on the kitchen table of his Chicago apartment, financed by $600 of his own money and less than $8,000 of raised capital (including $1,000 from his mom)."
She never actually posed for the magazine – the cover photo is from her appearance at the Miss America contest in July 1952, while her 1949 nude calendar pose for photographer Tom Kelley – shrewdly acquired by Playboy's owner and editor, Hugh Hefner – graces the centre pages. Shortly before her death, Marilyn considered an official photo shoot for the magazine, but appeared to change her mind.
Since then, Marilyn has posthumously graced countless Playboy covers across the globe, and the multi-millionaire Hefner, now 88, has purchased the crypt beside hers. Whether you're a fan of 'Hef' and his empire – or not – this reissue is certainly of historical interest, and much cheaper than the real thing.