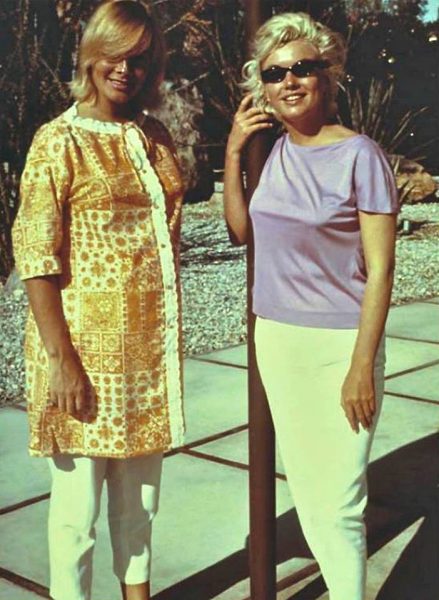 This rare photo of Marilyn with actress May Britt is published in a new book, Sammy Davis Jr.: A Personal Journey With My Father, by Tracey Davis and Nina Bunche Pierce.
Swedish-born actress May Britt married Sammy Davis Jr in 1959. They were one of America's first high-profile interracial couples, at a time when their union was still illegal in 31 states. May also converted to Judaism prior to their marriage, which ended in 1968. She now lives in California with her third husband, and is a gifted painter.
She was pregnant with daughter Tracey when this photo was taken at Frank Sinatra's home in 1961. The lensman may have been Sammy himself, as he had photographed Marilyn, formally and candidly, on many previous occasions.
"Mom became an overnight sensation on film posters and magazine covers galore after she won the part in The Blue Angel. The film was a remake of the 1930 classic of the same that had made Marlene Dietrich a star. The part had previously been slated for no less a star than Marilyn Monroe. Mom said there was never any tension between her and Marilyn. She said, 'Years later we were houseguests at Sinatra's place. Marilyn, like me, was shy. Neither of us were the life of the party. I was pregnant with you at the time, and Marilyn and I had our picture taken together. Later it became quite a famous shot.' "
Marilyn and May can also be seen among the 'Rat Pack' in another series of photos, taken by Bernie Abramson during the same period.