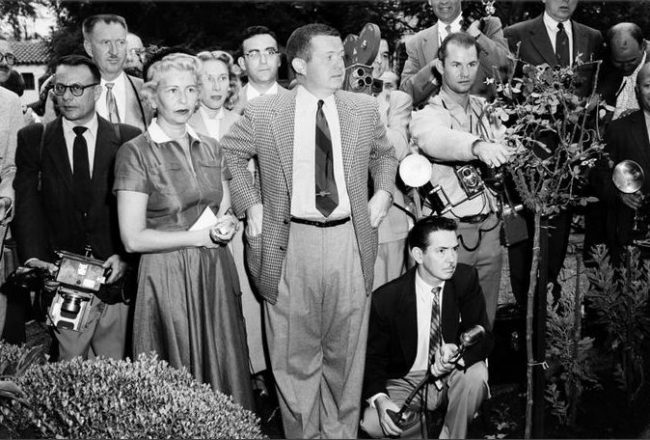 The veteran Hollywood columnist, Bob Thomas, has died aged 92, reports the Los Angeles Times. Son of a film publicist, he began reporting for the Associated Press in 1944. He married in 1947, and had three daughters.
Thomas covered scandals like Charlie Chaplin's paternity lawsuit, and witnessed the assassination of Bobby Kennedy. He was AP's reporter for an incredible 66 Oscar ceremonies; published biographies of Harry Cohn, Howard Hughes and Marlon Brando; and was awarded a star on the Hollywood Walk of Fame in 1988. He retired in 2010.
Bob Thomas also chronicled Marilyn's career, almost from beginning to end. In 1950, he praised her breakthrough role in The Asphalt Jungle, becoming one of the first writers to compare her appeal to Jean Harlow's: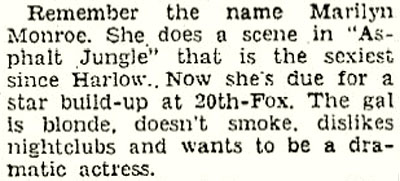 "I think cheesecake helps call attention to you. Then you can follow through and prove yourself," Marilyn told Thomas in 1951, explaining her beginnings as a pin-up model, and her wish to become a respected actress.
In February 1953, Bob Thomas was involved in one of the great controversies of Marilyn's career. She caused quite a stir by attending the Photoplay Awards in a diaphanous gold lame gown. A few days later, Joan Crawford was interviewed, and claimed that Thomas asked her off-record, 'Didn't you think that dress Marilyn Monroe wore at the awards dinner was disgusting?'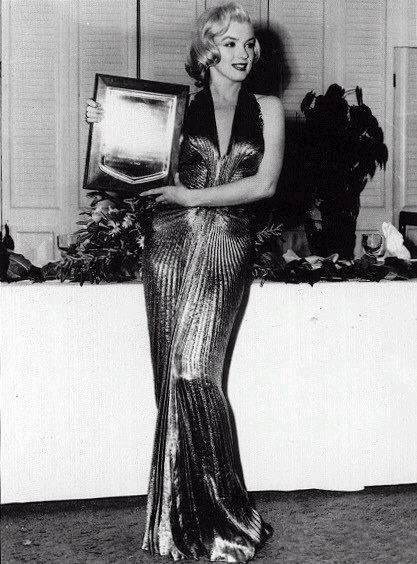 Crawford replied, 'It was like a burlesque show. Someone should make her see the light; she should be told that the public likes provocative feminine personalities; but it also likes to know that underneath it all the actresses are ladies.' On March 3, Thomas published Crawford's comments in his syndicated column. Although initially upset by Crawford's remarks, the incident ultimately worked in Marilyn's favour, with friends and fans rallying to her defence. Crawford, meanwhile, was acutely embarrassed.
In October 1954, Thomas wrote an article for Movie Time magazine, headlined 'Home Run!' about Marilyn's nine-month marriage to Joe DiMaggio. Soon after its publication, however, the couple separated – and Bob Thomas was at the scene of a press conference outside Marilyn's home, where she appeared shaky and tearful. (Click on the image to enlarge)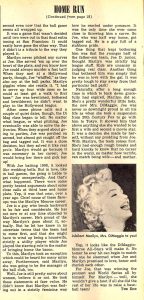 After moving to New York in 1955, Marilyn became friendly with the novelist Truman Capote. In a discussion about the press, she described Bob Thomas as 'a gentleman' (quoted in Capote's essay, 'A Beautiful Child'.)
During her marriage to Arthur Miller, Marilyn lived in New York and Connecticut. Bob Thomas was one of the reporters she kept in touch with throughout those years. 'I'm almost well again,' she told him after suffering a miscarriage in 1957. 'I don't have all my energy back but it's returning bit by bit.'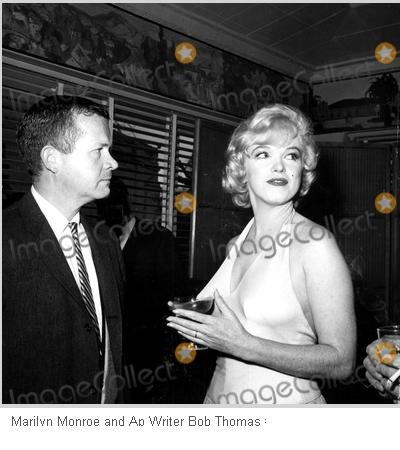 Marilyn was photographed with Bob at a press conference for Let's Make Love in 1960 (unfortunately, my copy is watermarked.) By 1962, she was single again and back in her hometown of L.A. Thomas reported on the troubled production of Something's Got to Give, interviewing Marilyn on the same day she filmed her iconic pool scene (click to enlarge.)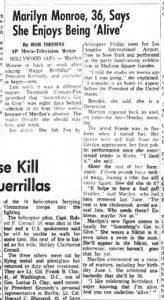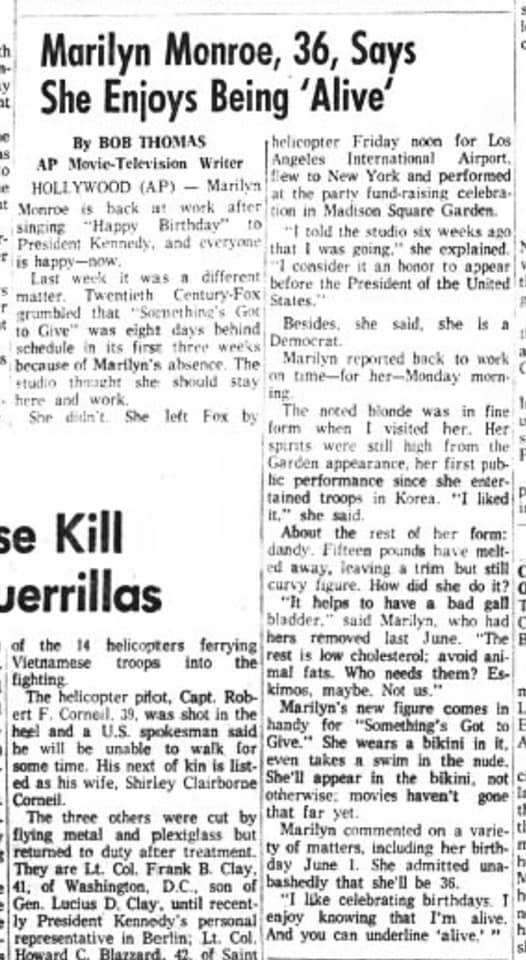 On August 5th, 1962, Thomas was one of the first to report Marilyn's tragic death. 'Somehow the pieces seemed to fit into place,' he reflected. 'It looked inevitable in retrospect…She had reached the end of her rope. She had run out of all that anxious gaiety with which she held on to life…But she left behind more than a string of glamor-filled, over-produced movies. She gave Hollywood color and excitement in an era when the town was losing its grip on the world's fancy. No star of Hollywood's golden era shone more brightly. Her brilliance was such that you overlooked the tragic aspects…'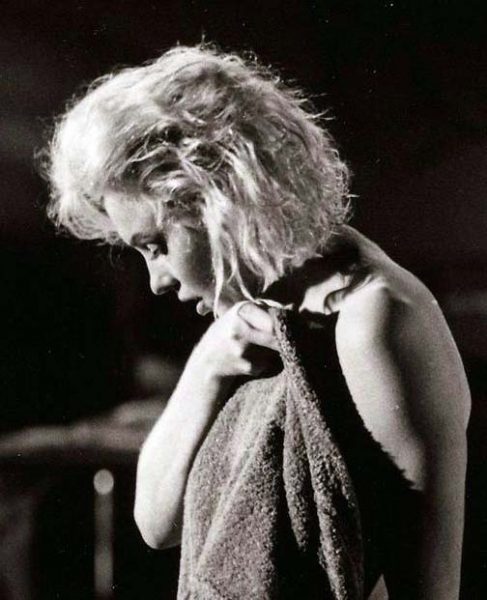 Exactly 30 years later, Thomas examined the continuing fascination of Marilyn. 'Like her contemporaries Elvis Presley and James Dean,' he wrote, 'and Rudolph Valentino in an earlier generation, Marilyn Monroe's image in 1992 seems more vivid and intriguing than in her lifetime.'
"She was a great interview, just terrific. And funny," he told the Los Angeles Daily News in 1997. "You'd ask her, 'What did you have on when you posed for the calendar?' And she'd say, 'The radio.' Or, 'Chanel No. 5.' … But in those days, there wasn't any star that wasn't available for an interview."