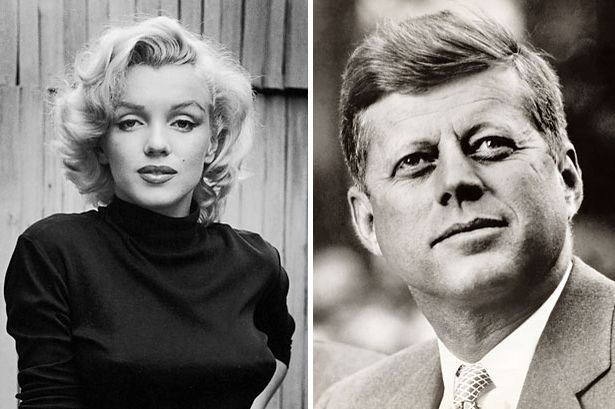 Over the years, many 'sex tapes' have been touted as featuring Marilyn. None, however, have been authenticated – with some being proved as fraudulent, and others hastily withdrawn. The latest – and perhaps most implausible yet – is an alleged 8mm film of a supposed 'oval office orgy', featuring MM with President John F. Kennedy and his brother, Attorney General Robert Kennedy, reports gossip blog Radar Online.
I find this hard to believe, not least because it was near-impossible to secretly film people using camera equipment available during the early 1960s. And why on earth would the president and his brother have consented to be filmed in such a compromising situation?
"The steamy, never-before-seen reel — said to have been shot on 8 mm film — will be auctioned by the Tulare County Sheriff in California which has seized the property as part of a lawsuit involving the man, William Castleberry.

Castleberry exclusively told RadarOnline.com: 'It's real. I had it for years and I never released it out of respect for Joe DiMaggio… I'm just sick about it and I'm desperately trying to raise money to get it back.'

Castleberry, a 56-year-old memorabilia collector, would not detail how he obtained the alleged recording or what it depicts.

He had been making payments to satisfy the debt, but according to Castleberry, lawyers demanded a balloon payment that he simply couldn't afford to pay.

'They demanded a $90,000 payment I couldn't afford and that is when the sheriff came in and seized the sex tape and all of my other memorabilia I have been collecting my entire life,' he said.

'I was told several years ago that Mr. Castleberry had a sex tape of Marilyn Monroe, JFK & RFK,' said attorney Ryan Sullivan, who is representing the plaintiffs in the case against Castleberry.

But, cautioned the lawyer: 'I have no idea what is on the tape, it could be what Mr. Castleberry says, or it could be a Disney cartoon. The only way anyone will ever know is if they buy it and view it. The entire lot will go up for auction on Tuesday and the minimum bid will be $200,000.'

'Mr. Castleberry has until Tuesday morning before the lot goes up for auction to get his stuff back,' Sullivan said. 'He would have to pay over $200,000 to satisfy the judgement. If he fails to do so, the auction will proceed.'

If he does secure the apparent prized possession, Castleberry said he plans on 'releasing it all to the world.'

He told Radar, 'I had hoped to give it all to a museum, or even open one myself. If I don't get it back, well, okay. It's just stuff and I can start over. My wife is extremely sick and when I go to heaven someday, I'm not taking a U-haul full of stuff with me.'"
UPDATE: The auction has been cancelled after Mr Castleberry settled his $200,000 debt, reports TMZ. Publicity stunt, anyone?