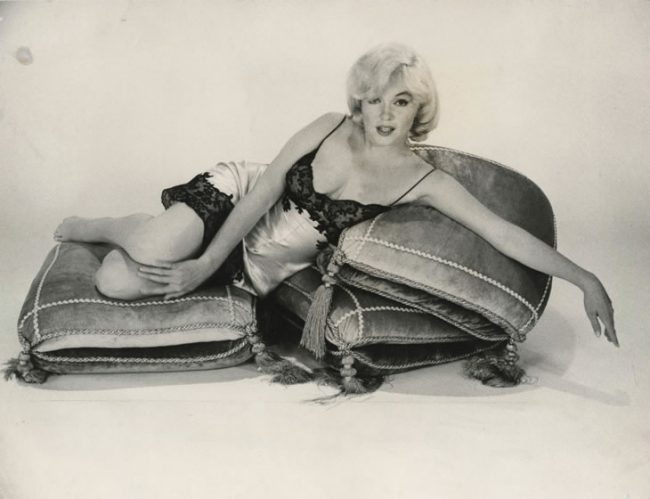 'Marilyn, Magnum and The Misfits' is a new exhibition opening at the Etherton Gallery in Tucson, Arizona this Saturday, November 23, through to January 11, 2014.
Its remit goes beyond The Misfits however, celebrating Magnum photos from other eras as well as other notable photographers including Alfred Eisenstadt and Nahum Baron.
Some of the photos above – by Henri Cartier-Bresson, Inge Morath and Eve Arnold – were rare for me. You can view them all here.
"Etherton Gallery is pleased to announce a new exhibition, Marilyn, Magnum and The Misfits, featuring a selection of photographs of Marilyn Monroe from a private Los Angeles collection. Most of the photographs on display are from the set of Marilyn's last film, The Misfits, taken by notable Magnum photographers including Eve Arnold, Bruce Davidson, Henri Cartier-Bresson, Dennis Stock, and Inge Morath. A selection of early contact sheets by Hollywood photographer Earl Leaf and fashion and celebrity photographer, Phillipe Halsman, will also be on view from November 23, 2013 – January 11, 2014.

Magnum Photos, founded in 1947 by several well-known photographers including Henri Cartier-Bresson and Robert Capa, was the first artist-owned photo agency, allowing its numerous members to take control of their careers while giving them the freedom to search out events and people and ultimately inform a world hungry for information.

"You're a real beautiful woman. It's almost kind of an honor sittin' next to ya'."

With those words from the 1961 film, The Misfits, star Clark Gable wryly said what photographers world-wide knew about Marilyn Monroe: she was just special and no more so than when in front of a camera. And she knew it.

Incomparable director John Huston had a royal flush of a cast starring Monroe and Gable, along with Eli Wallach and Montgomery Clift, and he made sure that only the best photographers were on set for the press photos, and those photographers were from Magnum.

Lining up to film the stars while on and off the set –it would tragically be the last film for Monroe and Gable —were Magnum photographers including Henri Cartier-Bresson, Eve Arnold, Inge Morath, Philippe Halsman, Bruce Davidson, and Dennis Stock.

Along with The Misfits images, is a select group of contact sheets by photographer Earl Leaf, known for his work with magazines from Time to Movie Spotlight.  This intriguing group gives a sweet look at an early unknown Marilyn, swinging from a tree and doing cartwheels for the camera in 1950 and then 6 years later, at age 30, when she staged a publicity session to keep her image in front of the public during a one-year period when she was producing films and not acting.

The camera was always in love with the beautiful Monroe, and this rare exhibit of vintage contact sheets and press photos represents a historic look at one of the world's most well-known film stars.  Resplendent in her natural beauty, the portraits and vintage contact sheets reveal the drive, desire, sadness, and pure spirit of one of Hollywood's most photographed and relished stars

All photographs copyright the artists, courtesy Magnum Photo Agency and Etherton Gallery."