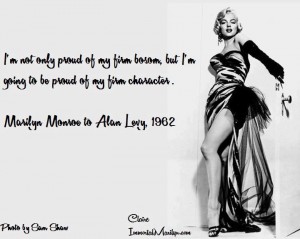 As I predicted, the upcoming sale of Marilyn's medical files has led to a media blitz of speculation (mostly unfounded) about the history of Marilyn's plastic surgery. In a blog for Allure, Joan Kron fills in the gaps:
"The story of Monroe's surgery starts in 1949 or 1950 and is a (somewhat fuzzy) part of Hollywood mythology. According to Patrick McGrady, author of the book The Youth Doctors, Monroe was a $75-a-week contract player and getting nowhere fast when she allegedly overheard herself referred to at a party as a 'chinless wonder.' Monroe consulted John Pangman, a surgeon who often operated in Gurdin's office, who diagnosed a mild flatness of the chin and performed a cartilage graft, according to McGrady. Needing time to recover, Monroe postponed a screen test by explaining that she had fallen on her chin. When she finally took the test, the director said, 'Honey, you should have cut your chin two years ago.'

The medical records tell a similar story, with slight variations. On July 14, 1958—years after the original procedure— the actress showed up at Gurdin's office using her husband, Arthur Miller's, last name for cover. The visit was for an evaluation of a flat chin, which was apparently a remnant of the graft that Pangman, possibly working with Gurdin, had implanted in 1950. (Norman Leaf later wrote that the graft was bovine, or cow, cartilage, since semi-soft silicone implants had yet to become the standard of care.) On the chart, Gurdin noted that the original graft had absorbed or dissolved over time, leaving virtually nothing but a scar under Monroe's chin. There is no notation about whether Gurdin or Pangman replaced it, and no mention of work on Monroe's nose—although Leaf claimed that Gurdin told him in private conversation that he and Pangman also refined Monroe's nasal tip.

In an interview nearly 20 years ago, Dorothy Henderson, Gurdin's nurse, told me she clearly recalled assisting Pangman at Monroe's early chin graft operation, although she didn't remember Gurdin being there, nor a nose job taking place. Neither did John Williams, another Doc Hollywood, who in an 2001 interview with London's Daily Mail said he witnessed Pangman's operation on Monroe's chin, but that the implant was sponge, not cartilage. (That seems plausible to me, since Pangman was experimenting with a plastic sponge for breast implants years before silicone gel implants were developed.) Williams recalled Pangman's description of Monroe as an up-and-coming actress who felt this would help her appearance in photographs. 'She photographed beautifully after that and I realized how simple and important it could be for facial balance,' said Williams.

The reason for the 1962 visit was an accidental fall, said Monroe, who feared she had broken her nose. There was 'swelling and tenderness,' Gurdin wrote. Insiders believed the fall was no accident, but rather the result of abuse by the psychiatrist. 'Mike Gurdin told me he thought she was beaten up,' says J. Arthur Jensen, associate clinical professor of plastic surgery at UCLA, who discussed Monroe with Gurdin when he was writing a book, The Kennedy Assassination.

In 1962, the radiologists who reviewed Monroe's X-rays detected no break in her nose. But Leaf was curious: Would more modern tools find something different? Recently, he sent the film out for a second opinion, and this time radiologists found 'a minute fracture of the tip of the nasal bone,' he says—a condition that, even if detected, would not have required treatment."

Joseph Jasgur, 1946

Jock Carroll, 1952

Sam Shaw, 1957

George Barris, 1962
The article ends with further speculation that Marilyn may have had silicone breast injections:
"The chart being auctioned contains nothing about Monroe's alleged breast issues. I learned of those in 1995 when I interviewed Rosemary Eckersley, a friend of Monroe's and the widow of Franklin Ashley, another legendary Hollywood surgeon, known for rejuvenating John Wayne. (Yes, John Wayne had facial work). Shortly before Monroe's death 'her breasts were infected,' Eckersley said, probably from liquid silicone injections. 'Marilyn wanted Frank to do something about them, but he wouldn't.' More accurately he couldn't, because it's almost impossible to remove free silicone after it's injected."
This is the first time I've heard about Marilyn having had 'work' done on her breasts. Personally, I'm not convinced – by 1962, Marilyn's bust was noticeably smaller than before. She had lost weight after gallbladder surgery the previous year. While I'm no expert on these matters, this seems to suggest that her breasts were natural.
Furthermore, I don't really care if Marilyn had surgery – this doesn't make her beauty any less real to me, because I believe it came from within. But I'm certainly not prepared to accept hearsay.
Much as I feared, the sale of these medical files – while informative – tells us less about Marilyn herself than the intrusive, shallow, and base nature of today's celebrity culture. Hopefully, this will be my last word on the subject!