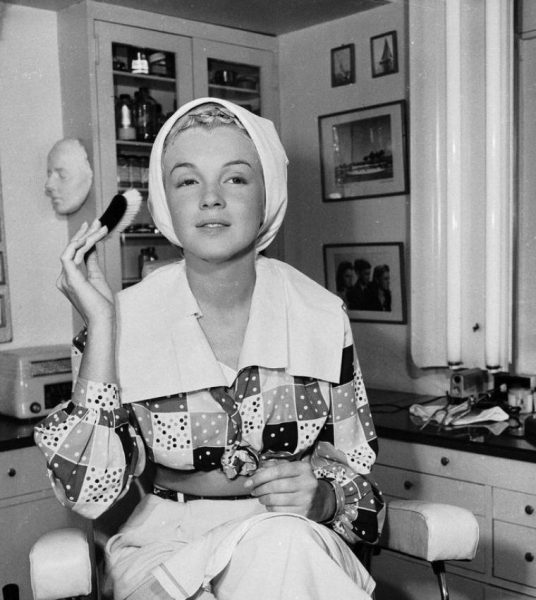 The upcoming sale of Marilyn's medical files (at Julien's in November) has spawned many sensationalist headlines. As I said in a previous post, I don't approve of this sale. However, the files have raised some important points which have largely been overlooked – so I'm going to briefly address some of these issues here.
Most of these stories pertain to plastic surgery, but the files (from the collection of Dr Michael Gurdin) actually prove what sites like Danamo's MM Pages have been saying all along – that Marilyn had very few surgical enhancements:
"1. Prior to the shooting of Ladies of the Chorus, (1948) Dr. Walter Taylor, an orthodontist specializing in cosmetic surgery, fixed her front teeth, which protruded slightly.
2. In 1950, Johnny Hyde arranged for her to have her nose and chin surgically perfected. The details are unknown. Rumor has it that they removed a piece of dead cartilage from her nose and added cartilage to her chin."
The sale of the files was originally reported in an interesting article by Eric Kelsey and Sharon Reich for Reuters:
"The set of six X-rays and a file of doctors' notes that offer a partial medical history of the Gentlemen Prefer Blondes actress from 1950 to 1962, are expected to fetch between $15,000 and $30,000 at auction on November 9-10, said Julien's Auctions in Beverly Hills, California.

The notes written by Hollywood plastic surgeon Michael Gurdin appear to confirm speculation that Monroe, who epitomized glamour and set a standard of movie star beauty during the latter part of Hollywood's golden era, went under the knife for cosmetic reasons.

The seller, who is so far unnamed, received the items as a gift from Gurdin.

Gurdin's notes include references to a 1950 cartilage implant in Monroe's chin, which he observed to have slowly begun to dissolve."
What intrigues me most about the files is that they also mention the mysterious injury to her nose that Marilyn suffered in June 1962. It was attributed to a fall in the shower, although some biographers have disputed this.
Following the incident, Marilyn visited Gurdin's office with her psychiatrist, Dr Ralph Greenson. These files are under the pseudonym 'Joan Newman' – probably after Greenson's daughter, Joan, and Leo Rosten's novel, Captain Newman M.D., which was based on Greenson's wartime experiences. Marilyn was reading the book in the weeks before her death. It was filmed in 1963, with Gregory Peck in the lead role.
At the time of her visit to Gurdin, Marilyn weighed 115 lb. And at 5 ft 6, this makes her quite slim – certainly not the plus-size beauty that some have claimed. Like all women, MM's weight fluctuated at times – but even at her heaviest, she was still only 140 lb.
Finally, the files also reveal that Marilyn suffered from neutropenia – a low level of a white blood cell type, which can make patients vulnerable to bacterial infections.
Maybe this could help to explain why Marilyn was so susceptible to viruses throughout her short life. Also during filming of Something's Got to Give, she caught a cold which quickly developed into acute sinusitis. Unfortunately, her bosses at Fox were unsympathetic, and her repeated absences from the set led to her being fired.
"The X-rays are dated June 7, 1962, after Monroe saw Gurdin following a late night fall and two months before the actress would die at age 36 from an overdose of barbiturates. The death was ruled a probable suicide.

The X-rays include Monroe's frontal facial bones, a composite right and left X-ray of the sides of her nasal bones and dental X-rays of the roof of her mouth.

A set of three chest X-rays of Monroe from 1954 sold for $45,000 at a 2010 auction.

A self-published memoir by Beverly Hills plastic surgeon Norman Leaf in 2010 claimed that Monroe underwent cosmetic surgery on her chin in 1950, citing the same notes made by Gurdin, Leaf's medical partner.

Leaf also states in his memoir that Monroe underwent a slight rhinoplasty procedure on the tip of her nose.

A radiologist's notes included in the lot determined that there was no damage to Monroe's nose from the fall, but a recent evaluation of the X-rays found a minute fracture, the auction house said.

Doctors used the name 'Joan Newman' as Monroe's alias on the X-rays which list her height as 5 feet, 6 inches (1.68 m) and her weight as 115 lb (52 kg).

Gurdin's notes were first drawn up in 1958 when the actress complained about a 'chin deformity' and the note listed her married name, Marilyn Miller. She was married to playwright Arthur Miller from 1956 to 1961.

The notes also indicate that Monroe suffered from neutropenia, a low level of a white blood cell type, in 1956 while in England and had an ectopic pregnancy in 1957."