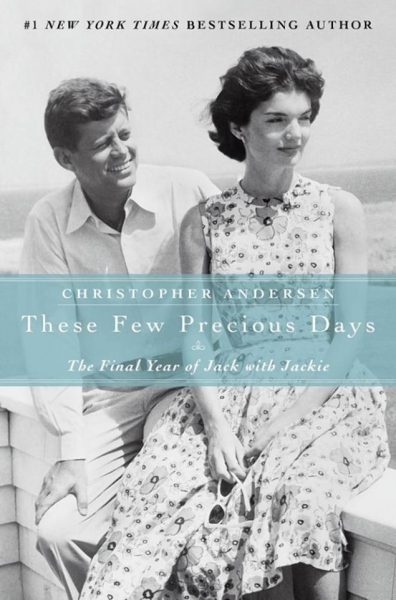 The New York Daily News has published excerpts from Christopher Andersen's forthcoming book, Those Precious Few Days: The Final Year of Jack With Jackie – including the allegation that President John F. Kennedy's affair with Marilyn 'seemed to bother [Jackie Kennedy] the most'.
While I understand that the (alleged) Monroe-Kennedy affair was sensitive because Marilyn was so famous, I find it harder to accept that his wife was less worried about a brief fling (in his view, at least) than his long-term relationships with mistresses including Judith Campbell and Mary Meyer.
Also, the fact that Andersen uses Jeanne Carmen as a source makes his claim less credible to me. Carmen styled herself as Marilyn's best friend, but there is no evidence that they were anything more than distant acquaintances (if, indeed, they met at all.)
The infamous 'first lady' quote attributed to Marilyn by Carmen should not be taken at face value. And while Peter Lawford knew both Marilyn and the Kennedys very well, his own recollections seemed to change as time went by.
Jackie spoke sympathetically of Marilyn after death, in public and private. In later years she would edit two books featuring Marilyn. In a recent article, historian Carl Anthony suggests that the MM-JFK affair has been greatly exaggerated – which, given their mutual celebrity, is hardly surprising.
Obviously, I can't judge this book as a whole from these excerpts – and for the record, I do think there was an affair. There's no question that Kennedy was a compulsive philanderer. However, I think the subject needs some perspective – and that this story has created a stir on the anniversary of Marilyn's death may tell us more about the media culture we live in today than it does about what happened then.
Here is the extract:
"'She didn't like Jack's fooling around. She was damn mad about it,' said Jack's close friend, George Smathers. 'But she was willing to look the other way as long as he was careful.'

Jackie conceded to Dr. Frank Finnerty, to whom she confided the most intimate details of her marriage, that her husband was so promiscuous and his extramarital conquests so numerous there was no way either she or he could possibly identify them all. But more than any of JFK's other lovers, Marilyn Monroe 'seemed to bother her the most' — in large part because Marilyn was a loose cannon who could go public at any time, causing a scandal that would obliterate her husband's reputation, destroy her marriage and hold her up to public ridicule.

And she was right to fear Marilyn Monroe. The actress had always grappled with severe psychiatric and emotional problems, made worse by alcohol and prescription drug abuse. At thirty-six, she realized her sex symbol days were numbered and began to see a new role for herself: as the second wife of the president. Confiding the most intimate details of the affair to her friend Jeanne Carmen, Marilyn was convinced JFK was about to leave Jackie for her. 'Can't you just see me,' she asked Carmen, 'as first lady?'

Peter Lawford claimed that Monroe called the White House and told Jackie of the affair, of Jack's alleged promises to her. 'Marilyn, you'll marry Jack, that's great,' Jackie reportedly responded in that breathy voice that sounded not unlike Monroe's. 'And you'll move into the White House and you'll assume the responsibilities of first lady, and I'll move out and you'll have all the problems.'"