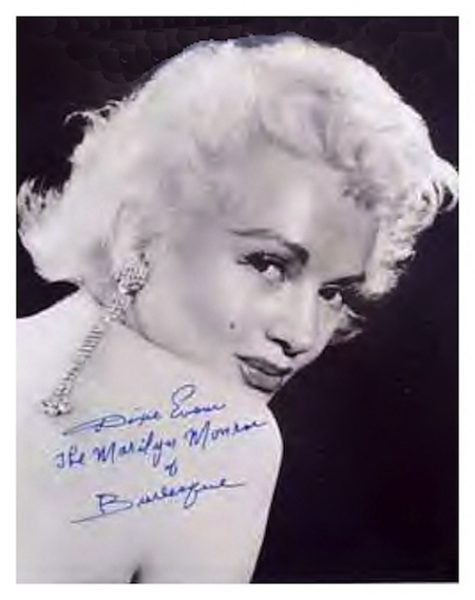 Burlesque queen Dixie Evans has died in Las Vegas, reports the Long Beach Press Telegram. She was 86.
Dubbed "The Marilyn Monroe of Burlesque" by Harold Minsky, Evans has performed throughout the USA, including a successful run at the Place Pigalle in Miami Beach from 1953-1968. She also appeared in the Academy Award winning movie The Greatest Show on Earth in 1952.
Evans helped care for burlesque pioneer Jennie Lee, and moved out to the desert to run the operations of the Exotic World museum. In 1991, as a way to draw publicity to the museum, Dixie created the Miss Exotic World pageant, now known as the Burlesque Hall of Fame Weekend.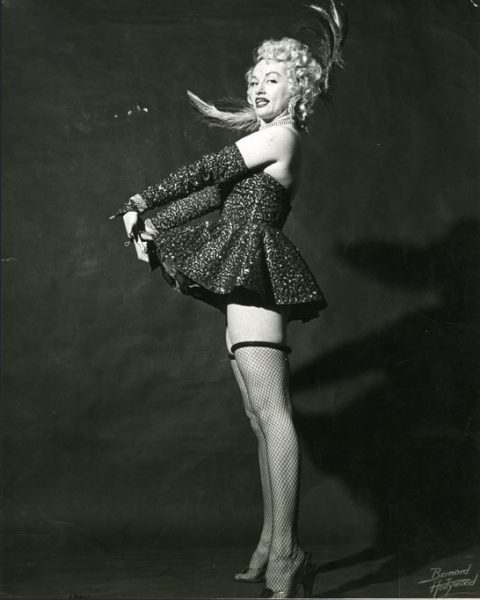 An interview with No-Fi Magazine, where she cites Marilyn as an influence, was posted at Everlasting Star in 2006.
"C: What is your favorite movie of all time?

D: Uh, favorite movie of all time, um… oh boy. I guess I gotta go with… I used to like Casablanca, but that's been kind of worn out. I did like Some Like It Hot with Marilyn Monroe. I've seen it a couple of times and it really was very clever. And another thing I've seen a couple times…Bus Stop."

K: I know that one, but I haven't seen it.

D: It's adorable. Marilyn Monroe is beautiful in it and I love her, but I tell ya, Don Murray, that young cowboy, 20 years old…never seen a girl because he was raised on the farm. The dialogue is fabulous! He says, 'Look at all the gals! There must be a hundred head of them!' (Dixie laughs) The lines are so adorable. You gotta catch up with every line in that whole movie.

C: If you were a superhero, who would you be?

D: Madonna (we all laugh). Yeah, she is. I like any girl or fella that has started from the very bottom and worked her way up the hard way. I can see the tension there. People didn't want to accept her in Hollywood. The same thing with Marilyn Monroe. And yet, there's a girl that'll never be forgotten. She deserves it. Marilyn Monroe is bigger than Hollywood or the studios.

C: Who has been the greatest influence on your life?

D: I would imagine Marilyn Monroe and maybe Jean Harlow before that. I idolized Jean Harlow. There was just something special about her."

1957 skit, based on 'The Prince and the Showgirl'
On the Loving Marilyn website, Shar Daws describes Dixie's MM routine, and how she caught the eye of Joe DiMaggio:
"Yet another of Joe's 'Marilyn's' was Dixie Evans who had a reputation as 'The Marilyn Monroe of Burlesque'. Her act was a casting couch skit. Dixie was the actress; she took her clothes off and got the part!

During the late 50's Dixie was working Miami Beach, at the Place Pigalle. An aeroplane would fly over the beach hotels towing a banner that read 'see the Marilyn Monroe of Burlesque, Place Pigalle' It would always fly past the Fontainebleau where all the celebs of the day stayed, those that went to see Dixie included Sinatra, Bogart, Walter Cronkite and Chris Schenkel who suggested that she should come to the Kentucky Derby. He announced her coming in 'Ladies and Gentlemen, it's Marilyn Monroe! Oh, my mistake, it's Dixie Evans! She'll be playing at the Post and Paddock this evening.' They all loved her act which involved Joe and his bat!

One night at the Pigalle the owner came over to Dixie's table and told her Joe DiMaggio was in attendance, and wanted to talk to her. Dixie said Joe was a gentleman and suddenly as she sat there – she realised she would be performing in front of him and was worried about what Joe would make of her skit and confessed to him that she was concerned, to which he replied 'why do you think I came here?' with this Dixie got up and did her thing, which was:

She entered in a tight satin gown, a long scarf, and a Yankee cap, with a number 5 on it – and crying, boo-hooing, which mood she explained in song:

'Joe, you walked off and left me flat – but I'm sure glad you left your bat…'

There were a few lines about baseball and spaghetti, and how he'd stopped in the middle of making love to say "what's the score?"…

'But I know…
You'll still return my calls
Why? It's simple – I've still got you
By your New Yankee base – (badaboomcha strike up the band)…'

Afterwards, when she came out from her dressing room, Joe stood up and motioned her over. She sat with him all night. He didn't say much, he never mentioned the act, or talked about Marilyn. But he kept sneaking glances at Dixie, checking her out and he stayed until she'd done her last set at 4.45am then invited her to breakfast.

However, their relationship never got off of the ground and didn't go past kissing. They apparently arranged a further date but unfortunately, Dixie was due in court for some misdemeanor that she had forgotten about and was unable to let Joe know and she never saw him again."
Marilyn took a dim view of her imitators, and in 1958 she threatened Dixie with legal action, reports the Telegraph. However, the matter was settled out of court when Dixie agreed to restructure her act.
According to Steve Sullivan's Bombshells: Glamour Girls of a Lifetime, Marilyn and Dixie made amends:
"There is a touching anecdote from Dixie Evans, who so resembled Marilyn Monroe. This speaks volumes about both women. After one of Marilyn's miscarriages, Dixie, extremely upset, sent Marilyn an emotional telegram. Two weeks later Dixie received a response: 'My dear Dixie Evans, of my many friends and acquaintances throughout the world, your telegram was of the greatest comfort to me at this time. Marilyn Monroe Miller.' (When Monroe died, Dixie became hysterical, 'I was crying not only because my career was over, but because Marilyn was no longer in the world.')"