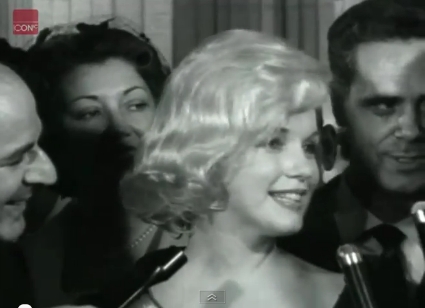 Last night, I watched two Marilyn-related documentaries online that I'd never seen before. The first, Stars of the Silver Screen: Marilyn Monroe, was made in 2011 by 3DD Productions. The second, Eyewitness: Marilyn Monroe – Why?, was filmed by ABC News just a week after her death in 1962.
Stars of the Silver Screen is a formulaic look at Marilyn's life career, but it's quite well-made. Film critic Derek Malcolm and fashion journalist Matthew Bevan provide a mostly interesting commentary, while interviewees include Tony Curtis, Eli Wallach, Curtice Taylor (son of Misfits producer Frank), and Angela Allen (John Huston's script supervisor.)
A highlight was the rare footage from the David Di Donatello Awards in 1958, where Marilyn was named Best Actress for her role in The Prince and the Showgirl. When a reporter witlessly asked if she took acting seriously, Marilyn replied, 'Yes, I'm afraid I do!'
My main criticism would be that, as with so many documentaries, the focus was more on Marilyn's legendary on-set insecurities than the celluloid magic that resulted from her painstaking work.
Eyewitness: Marilyn Monroe – Why? has the advantage of being recorded immediately after Marilyn died. The producers were able to engage people who knew Marilyn well and were famous in their own right. It also gives a more authentic picture of how the world perceived Marilyn in her own lifetime.
Emmeline Sniveley, Jean Negulesco, Lee Strasberg, George Cukor, plus fellow actress Kim Novak and playwright Clifford Odets all feature in the programme. Novak seems to have the most empathy towards Marilyn, while Odets offers the most eloquent commentary.
There is also some rare footage from the day that the Miller's divorce was announced, with a distraught MM telling reporters, 'I can't talk about my personal life.'