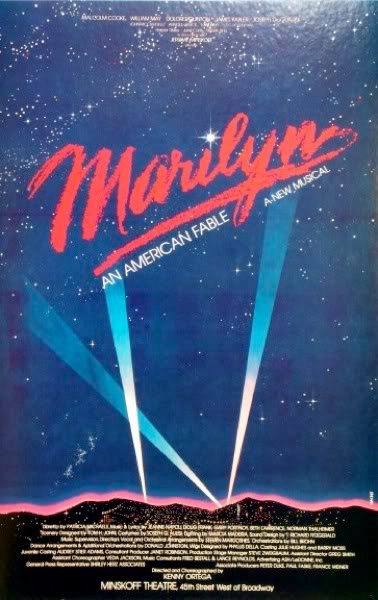 Those intrepid producers seeking to bring Marilyn's life story to the stage (by the dozen, it seems) should take heed of this cautionary tale of an ill-fated Broadway show.
"Many people know that before Smash, there was already a Broadway musical based on Marilyn Monroe's life – Marilyn: An American Fable, which closed after 17 performances. The show opened at the Minskoff in 1983 with Marilyn played by Alyson Reed (who went on to play Cassie in the A Chorus Line movie, and later, played Ms. Darbus in the High School Musical films).

Marilyn: An American Fable opened with Young Norma Jean singing a tuneful number called 'A Single Dream' (that I adore) with a trio of performers simply called: 'Destiny'. 'Destiny' followed Marilyn around throughout the musical, commenting on her choices and generally looking fabulous.

The show was directed and choreographed by Kenny Ortega, and it would be his one credit on Broadway, before moving on to film projects like the High School Musical franchise (for which he brought Alyson Reed along), Michael Jackson: This Is It, and the upcoming In The Heights movie."
You can read Jennifer Ashley Tepper's hilarious article in full at Broadway Spotted.