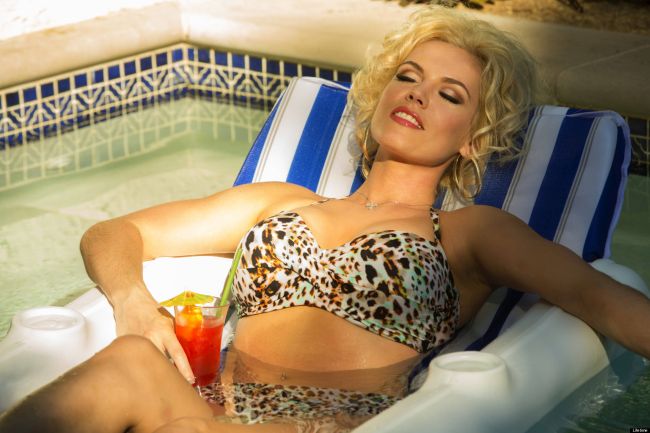 Actor Martin Landau, who met Marilyn at the Actors Studio – and, he says, dated her for a time (see here) – plays oil tycoon J. Howard Marshall in a Lifetime Channel movie, The Anna Nicole Smith Story, which aired on Saturday. (Anna is played by Agnes Bruckner, and the film is directed by Mary Harron, whose credits include American Psycho, I Shot Andy Warhol and The Notorious Bettie Page.)
Anna Nicole Smith – a glamour model turned reality TV star, who first found notoriety when she married the elderly Marshall – was a huge fan of MM. She emulated her blonde bombshell allure, and even lived in her last Brentwood home for a few months.
Sadly, Anna would also die young, and in mysterious circumstances. 'Anna Nicole Smith dreamed of living large,' writes Linda Stasi in the New York Post. 'She dreamed of being Marilyn Monroe. What Smith probably never understood is that her tragic idol wanted to live smaller — or at least smaller than the creation she became.'
Martin Landau discussed the similarities – and differences – between the two women in an interview with Reuters.
"Q: Anna idolized and emulated Marilyn Monroe, which is shown throughout the film. Did working on this movie stir up memories of Monroe for you? I've heard you were romantically involved with the actress in the 1950s.

A: Marilyn was unique, which is not to say that Anna Nicole wasn't. I got to meet Anna Nicole once. Hugh Hefner (Playboy founder) introduced me to her. She was a big girl. When I say big, I mean big. She was big-boned. Everything about her was big, but she was proportioned perfectly.

Marilyn was very complicated. There was a different arc (to their lives) although they both died tragically.

Q: How did you come to be involved with Marilyn Monroe?

A: When she came to New York to study with Lee Strasberg (former Actors Studio artistic director), I was at the Actors Studio. She was in Lee's private classes, and was also coming to the Studio. She saw me act, and wanted to do a scene with me.

Q: And you started seeing her then? Isn't the Actors Studio where you also met James Dean?

A: I don't usually talk about Marilyn or James Dean. I never wanted to use either of them to pump up my career. I didn't want to be known as 'Jimmy Dean's friend' or 'Marilyn Monroe's boyfriend,' but I saw her just before (she met) Arthur Miller."